Legacies of War is excited to announce our collaboration with Article 22, "Trailblazer." To kick off our launch, on Wednesday, Aug. 19th, we hosted a Thip Khao Talk. Our Executive Director, Sera Koulabdara, and Founder of Article 22, Elizabeth Suda talked about their work as well as the challenges. The talk was moderated by Legacies of War Board Member, Orathai Phommala. Through the lens of entrepreneurship, the audience got a different perspective on how people can make an impact in clearing Laos.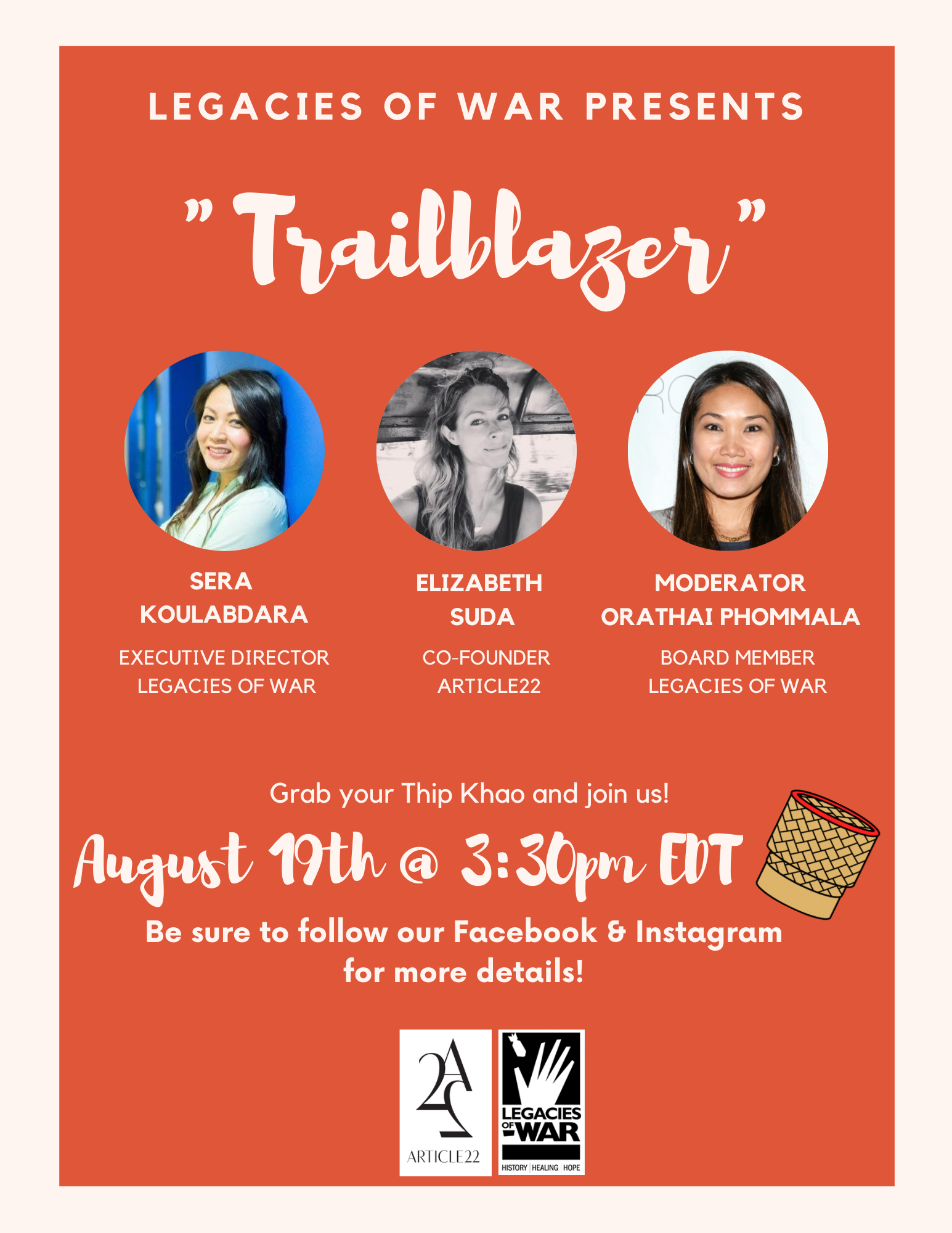 Elizabeth talked about how Article 22, a women-run jewelry brand, came to be through her journey exploring Laos. She learned about the Secret War during her visit to the country and witnessed locals melting bomb remnants into spoons. This act showed her that destruction can be transformed into something beautiful. With many challenges along the way, Article 22 was born. Those who buy from Article 22 will not only receive something beautiful, but they will be supporting local Lao artisans, who make the jewelry and also help fund the removal of UXOs in Laos.
Sera talked about her experience growing up as a Lao-American who was born in Laos and moved to the USA at a very young age. The challenges during her teenage years of growing up with two cultures eventually brought her to love both countries. Inspired by her father's heart to help the people of Laos, Sera went full circle by becoming the new executive director of Legacies of War. There are lots of challenges that arise by being the only organization in the United States that focuses on UXO removal in Laos. There are lots to overcome, but the results are worth fighting for.
With the shared mission of removing UXO in Laos, Legacies of War, and Article 22 partnered up to bring the world, "Trailblazer," the bracelet that represents an individual's journey in paving the way for a better future. Trailblazer came to be through the initial hope of Legacies' founder, Channapha Khamvongsa. We would have never existed if it wasn't for the action Channapha took in creating the organization. Article 22 also would have never existed if Elizabeth had never traveled to Laos and learned about the Secret War.
Click HERE to watch the Thip Khao Talk.