Content Summary:
1. Why consumers prefer to book from OTAs and the misperceptions of why booking direct is more expensive when it should not be.
2. What is rate parity?
3. Price gouging practices of Agoda and Expedia, slowly taking over the market and strangling hotel operator's profits and how we can overcome it together.
4. Boutique hotels/individual property owners pitched against each other to provide ever-increasing commission.
5. Projects to help our tour companies/DMCs and provide a platform for hotels & tours companies to prepare for post-COVID recovery
6. Survey of hotels link for partners who are keen to participate
7. Asean-China Tourism Tradeshow (Invitation to join by China For 4 Laotian Tour Companies through DiscoverLaosToday)
8. New domestic OTA following the basis of our arguments and why?
Prelude:
During the early days of online booking systems, Agoda/booking.com started to hit it big by convincing almost every hotel in Laos to sign up and join their marketplace. This allowed hotels to operate in the new frontier of e-commerce and the digital world of convenience for FIT, booking hotels from all over the world. In exchange, we happily provided them rate parity (our best price guarantee) and 15-18% commission for their technology.
Booking Holdings (the company that owns both Booking.com and Agoda) was doing a great job of hoodwinking consumers into believing that both sites are major players, competing with each other for the best price. However they were misleading customers to think they must choose between the two sites, while the company still profits from either choice. In the business world this is called "self-competition", "The Illusion of Choice" or "Anti-Competition Collusion".
This went on for some time and most people were satisfied until new competitors began to disrupt the market; enter Expedia and other OTAs (Online Travel Agents), trying to establish a market share. The easiest way to create a market share is price gouging (deceptively named "price action" by OTAs). This is where the story starts to get ugly for the industry but incredibly good for consumers.
Why booking direct is always more expensive than on OTAs?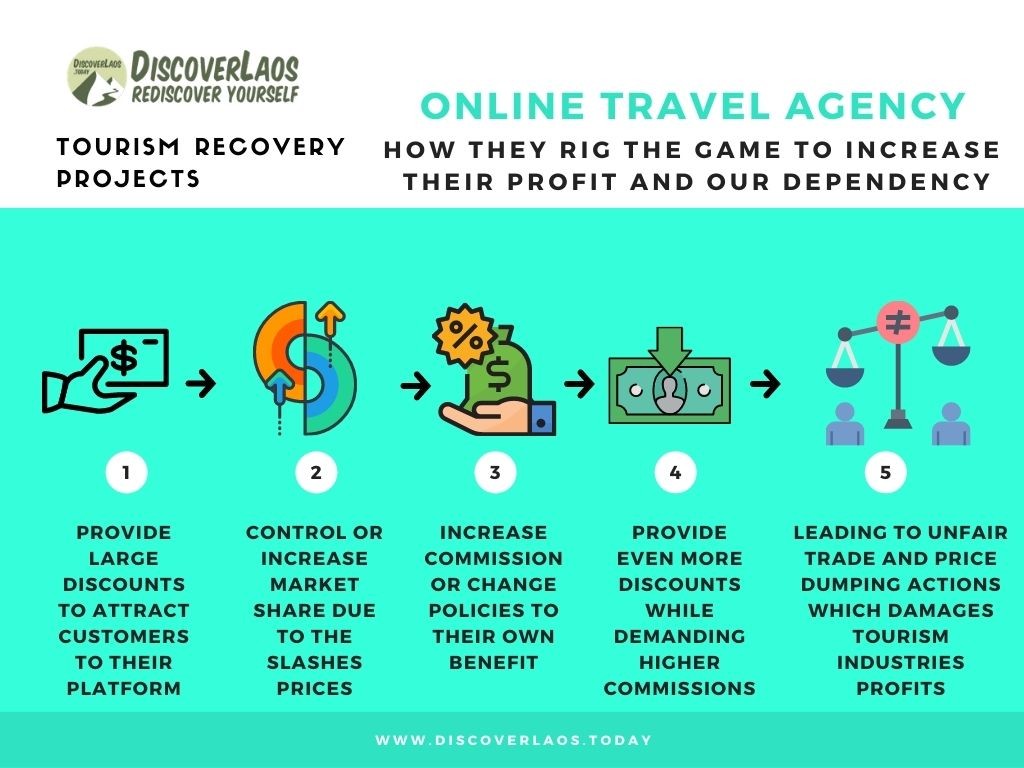 The shortest explanations by reasons below:
1. Unethical discounting (Using hotel's commission to offer discounts back to consumers up to 10% from actual hotel rate parity)
2. Excessive competition between OTAs for market share leading to even further discounted prices, which hotels are unable to match without running at a loss
3. Lack of cooperation between Hoteliers to create a direct booking marketplace and hotel associations/government lacking the requisite understanding to retaliate against OTAs
4. Violation of rate parity agreements (Rules set by OTAs forcing hotels to always provide them with our best prices) while they are not selling at the agreed price, leading to cannibalization of our businesses from direct booking sources/agents.
Cut to the bottom line here for hoteliers: The more commission you provide to OTAs, the more market share they will take away from you and travel agencies! The more commission you give them, the more they will undercut you, ensuring a race to bottom in a vicious cycle of competition with other OTAs to reduce prices.
On a side note, for those hotels who are happy being an OTAs only hotel, this is relatively sustainable, provided you have high enough profit margins.
Consider this; hotels are able to dictate our rules and regulations to agencies/corporations and they are contractually obliged to abide by the agreements. However OTAs dictate their rules/commissionable rates to us, but we have no voice to oppose to their ever increasing deceitful behaviors, such as:
1. Forcefully increasing commissionable rates
2. False or misleading price comparisons
3. Fake discounts/use of the term "free"
4. Drip Pricing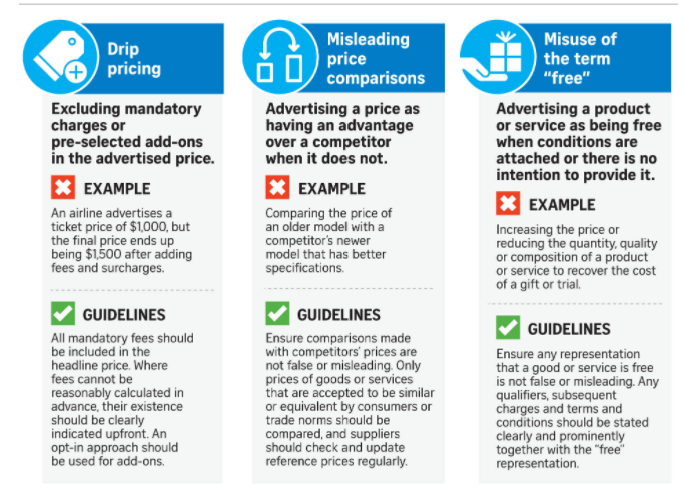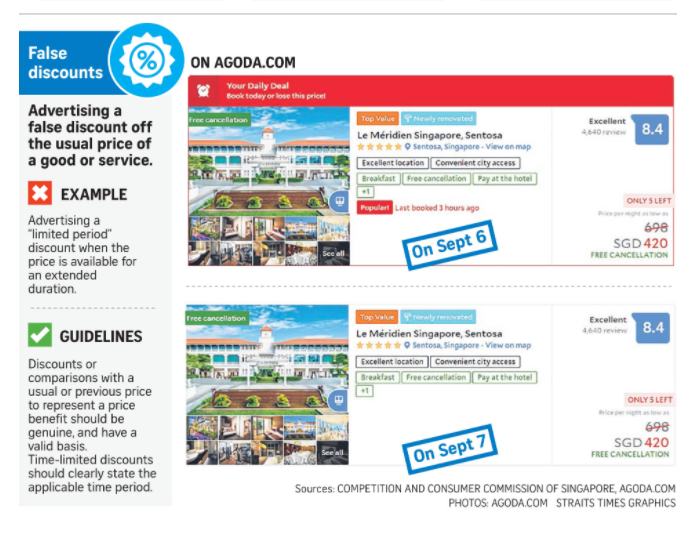 The more of the market share OTAs control in Laos, the more invincible they believe they are as hotels are often afraid to stand up to OTAs. Even when we do, they do not take us seriously.
Last year I had a personal experience of the disparity of dealing with Agoda. I spent two months calling and emailing Agoda, requesting they stop these unethical practices against my hotel. Their actions were hurting my agents and direct booking business due to their price action practices. But they refused to reply my emails or answer my calls. I finally managed to get the country manager's personal mobile number and called her directly. After explaining to her my request, she immediately became aggressive, threatening me with dropping my number of hotel bookings or decreasing my ranking on their website. She even got to the point of shouting at me for insisting they stop these practices. Needless to say they are continuing these practices with no sign of stopping.
How tour companies/DMCs are affected by OTA's malpractices and why we need them to do well and thrive?
Tour companies increasingly face tougher competition as consumers are able to select hotels easily through OTAs. With the heavy discounting, there is often comparisons or complaints from customers about the tour agency's higher pricing. This leads to a lack of trust for tour agent's services, despite this not being their fault as OTAs have a significant advantage in pricing.
Tour companies often value add by providing customized services and arrangements on behalf for their clients while getting diminished returns. This is causing an exodus of tour operators and quality service providers, while increasing the market share for OTAs. Additionally COVID has forced many tour operators to close, further increasing the market share of OTAs. In order for the industry to recover I would like to make the following recommendations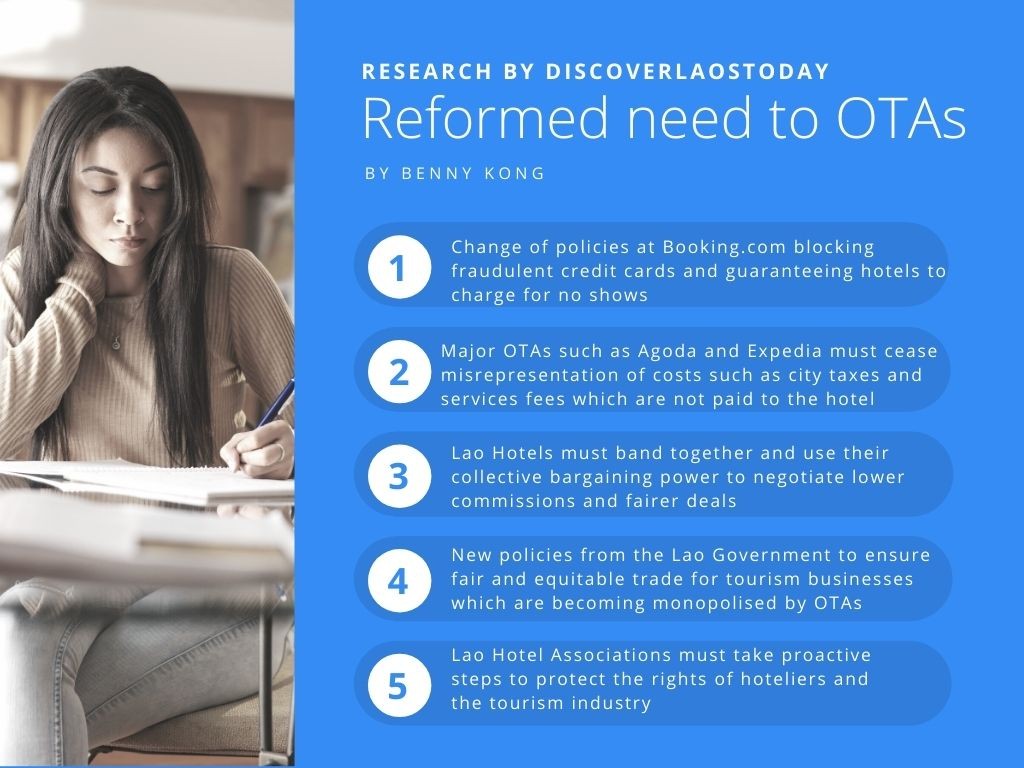 Project 1:
Tourism related businesses such as hotels, restaurants, spas, and activity providers need to come together to upload product information, pricing, photos, videos, and contracts to the tour operators on a single neutral platform that is managed by LUTA or LNCCI. Access to this information will only be supplied to Lao registered tour companies, to use in their marketing collateral.
Reasoning: This would help tour companies and hospitality business quickly kick start their marketing and generate sales, providing easily accessible content after COVID to their international markets. Companies with reduced staffing will be able to restart their businesses quickly and effectively without relying on networking.
Project 2:
Hotels associations should work proactively with relevant associations and work together with standalone hotel members to negotiate with OTAs for a lower commission fee model. Collectively the associations can threaten an exodus or boycott of the OTA's channel from these group of hotels. We can work together by closing allotments or increasing prices by 15-25% to offset their higher commissions. Additionally we will require them to stop "price action" and the unfair marketing practices mentioned above. Those OTAs who respect our demands can continue to receive equitable rate parity pricing.
Reasoning: As individual hotels we are unable to influence OTAs decision makers and business models. However as a group, we are likely to influence their bottom line and force them to take a different perspective. We might even be able to start a small wave of change to other countries to follow our model to make OTAs take notice. Without hotels, the OTAs have no product or sales. However customers will still be able to find us without the OTAs, through other channels such as agents/direct booking/google. By acting together we hold the power in the negotiation.
Project 3:
Tourism sector participants need to work together to effect new legislation from the Laos Government similar to international practices on digital governance of misrepresentation and penalize OTAs for infringing any basic consumer rights through fines, suspension of service, media shaming etc.
Reasoning: A system that supports fair trade for the tourism sector especially in the digital sphere, will protect Lao businesses, protect consumers, and improve the industry. This system can be developed following best practices from the EU or any country with a good protocol. This will also prevent further abuse of the current system of imbalances.
Some evidences of Hotelier's dissatisfaction with OTA's malpractices in Laos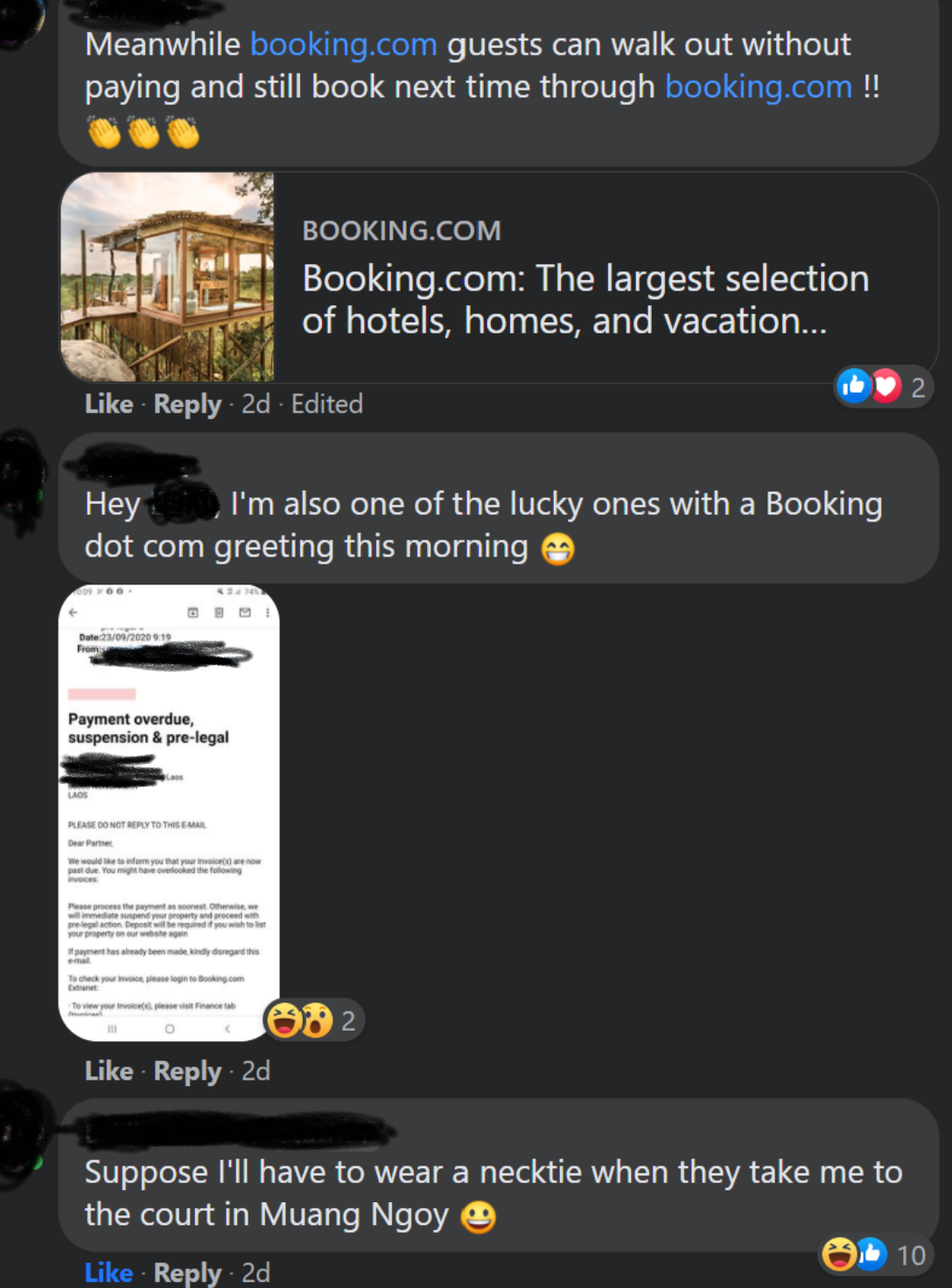 Hotel owners facing a difficult time are being threatened with legal letters by booking.com for 8 USD of late payment.
Customers booking through booking.com running away in the middle of the night without payment with no repercussions due to the site's preferential policy to guests while allowing fraudulent credits charge to be used and no shows to not be charged.
Survey of hotels link for partners who are keen to participate
We have prepared a research survey link below for hoteliers to complete: https://docs.google.com/forms/d/1yBhLS2e0wkrWLe1eYd7taz81IAod9tdnSRWmuzRP9Jw/edit?usp=drive_web
We request that all hotels complete this survey as it will help us refine our plans to combat the unethical practices of the OTAs.
Project 4: Proposal By DiscoverLaosToday for Tour operators and Hotels to join China-Asean Tourism Fair in Guangxi
With COVID's effects continuing for the foreseeable future with commercial international flights unable to restart. The nearest and largest destination that we could target in this time is the Chinese market. Unfortunately, many tour operators in Laos are unprepared for this massive change, and with the high-speed rail coming, Chinese travelers are predicted to surge into Laos as soon as tourism restarts.
DiscoverLaosToday have secured a booth for the China-ASEAN Tourism Trade Show in Guangxi. It is expected to host 400 B2B agents, looking to meet prospective partners in the industry, with a focus on ASEAN Tourism related products. This will be a special Lao Tourism Booth which is free for our partners. DiscoverLaosToday warmly invites four additional tour companies (maximum two people per company) to join our booth in order to present their translated products to the Chinese consumers.
DiscoverLaosToday will be translating our website to Chinese version to launch before going to the tradeshow and showcase the highlights of Laos and each of its provinces. DiscoverLaosToday website will be able to showcase the hotels, tours, F&B products available for Chinese market. We strongly encourage all tourism business to prepare for the Chinese market by ensuring that their marketing materials and products are accessible to Chinese consumers.
More information about the trade fair, please contact me +8562095285811
Project 5: New domestic OTA/Direct booking Platform Concept to replace the previous business model post-COVID19 that is based on the new rules and guidelines of online fair trade or recommendations above.
Our aim is to develop a domestic challenger to international channels. By having the support from Lao Businesses and Government policies, we are able to create an alternative platform to allow all Lao Hotel operators to sell on a unified platform with new strategies to combat international OTA's malpractices.
This would inadvertently create new jobs in Laos and increasing the tax collection of Laos by reducing income leakages due to online booking payments being transacted overseas.