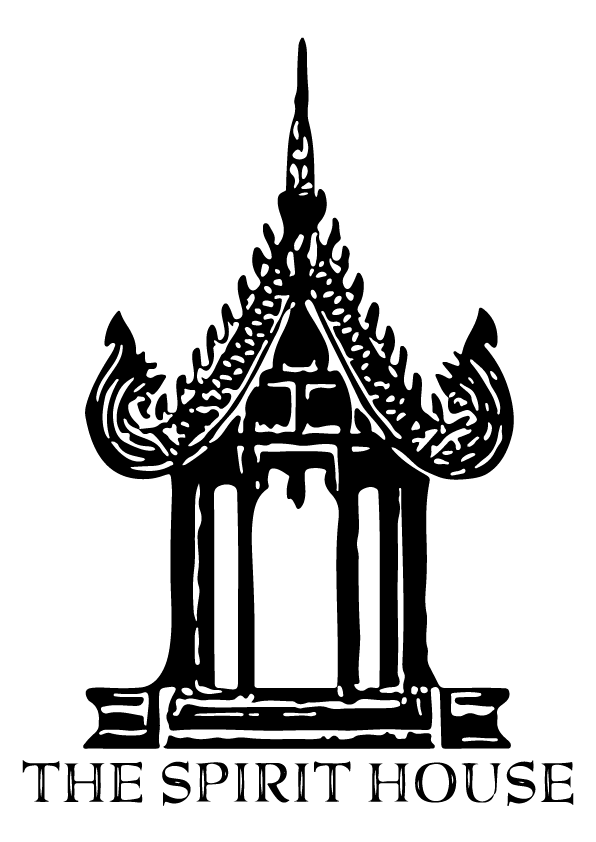 A Spirited Re-Opening
The Spirit House Cocktail Bar & Restaurant is a vibrant lifestyle venue offering innovative craft cocktails, contemporary Asian tapas, Lao-inspired main courses and international comfort food in an authentic yet modern environment. The focus is placed on authenticity; re-telling local tales through the looking glass of modernity. A destination that passionately embraces genuine hospitality and spiritual fusion that are the pillars of regional culture.
Lao and South East Asian cuisine is a rich tapestry of bold and enticing flavours. The Spirit House seeks to celebrate these colours, textures, flavours and scents through the food and drinks offering while embracing contemporary production techniques and a creative presentation style.
In March 2020, as the world came to grips with the extent of the COVID-19 pandemic, we took the decision to temporarily close The Spirit House Cocktail Bar & Restaurants in both Vientiane and Luang Prabang. Operating on a hand-to-mouth budget is commonplace for small, independent bars and restaurants so, without government support or deep-pocketed investors to float us through the high waters of the crisis, we were forced into the incredibly difficult decision between the health of our staff and their financial well-being.
Thankfully, a key feature of Lao culture is the enduring strength of the family unit – the erosion of which is a source of wistfulness, if not regret, for many within the UK society from which I personally hail – and spending the lockdown in their family villages, our team found the support they needed to subsist through the crisis. The majority have now returned to our team refreshed, reinvigorated and, most importantly, happy to be back.
We duly re-opened our doors in Vientiane on Saturday 20th June with focused hours of operation and a streamlined menu. The Spirit House, Luang Prabang will remain closed for a little while longer but watch this space for updates.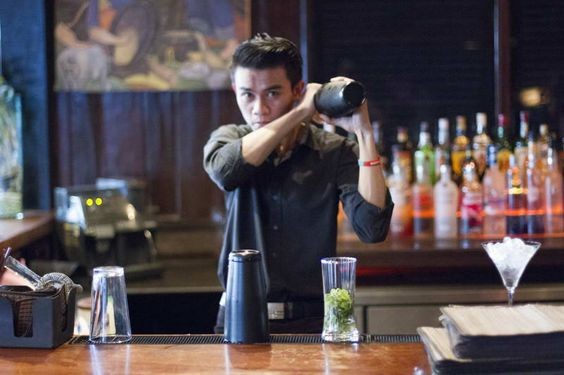 Inspiration
A shrine to the protective spirits found in the Southeast Asian countries of Myanmar, Cambodia, Laos, and Thailand, spirit houses take the form of a small house or temple and incorporating miniature figurines of mythological beings, people and animals. Spirit houses are dedicated to the guardians of the land who have been usurped when the land is built upon, providing shelter for spirits that can become restive and cause mischief if not appeased.
Placed in an auspicious spot, most often in a corner of the property, ritual offerings (ranging from fruit and flowers to cigarettes and beer) are left at the entrance to the house in exchange for abundance, protection and creative potential. While most of the region's population is Buddhist, its peoples engage in daily spirit house rituals that carry on ancient animistic practices inherited from their ancestors. Modern spirit houses are a creative tradition that continues to evolve with modern lifestyles.
In English-speaking cultures the name evokes different meaning; spirit as the principle of conscious life; the soul or heart as the seat of feelings or sentiment; an attitude that inspires and animates as well as, of course, that of refined alcohol. This religious and animist, secular and superstitious harmony creates a unique spiritual fusion embodied by The Spirit House Cocktail Bar & Restaurant.
---------------------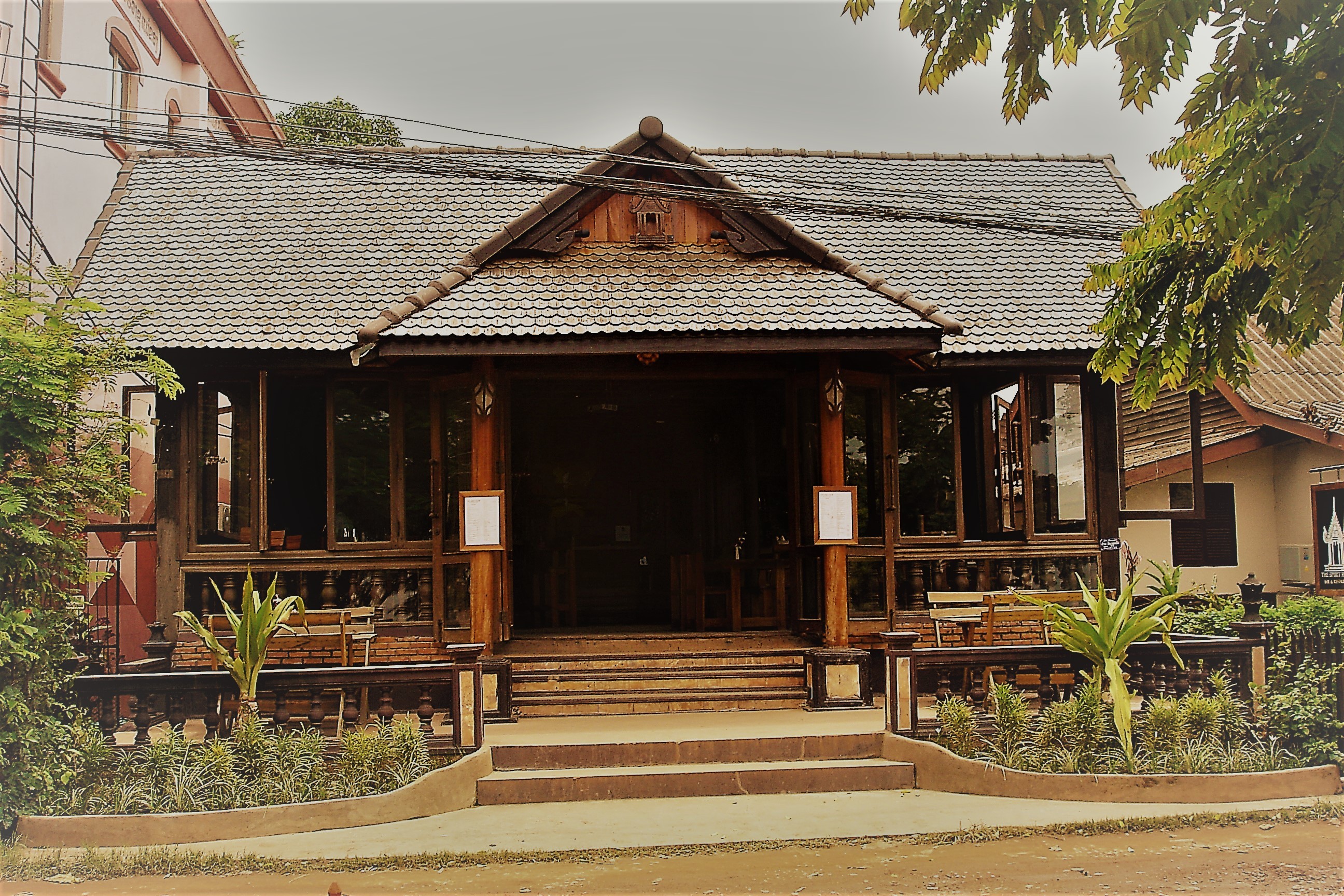 Location
Located just to the west of the town centre on Fa Ngum road, the bar and restaurant occupies an old hardwood house relocated from its countryside origins to the Mekong riverside where it overlooks Thailand on the opposite bank. Repurposed as a restaurant, the original grooves, bolts and hinge fastenings can be seen on the wooden pillars, once used as door jams but now supporting the structure. The furnishing and fixtures are natural tropical woods and heritage fabrics designed to mirror and accentuate the original look and feel of the house. View the property from the road (once a naturally shaded, riverside beer garden before development brought concrete, asphalt and a bustling paved food market) and, reflected in the building aesthetic, you will see the outline of a spirit house from which its name was inspired.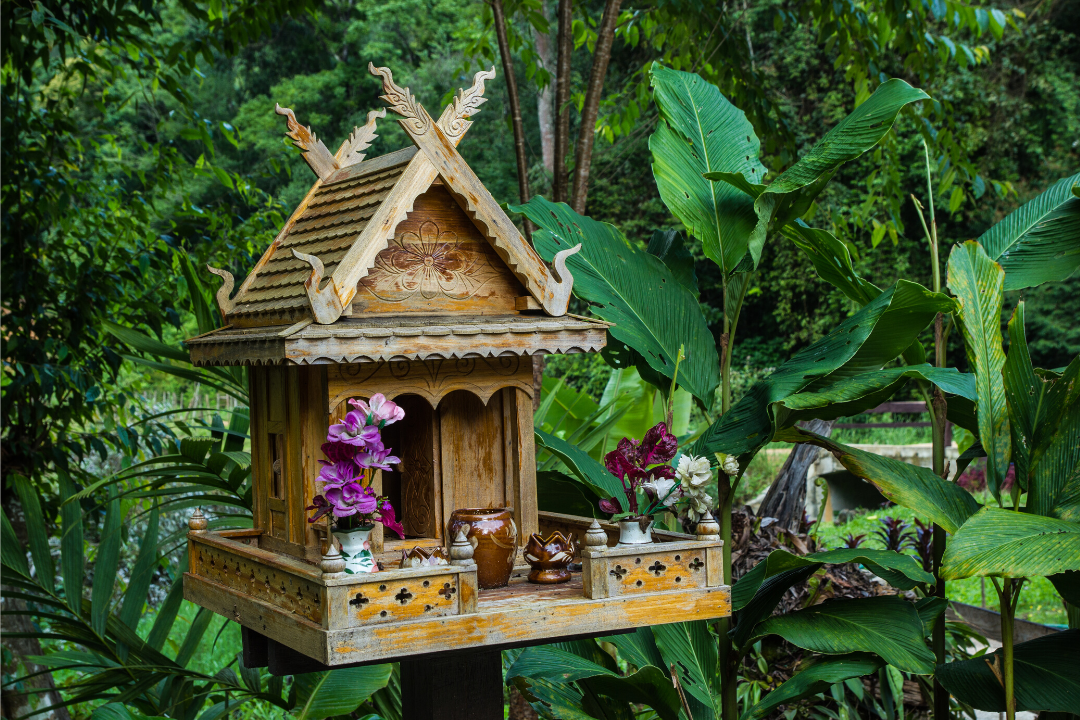 Food
"Kin khaow bor?" or "Have you eaten yet?" is a standard daily greeting in Laos and food is central to the culture here. Meals are eaten family style with dishes of meat, vegetables, soups, salads and dips served together in the centre of the group along with the mandatory basket of sticky rice. Cutlery is eschewed in favour of hands with balls of hot rice rolled between the fingers and dipped into communal bowls.
Our small dishes and Lao main courses retain the social aspect of traditional Lao dining by encouraging sharing and culinary exploration, cutlery can be put to one side in favour of fingers, rice or dipping bread. For those seeking a more international service style, our salads, sandwiches and falang main courses are designed with a plate per person in mind.
Signature dishes include:
Pumpkin & Blue Cheese Arancini (breaded rice balls stuffed with local pumpkin and served with a house-made blue cheese dipping sauce)
Moo Hom Paa [Pigs in Blankets] (our creative mix of Luang Prabang spiced- and regular pork sausage meat wrapped in bacon and served with a traditional local tomato dipping sauce)
Blackened Fish with Mango (Cajun-spiced river fish fillet stuffed with local herbs and spices and served with a spicy, sweet and sour mango salsa)
Smoked Pork Sandwich (local, traditionally smoked pork, sourced directly from a relocated Hmong village, sliced and served in crusty bread with cheddar cheese, caramelised onions, fresh watercress and our signature discarded-coffee BBQ sauce dressing) and, of course, our famous…..
Buddha Bowls (house-made falafel, blackened fish fillet or grilled chicken with roasted market vegetables and fresh salad served in a natural coconut Buddha Bowl on a bed of couscous with a sprinkle of sesame seeds and yoghurt & mint dressing)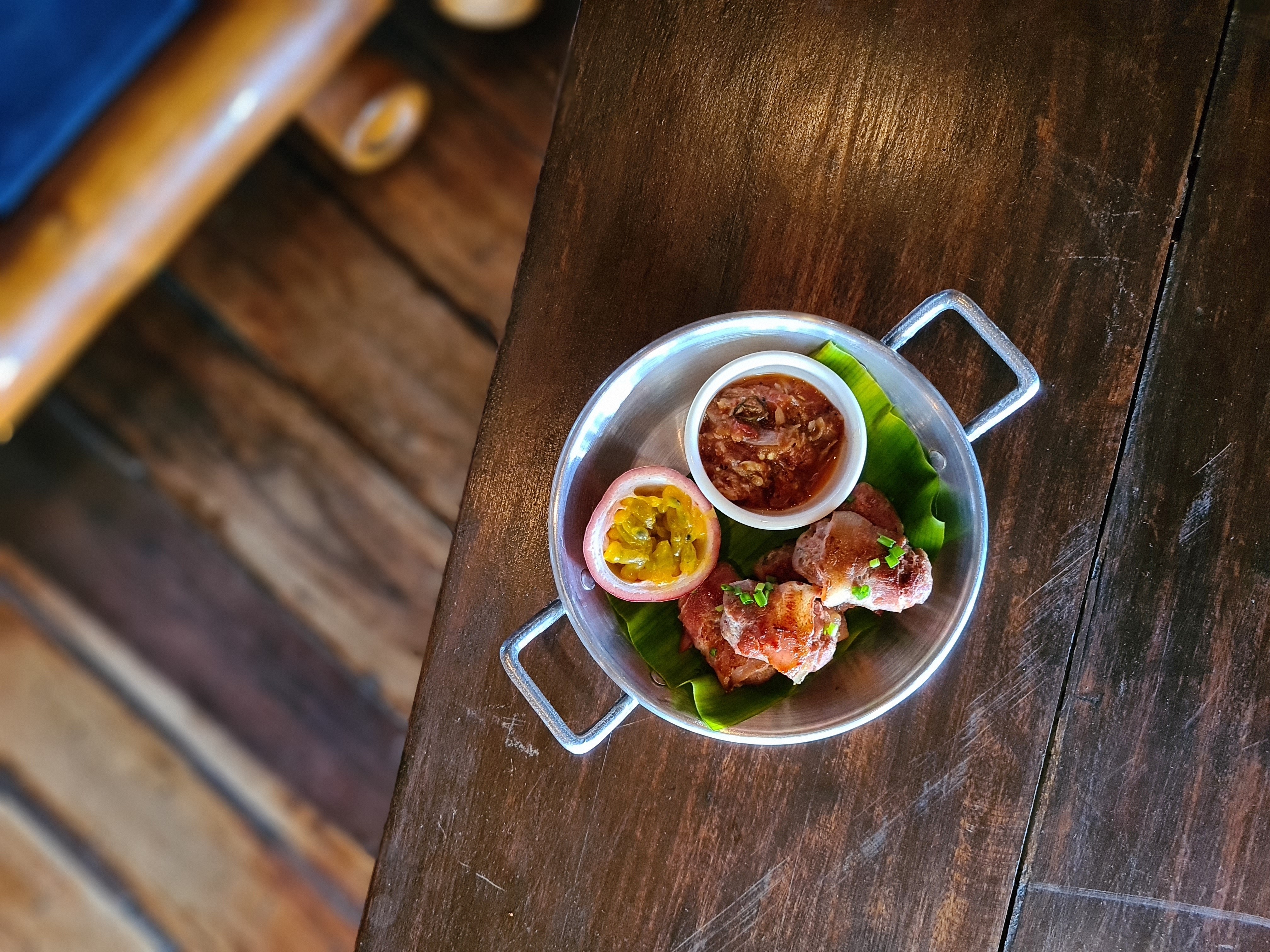 Drinks
Juxtaposing 200 years of cocktail culture with cutting edge production, our generously measured – and generously priced – cocktails redefine the classics with an unmistakeable local twist. Each unique drink is hand-crafted with meticulous precision blending orthodoxy with innovation to create a menu of sensory experiences that embrace the colours, scents, flavours and textures of the region; Lao culture and cuisine reflected in a spirited liquid format.
A comprehensive range of premium spirits are also available complemented by The Spirit House-made bottled cocktails, spirit blends and infusions.
Signature drinks include:
Cascara Negroni (The classic Negroni ingredients – gin, Campari, rosso vermouth – slow-cooked with local cascara to create something unique, delicious and very moreish)
Kai-Pen-Rinha (The Spirit House-blended light rum muddled caipirinha-style with fresh lime, large green chilli and Khai Phaen; Luang Prabang's famous river weed)
Heart of Laos (Citrus-infused vodka shaken with lime leaves, fresh lime juice, fresh red chilli and a touch of local rice vinegar)
Ultimate Gin & Tonic (The Spirit House-blended London Dry gin, served with ice cold tonic water, our signature oversized Campari ice cube and garnished with orange, lemon and a lime leaf) and, of course, our famous…..
Mai Lao (Our award-winning version of the classic Mai Tai made with local rice whiskey perfectly balanced with orange, apricot, almond and fresh pineapple juice)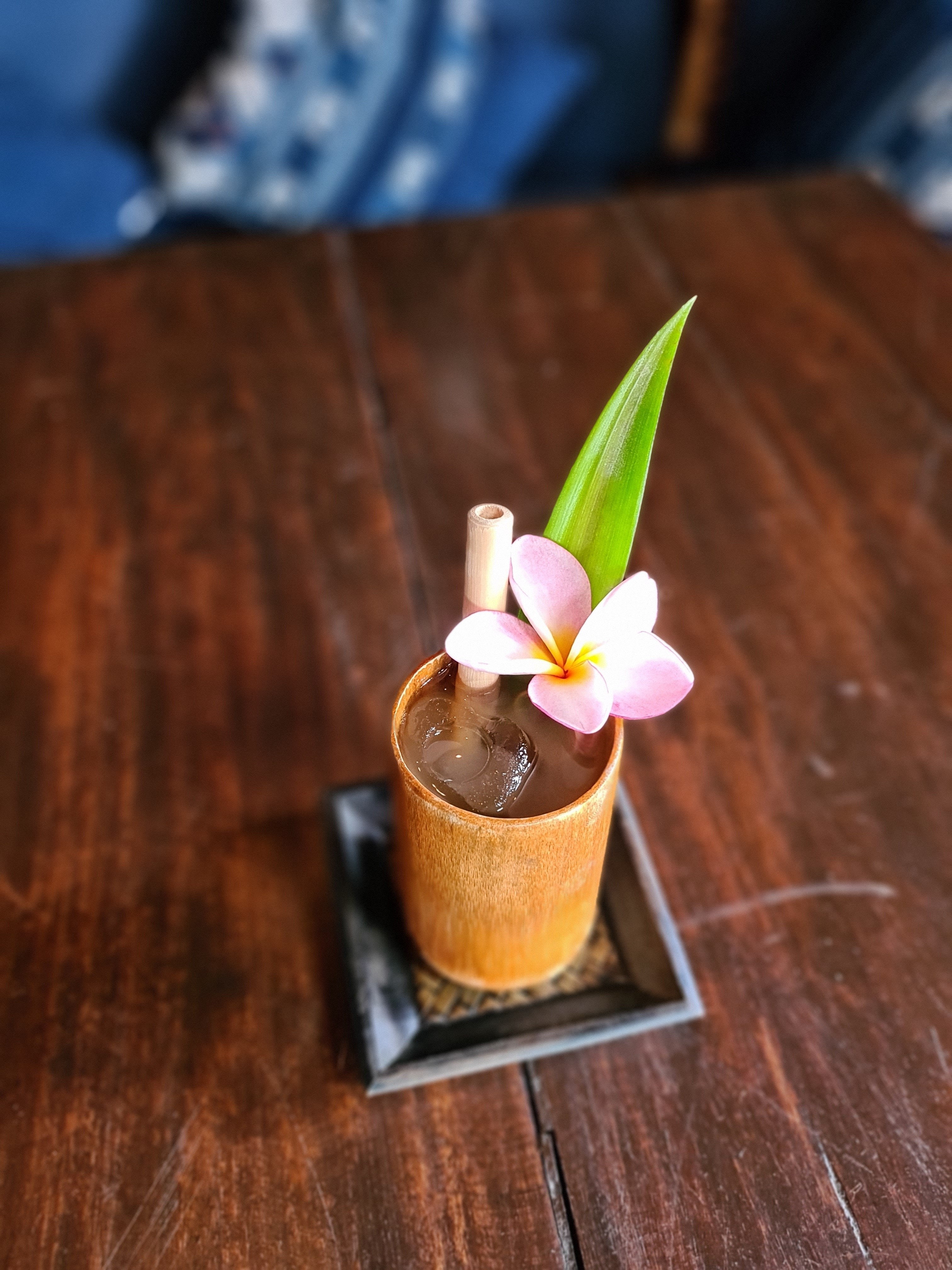 The Spirit House Vientiane is open 4pm to 11pm, 6 days a week (closed Tuesdays). Food and drinks are available to eat in-house, for pick up or for delivery exclusively through our delivery partners Chompa.
Memorably Unique, Authentically Lao, The Spirit of South East Asia