Si Phan Don means Four Thousand Islands, and is a unique river archipelago situated in the Mekong River near the Cambodian border. It is a place to unwind and experience traditional river-side village life.
Immerse yourself in the local pace of life, cycle through the traditional fishing villages or walk through rice paddies and explore the stunning waterfalls. Kayak along the Mekong to spot the rare and endangered Irrawaddy Dolphins, or simply relax in a hammock while watching local fishermen artistically throw their nets out during the magical sunsets that occur most evenings in this part of the world.
If you wish to delve deeper into local life, go on a Mekong River Life Excursion and experience the local culture. For those of you interested in history, there are remnants from French colonial times that can be discovered and can inform you about the past. The Four Thousand Islands is a truly serene place, so come and stay.
How to get there: If you want to go by public transport, buses and tourist minivans leave daily from Pakse in the morning to Muang Khong and Ban Nakasang. There are also songthaews, local semi-open buses, from the Southern Bus Terminal. From Cambodia there is a daily bus connection and organised transport by minivan. If you prefer private transport you can rent a car with a driver or book a tour with a travel agent. At Ban Nakasang, you can take a boat to one of the islands, and the boatmen can drop you at the guesthouse of your choice.
Where to stay: You can stay on three islands namely, Don Det, Don Khon and Don Khong. Each island has its own flavour. Don Khong has a number of up-market hotels and resorts in Ban Muang Khong. Don Khon is a quiet island with a mix of mid-to-upmarket accommodation. Don Det is known for attracting young backpackers with relatively cheap bungalows.
What to bring: Time to relax, sun protection, swimsuit, please see → Do's and Don'ts. Respect the local culture and dress appropriately when walking through the village.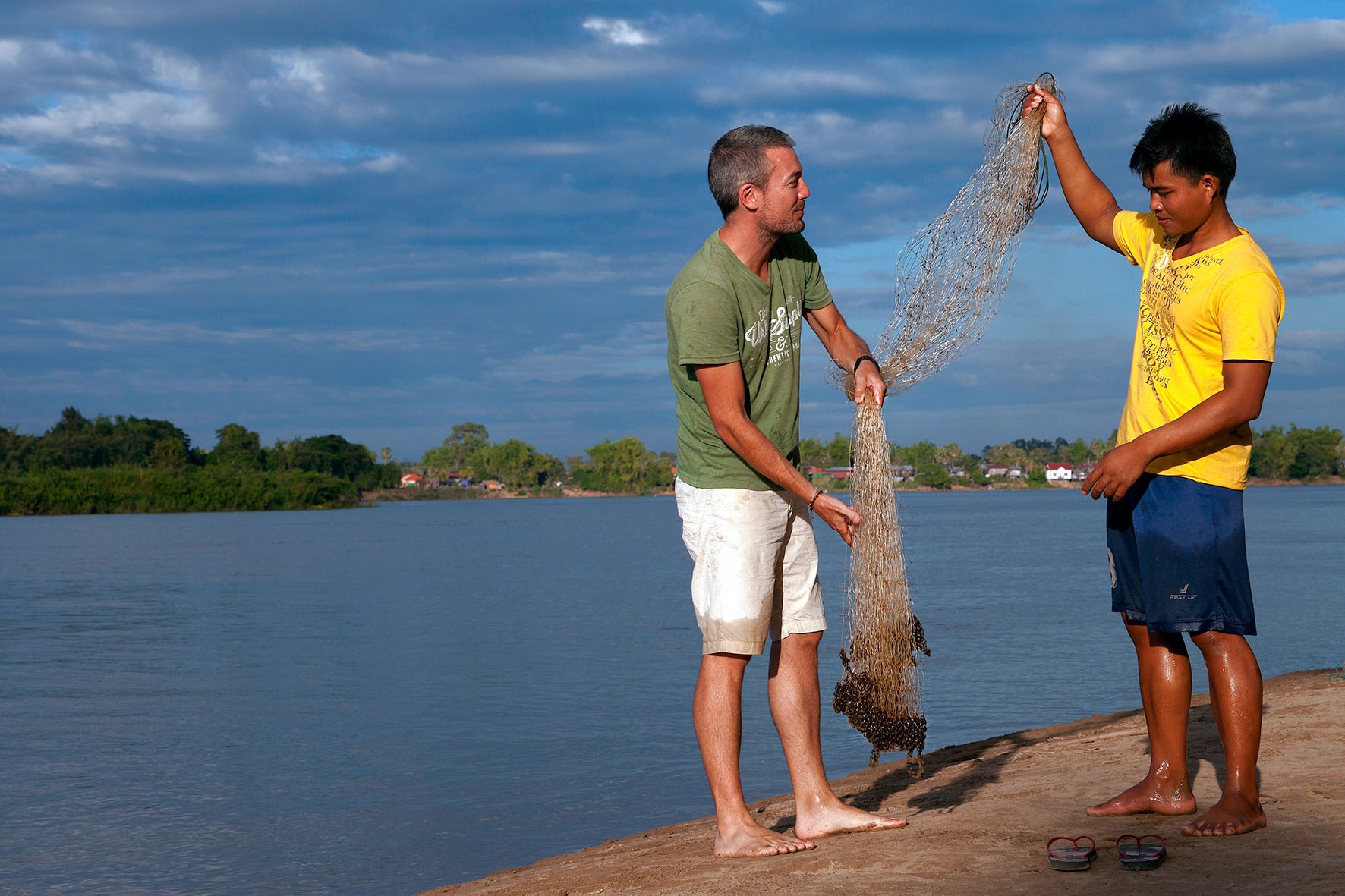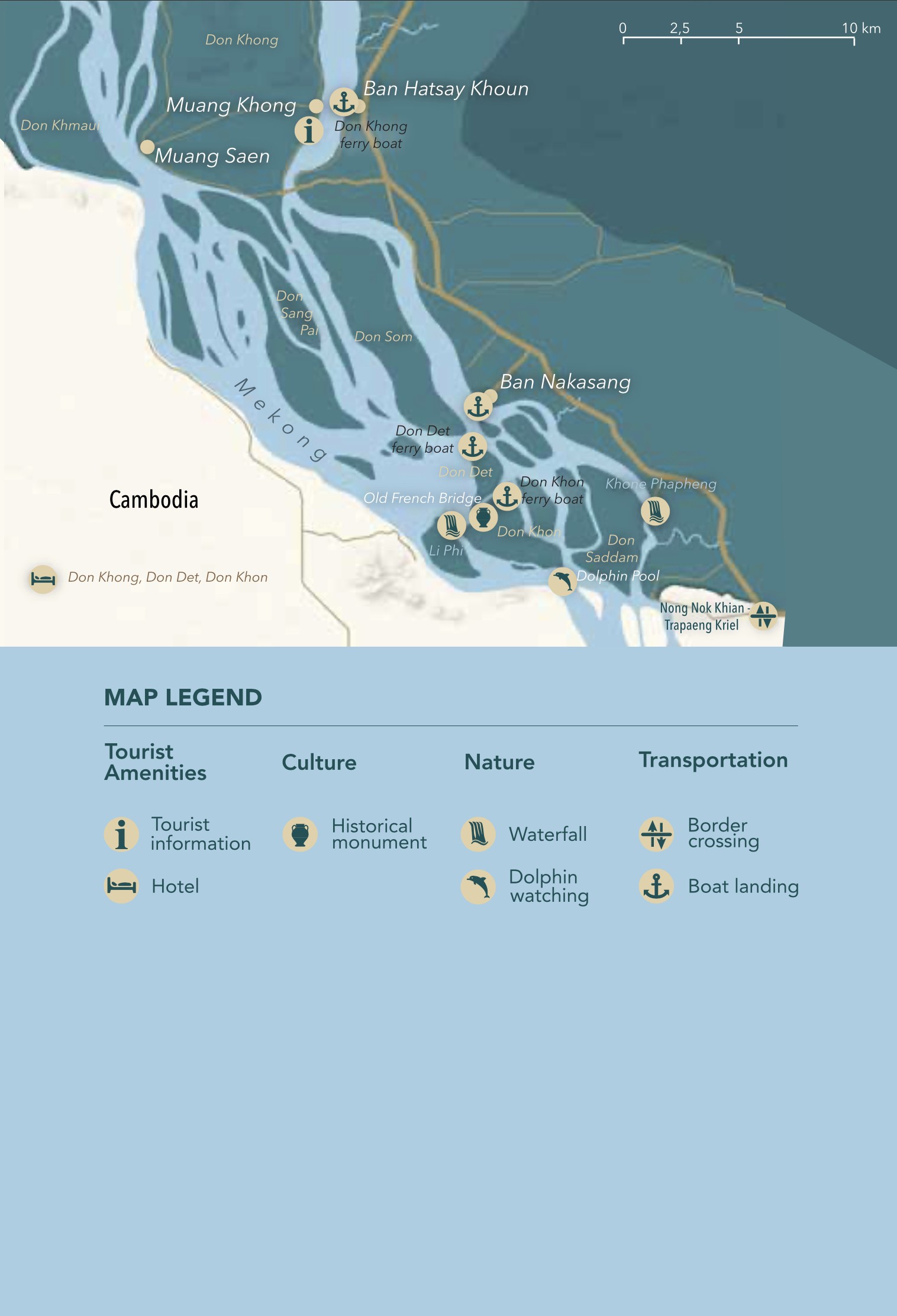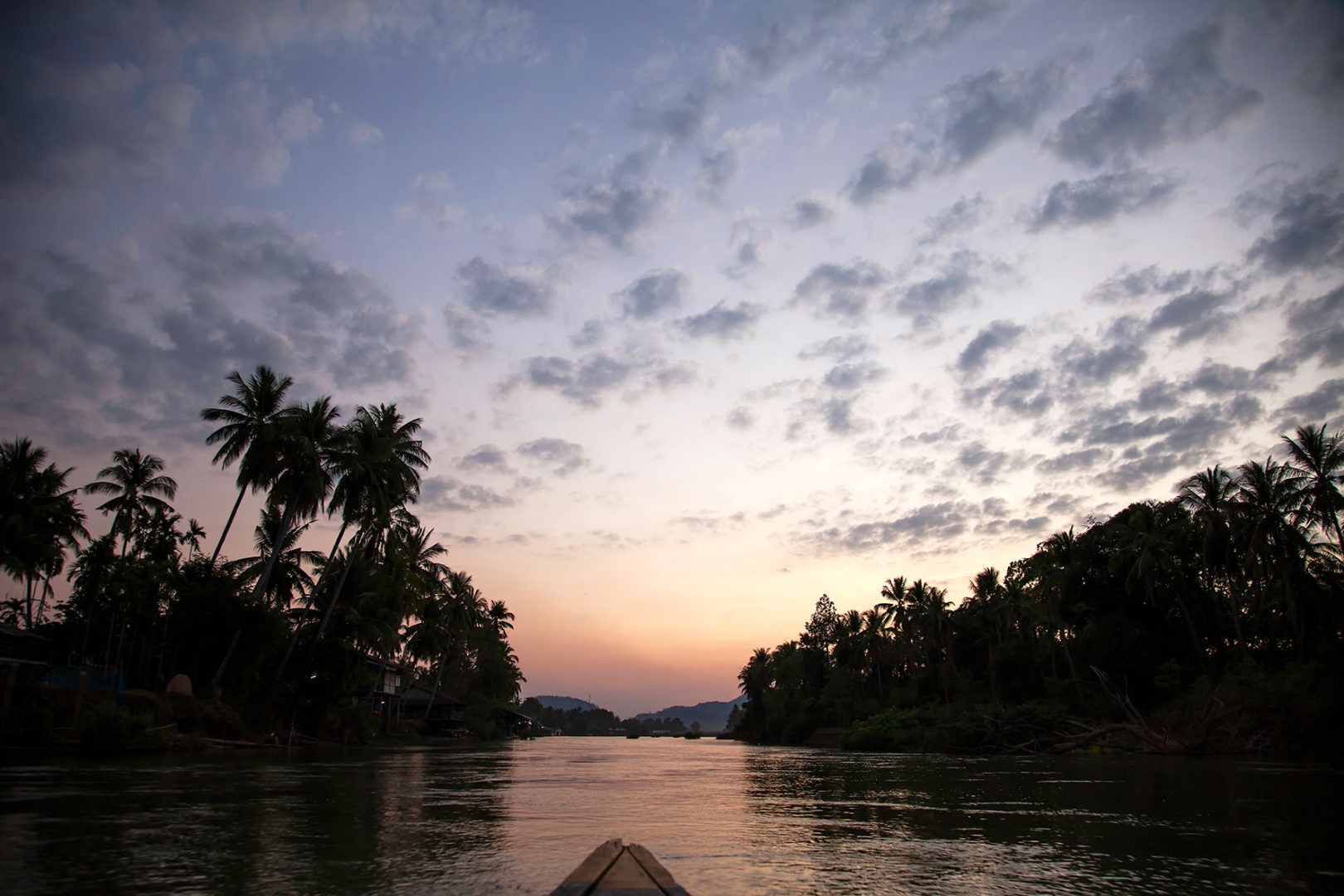 MEKONG RIVER LIFE EXCURSION, EMBARK ON A RIVER JOURNEY
This excursion is an invitation from local villagers for you to discover and immerse yourself in their culture and lifestyle.
You'll be taken by boat through the maze of channels that wind their way around the Four Thousand Islands. You will get a sense of the sheer size of the area, and you may be able to spot water buffalo or other animals along the way, so keep an eye out! Disembark on one of the less explored islands and wander through a village where you will visit a temple to discover the importance of Buddhism. Learn how villagers weave fishing nets, make colourful sticky rice baskets, and how they cook tasty sticky rice.
The tour includes
• Transport by boat (incl. life jackets)
• Guided visit to one of the islands (in English)
• Drinking water and seasonal fruit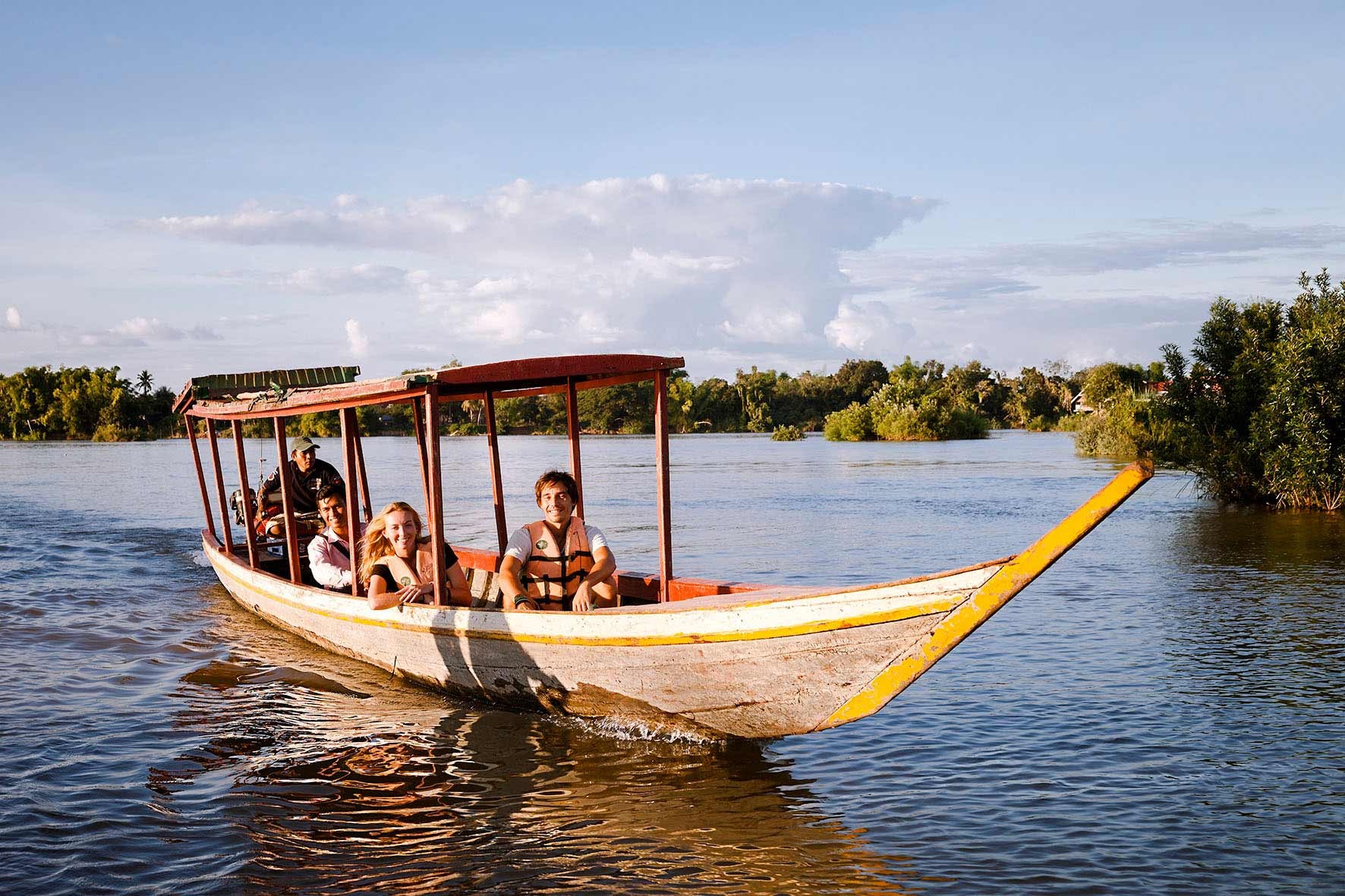 This trip can be arranged for small groups of up to a maximum of five people. This is to ensure that a meaningful cultural exchange can occur between the tourists and the villagers.
What to bring: As you will meet villagers, monks and fishermen, please wear appropriate clothing and ensure you cover your shoulders and knees. In addition, you may want to bring sunscreen, sunglasses, and a hat.
Since this is a new tour (2015), the tour guide would appreciate your feedback on the trip so to further improve the experience for future visitors. It would be very helpful if you could return the questionnaire you will receive at the end of the tour.
***This excursion has been developed with and for the benefit of the local community***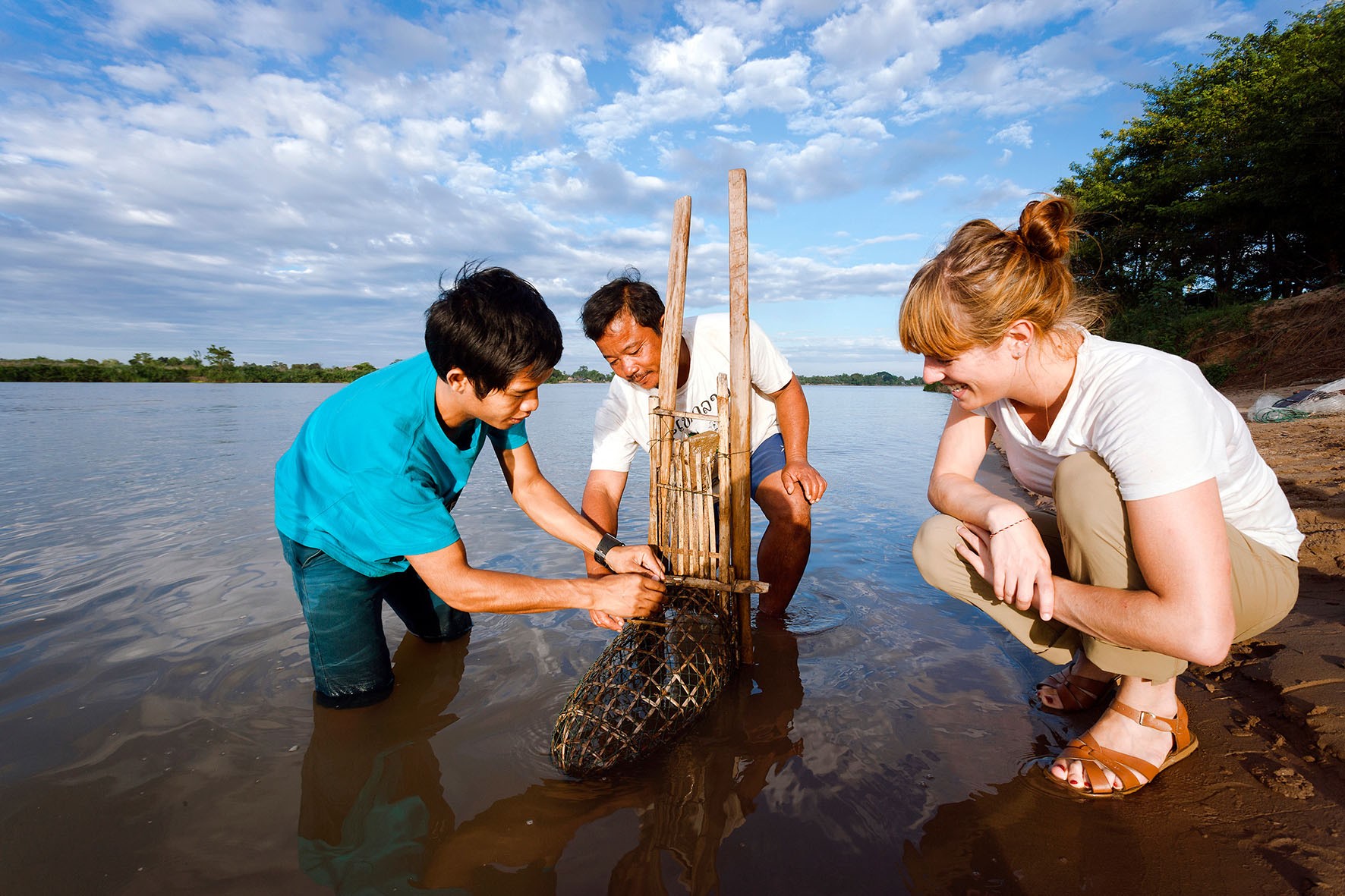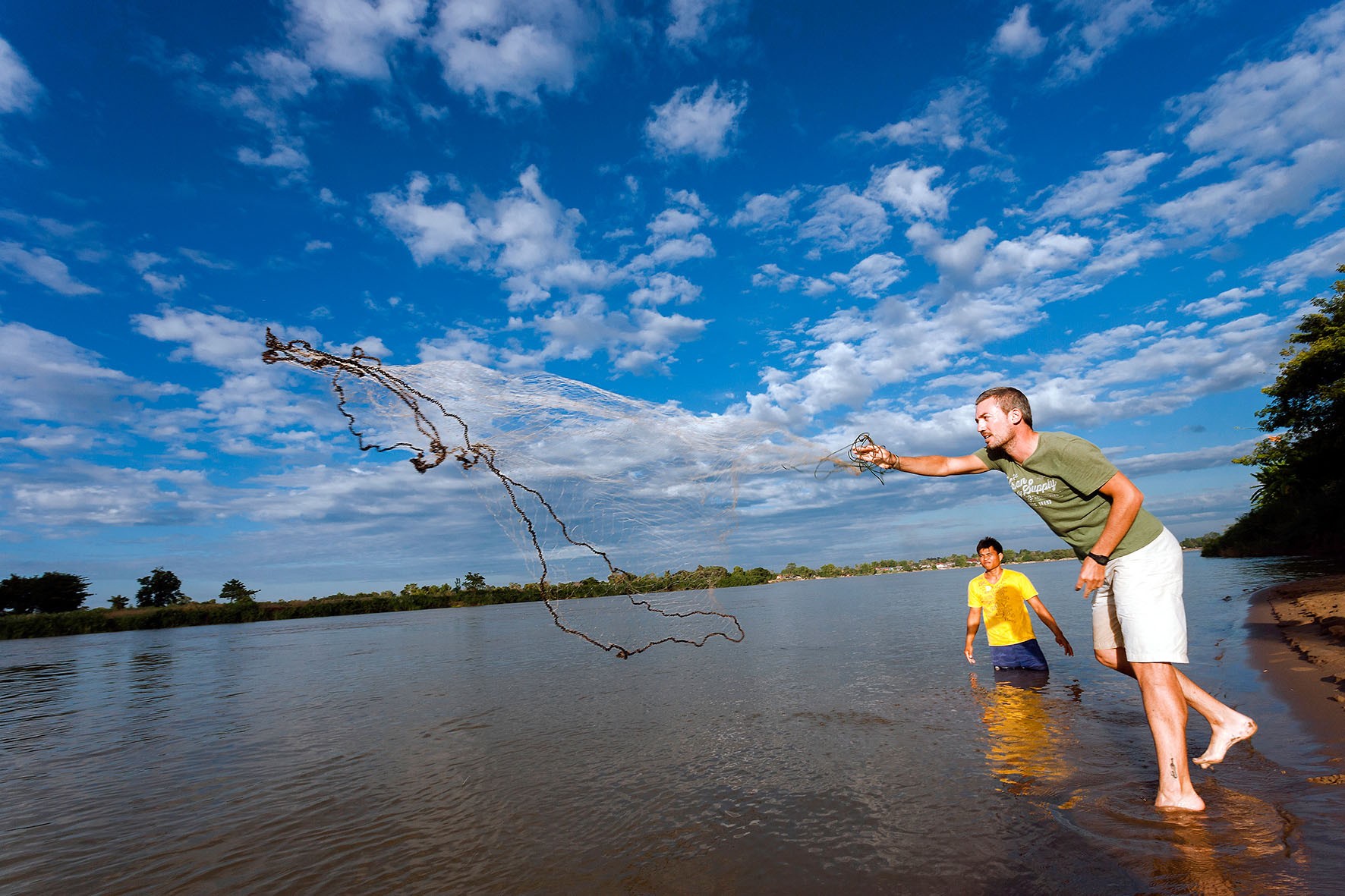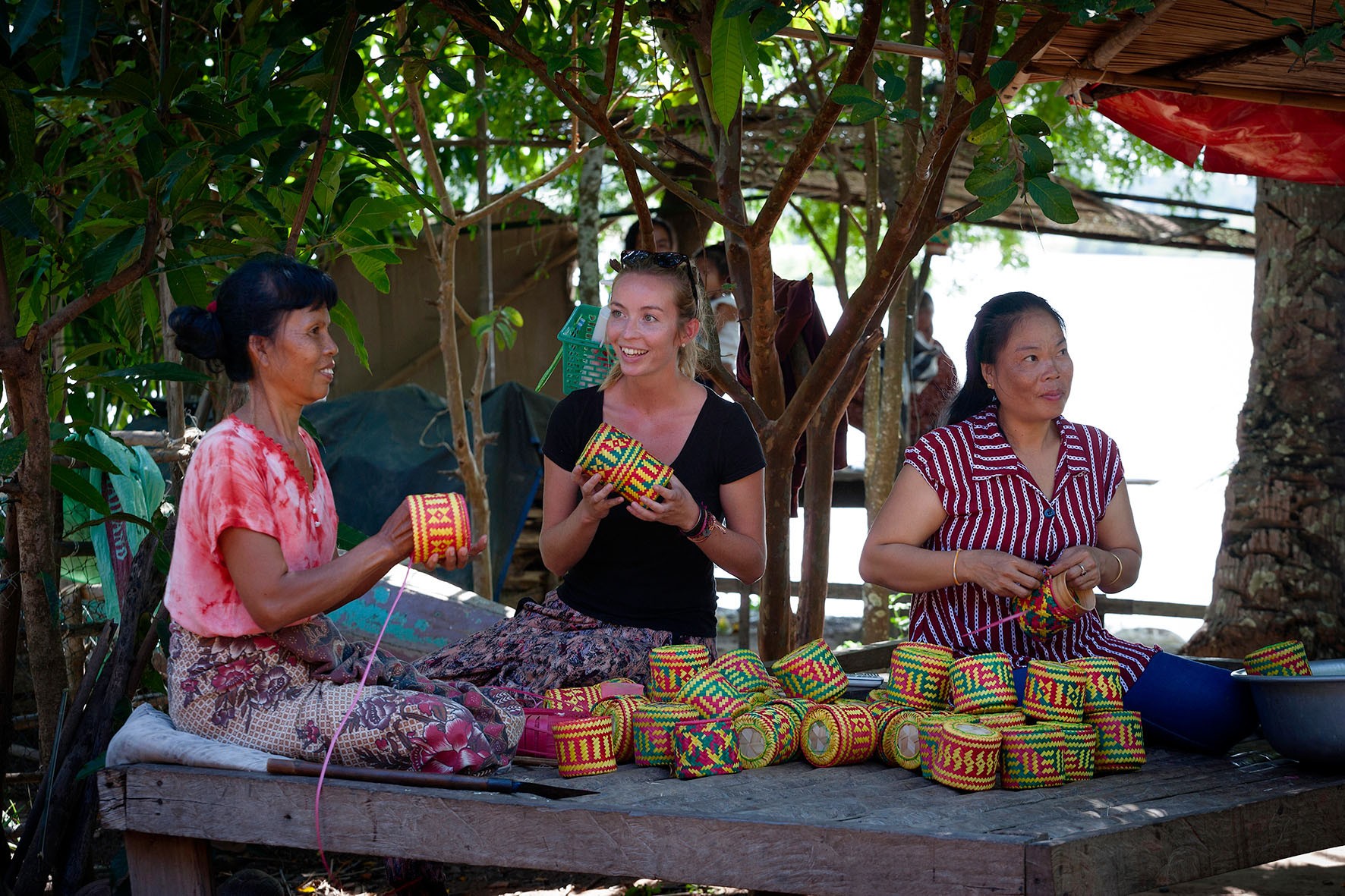 ON THE TRAIL OF NATURAL TRANQUILLITY, ISLAND HOPPING BY BICYCLE
One of the best ways to discover the Four Thousand Islands is by bicycle. Pedal along small paths next to the Mekong and learn how local villagers spend their days on the river. Walk along rice fields, visit temples, keep an eye out for historical remains, and bask in the beauty of the waterfalls. Stop for drinks or snacks along the way and practice your Lao with the locals.
Watch how families fix fishing nets or prepare food or handicrafts in the shade of their traditional houses, and marvel at the river gardens and home garden beds built on stilts while herbs grow in pots of all shapes and sizes. On Don Khong you might even come across a family producing palm sugar, or see rice paper drying in the sun before it's processed into noodles.
You can either explore one island or combine it with visits to others. Don Khon and Don Det are connected by an old French bridge, which makes it easy to travel between the two islands. If you are on Don Khong and would like to go down to Don Det or Don Khon you can ask at your guesthouse or restaurant, ask a local travel agent or a boatman to take you and your bicycle down the Mekong River to these other islands.
If you have extra time you can visit other islands such as Don Som, but be aware that there are no facilities, such as accommodation, restaurants and so on, available on islands other than the three main ones mentioned above.
Where to rent a bicycle: You can rent simple bicycles on Don Det, Don Khon and Don Khong. Tours can be booked with local travel agents on the islands or in Pakse.
When to go: It's better if you leave early in the morning or later in the afternoon to avoid cycling during the hottest hours of the day.
What to bring: Sunscreen, and some water. You can also buy some basic supplies in small shops along the path.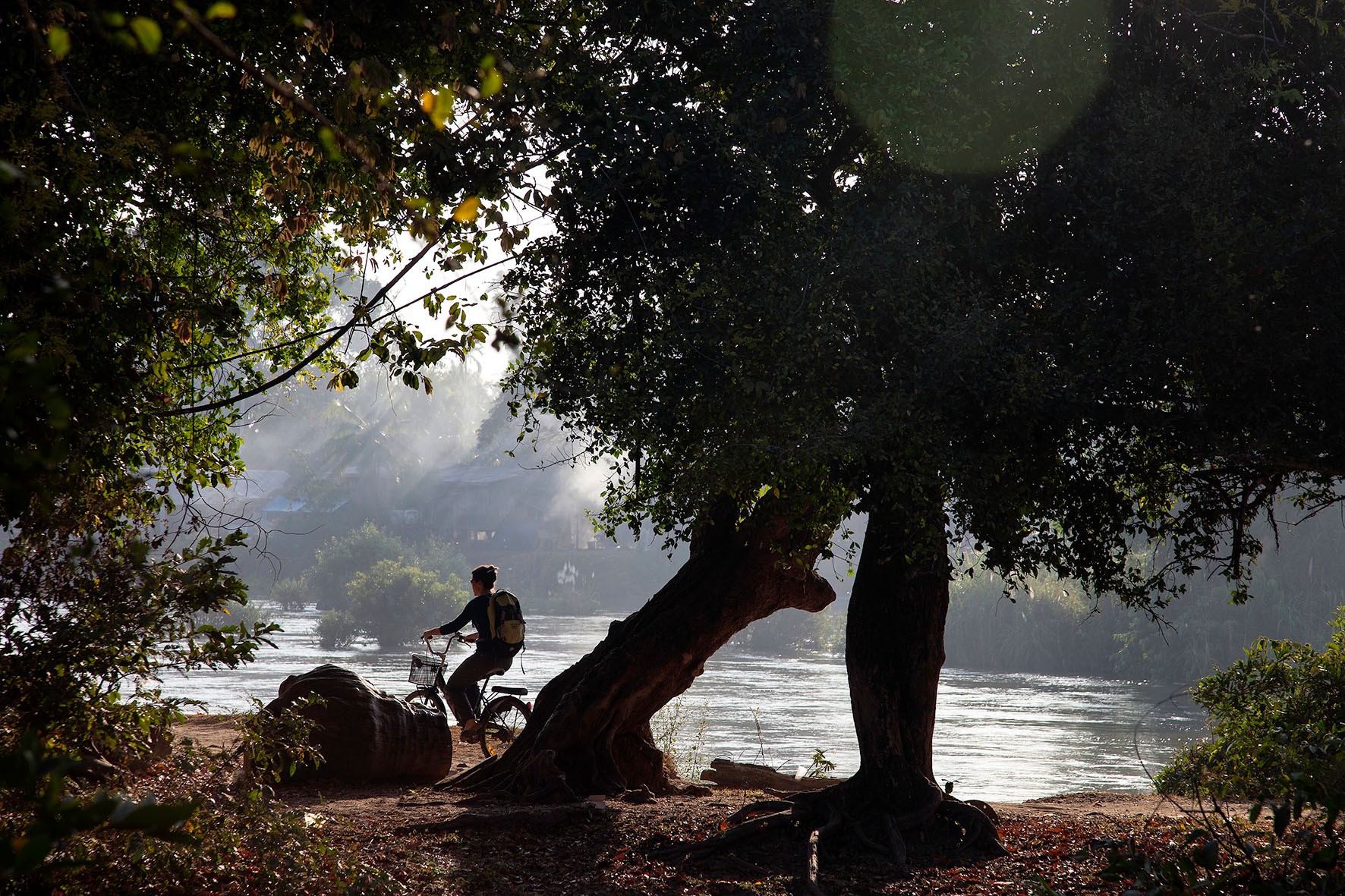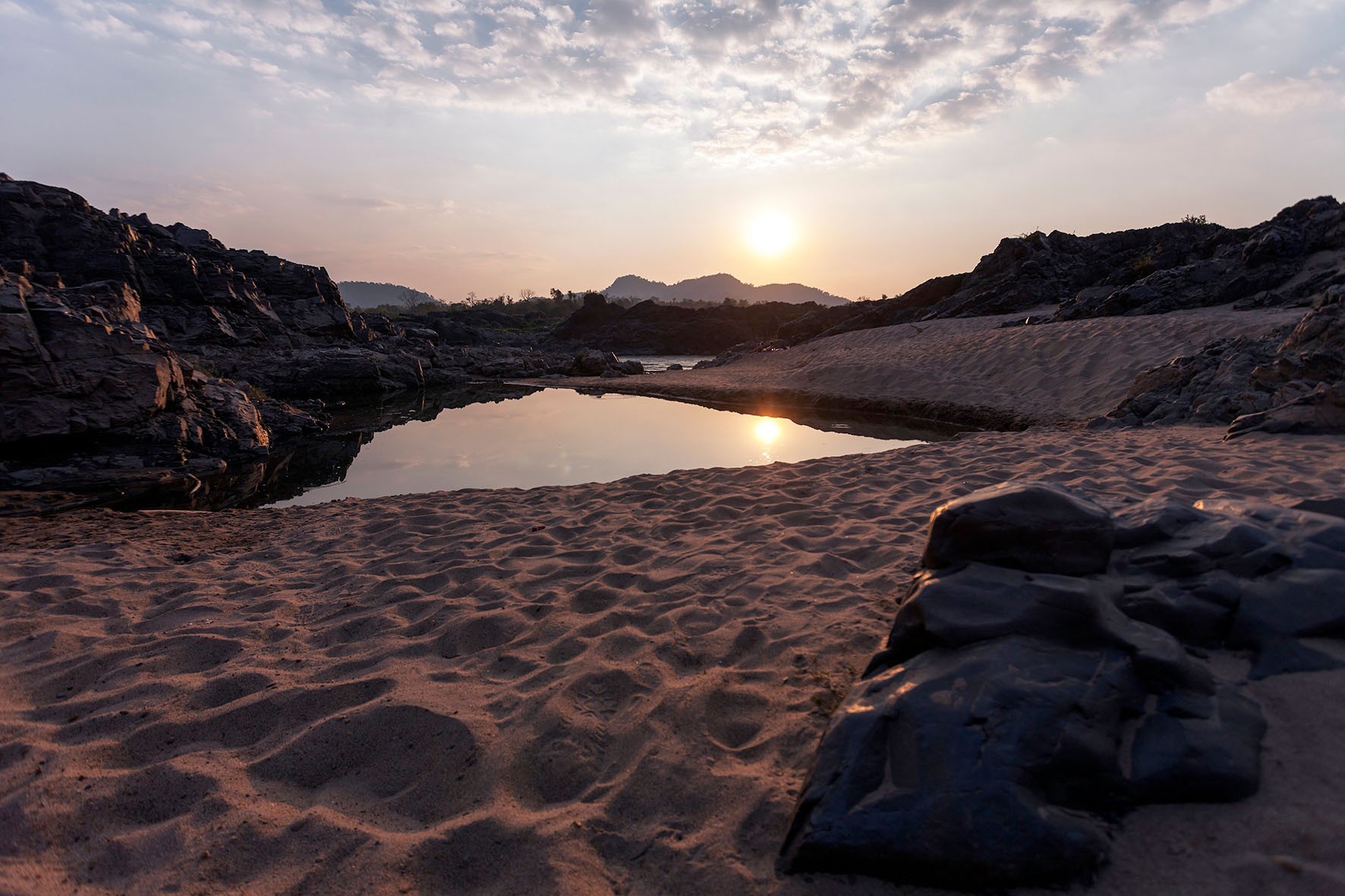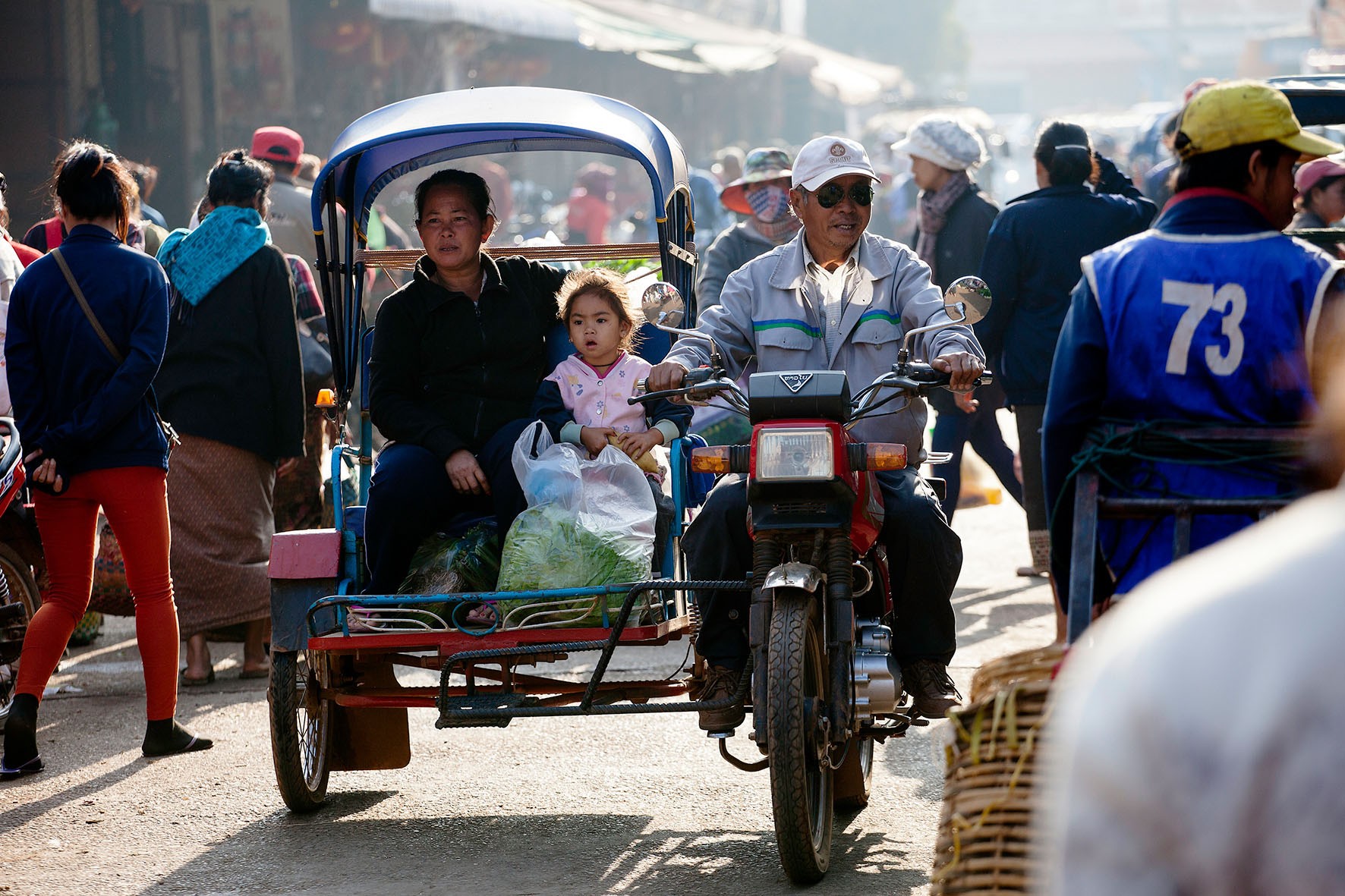 IN SEARCH OF WATERFALLS AND LEGENDS, KHONE PHAPHENG AND LII PHII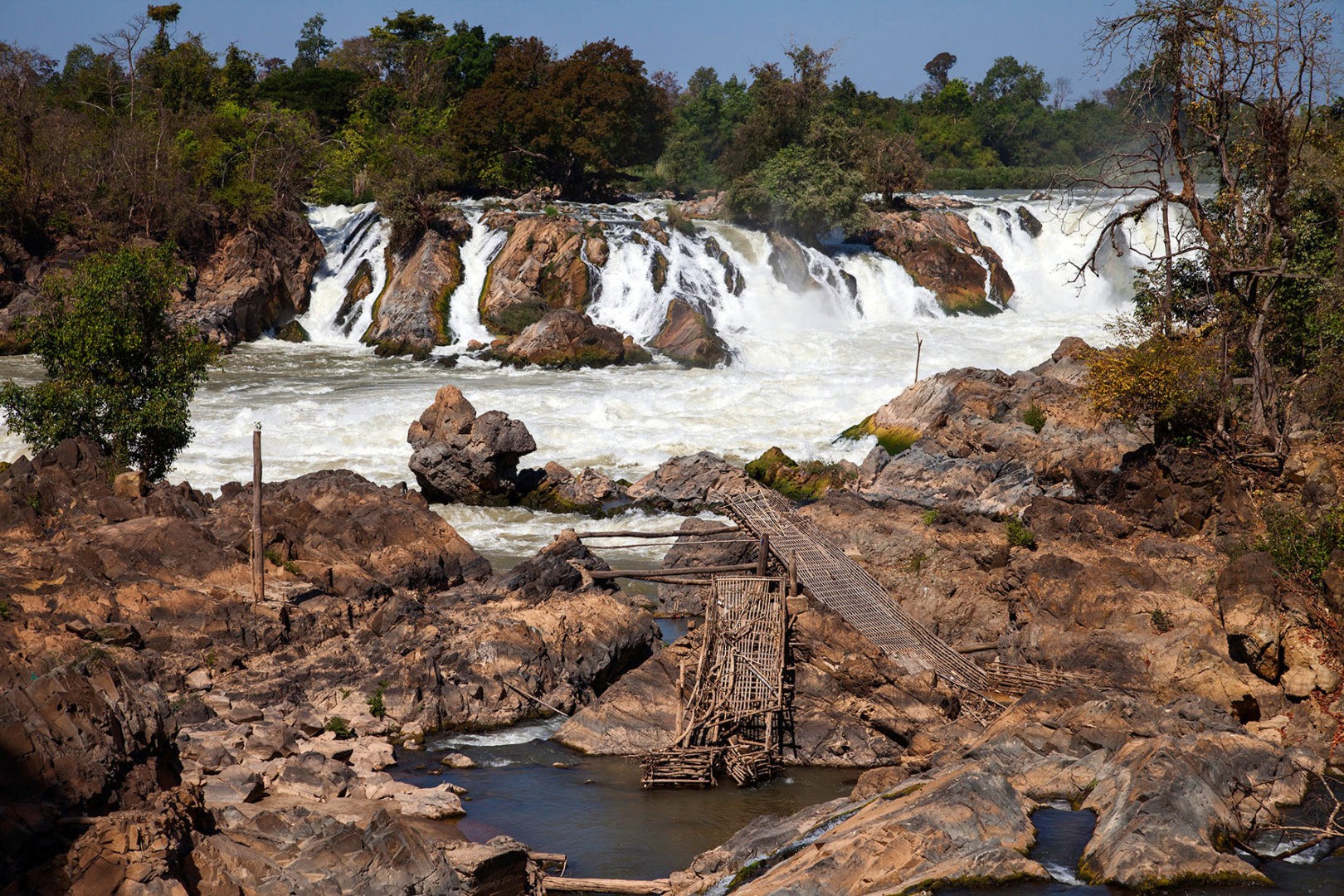 Khone Phapheng Waterfall
Locals often refer to Khone Phapheng waterfall as the jewel or the pearl of the Mekong, as it is Southeast Asia's largest waterfall. Millions of litres of water descend over a set of cascades making it one of the most spectacular sites in Southern Laos.
The "Manikoth tree" at the entrance to the site is very famous. The tree used to stand on a rock in the middle of the waterfall, but toppled over in 2012 due to flooding. The public wanted to save it, as according to an ancient epic poem adapted from the Ramayana, the tree has supernatural powers. After several attempts, the tree was finally brought on safe shores by a helicopter.
How to get there: From Pakse it is 150km south on Road 13 and only 13km from the Cambodian border. You can go by minivan or car or arrange a tour. From the islands you can organise transport with local travel agents. Opening hours are from 8:00 a.m. to 5:00 p.m. Entrance fee 55,000 kip (09/2015).
Lii Phii also known as Somphamit Waterfall
This beautiful natural location is the perfect place to relax. You can follow paths to enjoy different views of the waterfall. You can take a picnic, have a drink in the bar near the sandy beach and even have a swim there, but be careful that you don't go too far out!
The waterfall is also often called Lii Phii. As the legend goes, the name Lii Phii was given to the area due to the fact that it was considered to be a giant fish trap (Lii) not only for fish, but also for ghosts and dead people (Phii). Therefore, watch your step and be careful if you go into the water.
How to get there: You can visit this waterfall from Don Khon, where a small bridge takes you to the tiny Don Lai Island. The site is open from 8:00 a.m. to 5:00 p.m. Entrance fee 25,000 kip (09/2015).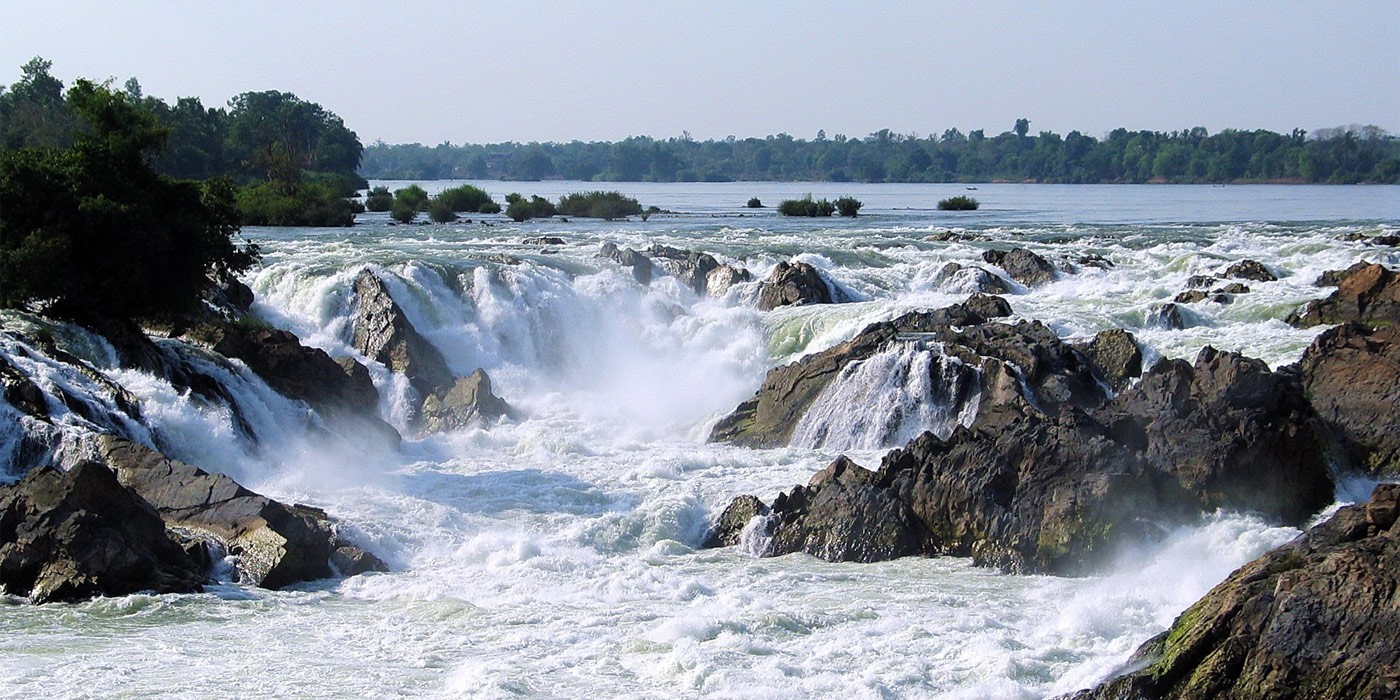 KAYAK ALONG THE MAZE OF CHANNELS, LOOK OUT FOR RARE IRRAWADDY DOLPHINS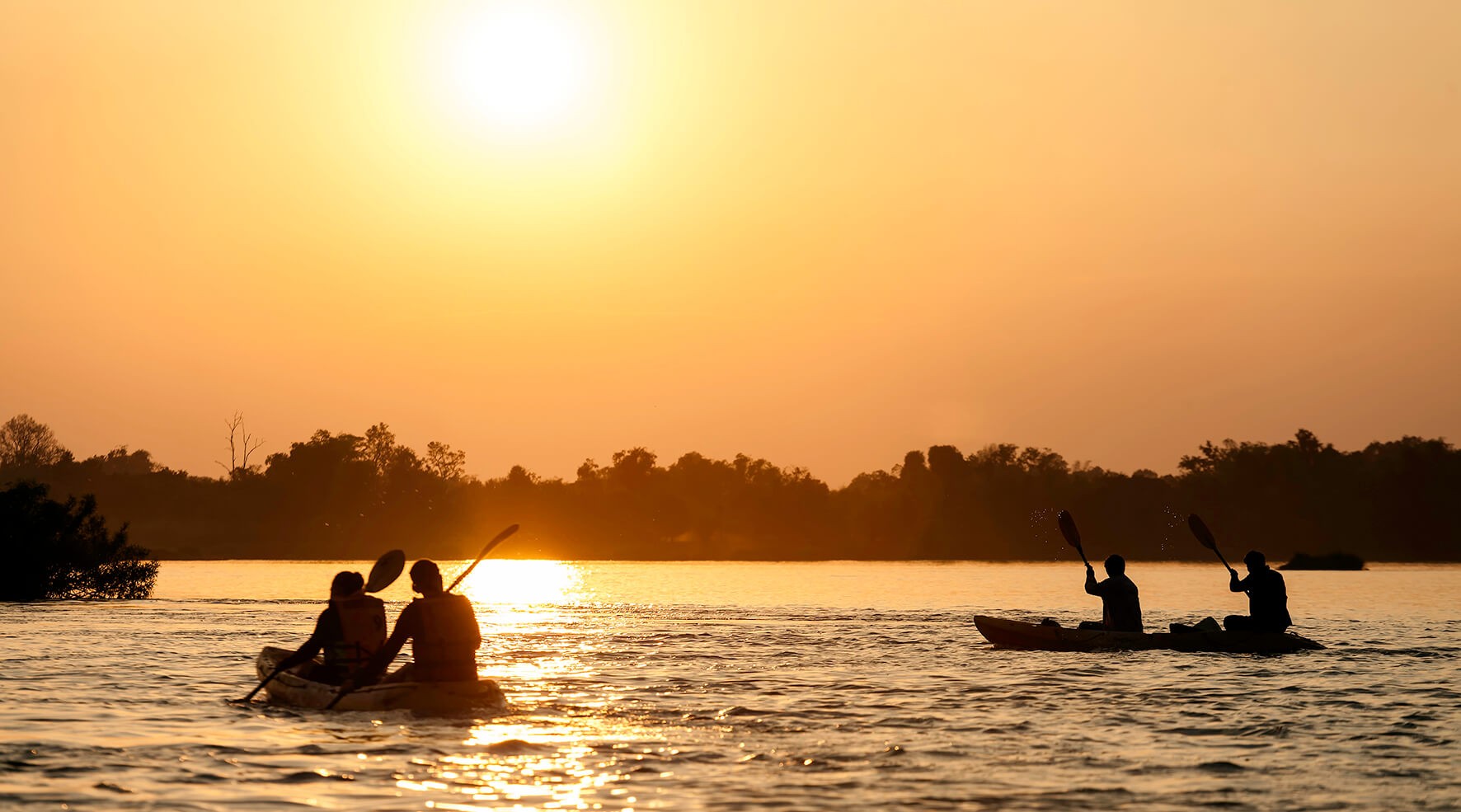 Why not immerse yourself in the natural beauty of the area and silently kayak through the waters of the Four Thousand Islands? As you slowly paddle, you will gain a true insight into the size and character of this unique place. Let a guide take you to the pool where you can spot the rare and endangered Irrawaddy Dolphins.
Alternatively, if you are not comfortable with kayaking, you can charter a boat that can bring you down to the dolphin pool, or you can take a tour around the islands.
In order to not stress the dolphins, the guides have been trained not to go too close. Drivers will go slowly and carefully. The best is when they turn off the motor, be as quiet as possible on the boat and enjoy this very special moment. When visiting the dolphin pool please do not chase the dolphins, do not throw anything into the river. The dolphins are very rare and we urge you to treat them with the upmost respect.
Information and bookings: You can rent kayaks and book tours with local travel agents on the island, in Pakse or in Vientiane. Mr. Pan's Guesthouse on Don Khon seems to be good place to get information and bookings can also be made here.
When to go: The best time is early in the morning. It is easier to spot them during the dry season in the socalled dolphin pool area. Late afternoon towards sunset can also be a good time.
***THE IRRAWADDY DOLPHINS***
The rare, Mekong River Irrawaddy dolphins inhabit a 190km stretch of the river between Cambodia and Laos. 85 individuals are estimated to still be alive, but only five are left in Laos (2015). These low numbers have caused the dolphin to be classified as Critically Endangered. Nicknamed the "smiling face of the Mekong", the population of these small dolphins has been plummeting in recent decades mainly due to dangerous fishing practices. Further threats are dam construction and overfishing.
For further information wwf.panda.org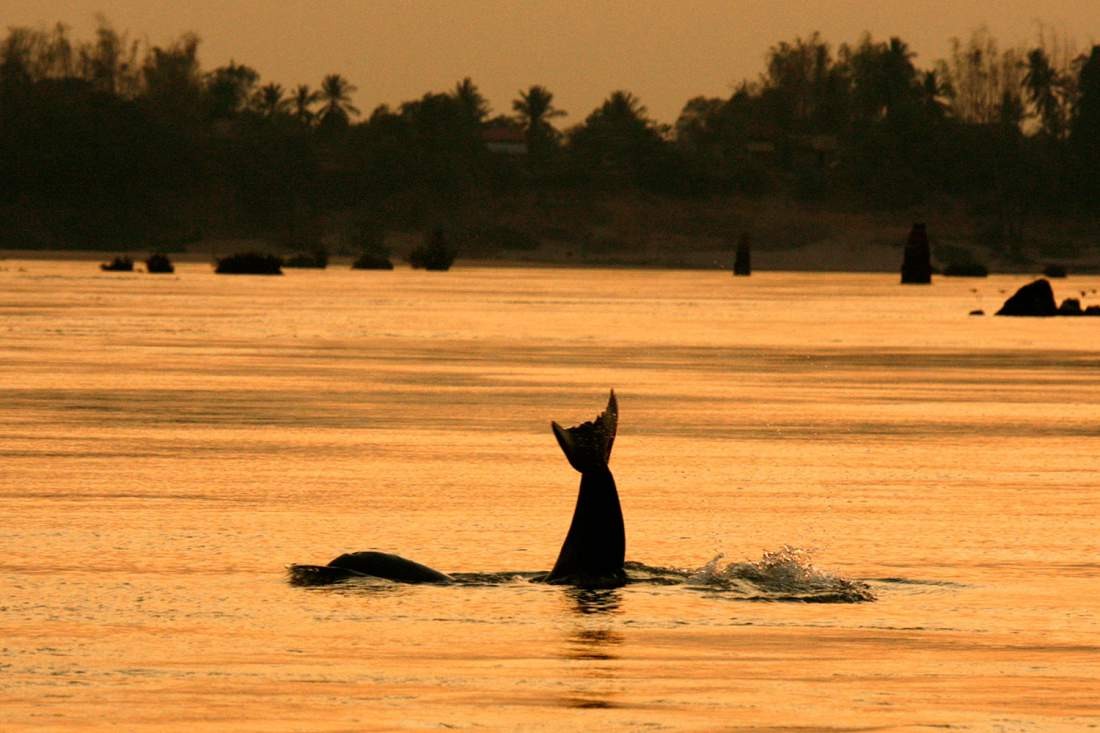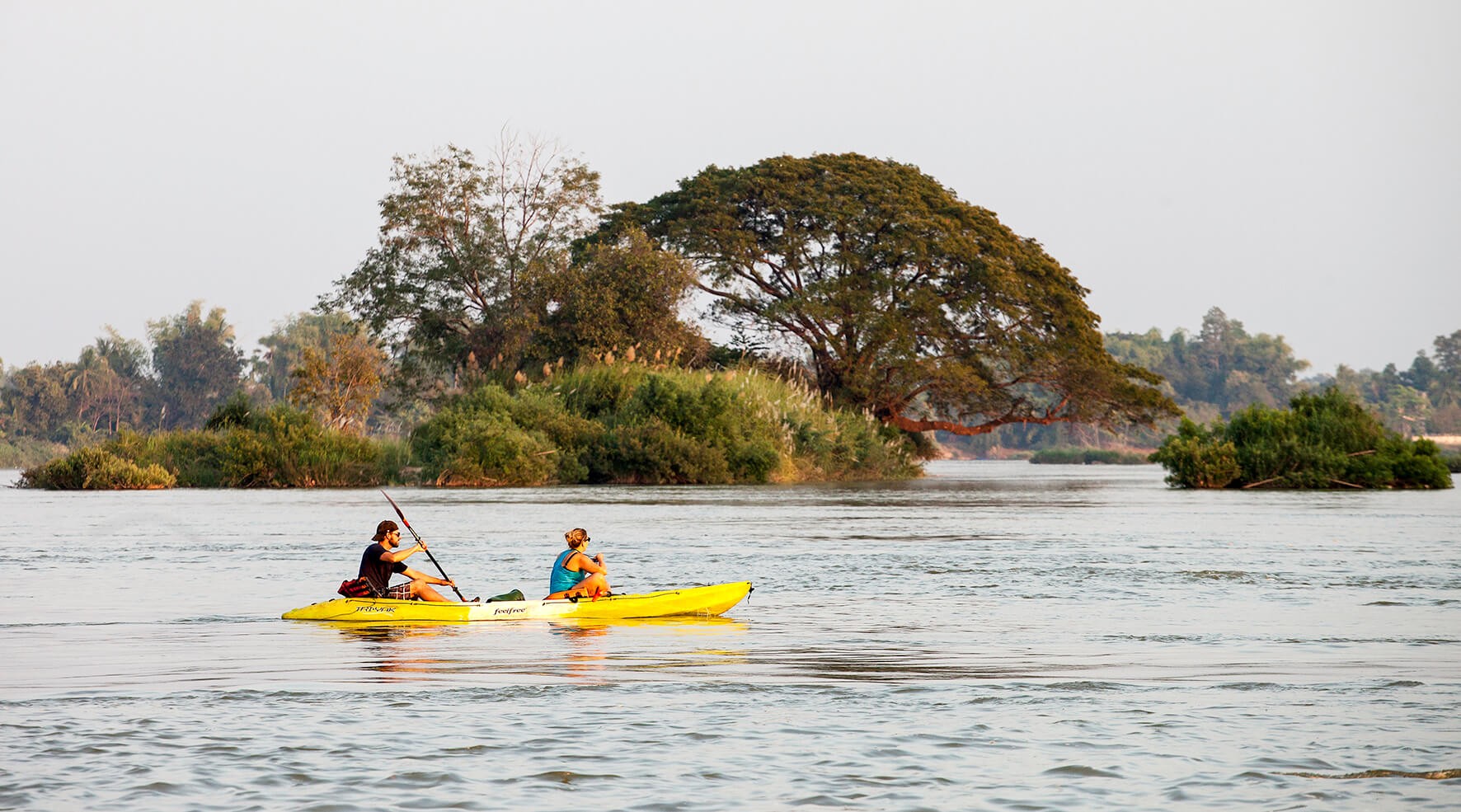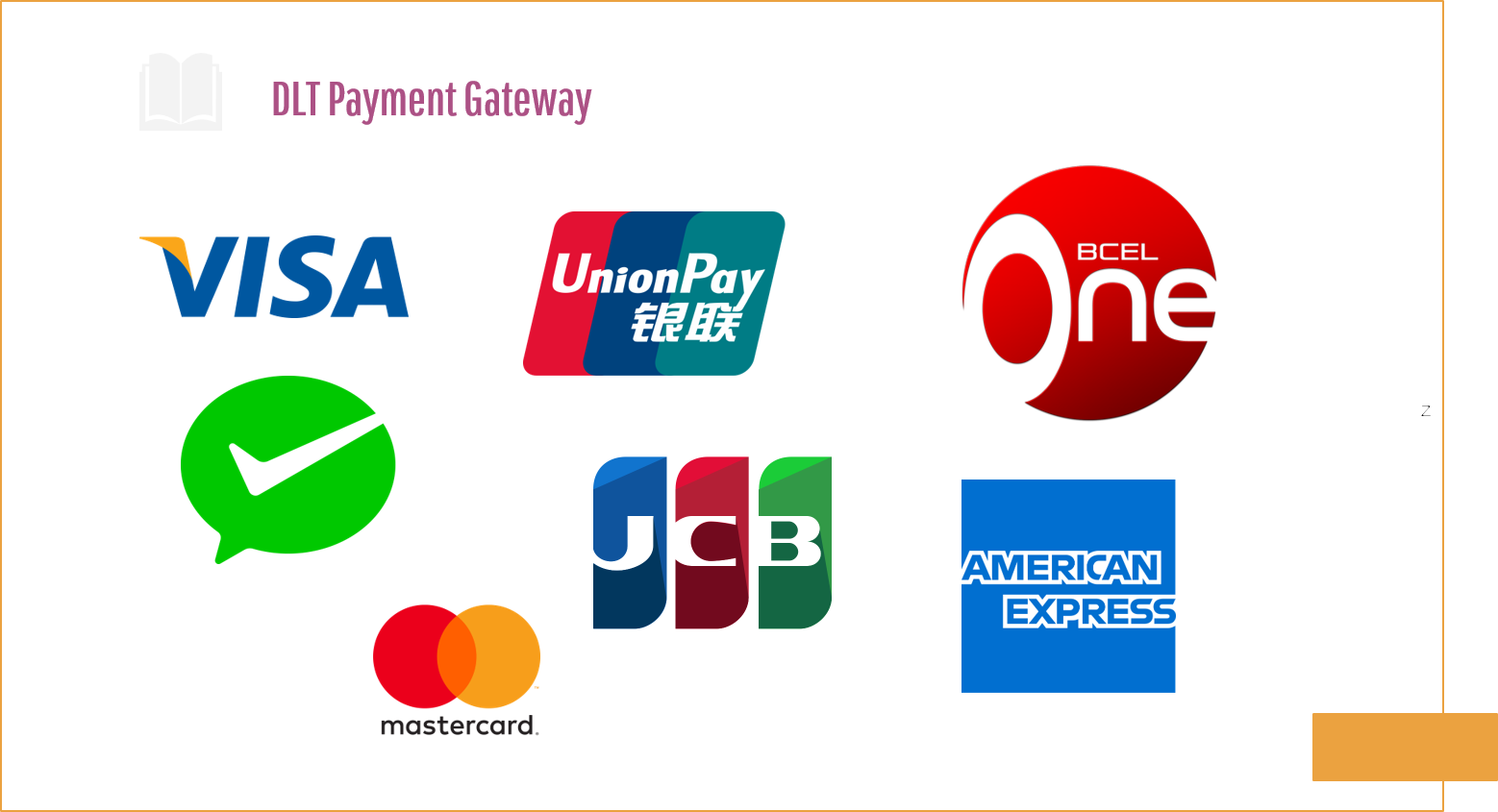 Sourced by Southern-Laos