GETTING THERE AND AROUND
Southern Laos is directly accessible from Thailand, Cambodia, Vietnam and Vientiane, the capital of Laos. It can be reached by air and road.
By Air
Pakse International Airport (PKZ) Lao Airlines (www.laoairlines.com) offers domestic flights (to/ from Vientiane, Savannakhet, Luang Prabang) and international flights (to/from Siem Reap, Bangkok, Ho Chi Minh). Visas are available on arrival at the airport (see → Visas and border checkpoints).
Alternatively, you can fly to Ubon Ratchathani Airport (UBP) in Thailand and travel by bus, taxi or public transport to Pakse (it takes about 2.5 to 3 hours). Cross the border at Chong Mek-Vang Tao (visa available on arrival).
By Bus
There are international bus services from/to Vietnam (Da Nang, Hue), Cambodia (Phnom Penh, Siem Reap), and Thailand (Ubon Ratchathani, Bangkok).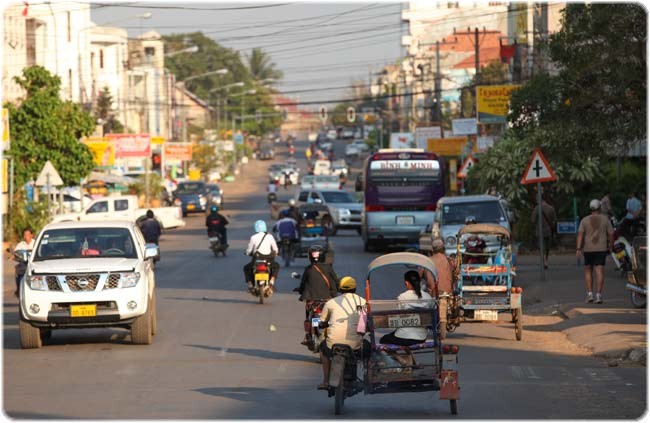 Pakse is Southern Laos' transportation hub and from here you can find connections to many destinations. It is advisable to get tickets at your hotel, a restaurant, or at one of the travel agencies in Pakse's town centre along Road 13, or on one of its side streets. Tickets usually include transfer to the terminal or pick-up at your hotel or guesthouse, but it would be wise to confirm this when you purchase your ticket.
For tickets to smaller, or more off-the-beaten-track destinations, you will have to go to the respective bus station and purchase them directly just before travelling. Pakse has several bus stations, but the two most important are the Northern Bus Terminal (7km north of Pakse, on Road 13, for connections to the north) and the Southern Bus Terminal (8km south of Pakse, on Road 13, for connections to the south and east including the Bolaven Plateau and Attapeu).
There are several other bus terminals in central Pakse. The King of Bus Terminal (Thanon 11, operates VIP night buses to/from Vientiane as well as some other bus services towards the north along Road 13 including Ban Saphai.) The Morning Market Bus Station (Daoheuang Market, on Road 38, has songthaews heading to/ from several destinations in the surroundings of Pakse, including minivans to the Thai border), and the Evening Market Bus Station (2km, along Road 13, has services to/ from Attapeu, Salavan, Sekong.)
Getting Around
There are several ways to get around in Southern Laos.
• Local (public) transport bus, songthaew (small semiopen bus), samlor (motorcycle with side car)
• Tourist bus (bus or minivan organised by travel agents)
• Charter a tuk tuk (a fun way to see town as well as the surrounding area)
• Charter a boat or a luxurious Mekong River Cruise (www.vatphou.com)
• Rent a car (with or without a driver)
• Rent a motorbike It is highly recommended and required by law to wear a helmet! Drive slowly and carefully! Park in a safe place and lock your bike.
• Rent a bicycle → read below Cycling routes
• Join a tour book with local travel agents → read below Travel agents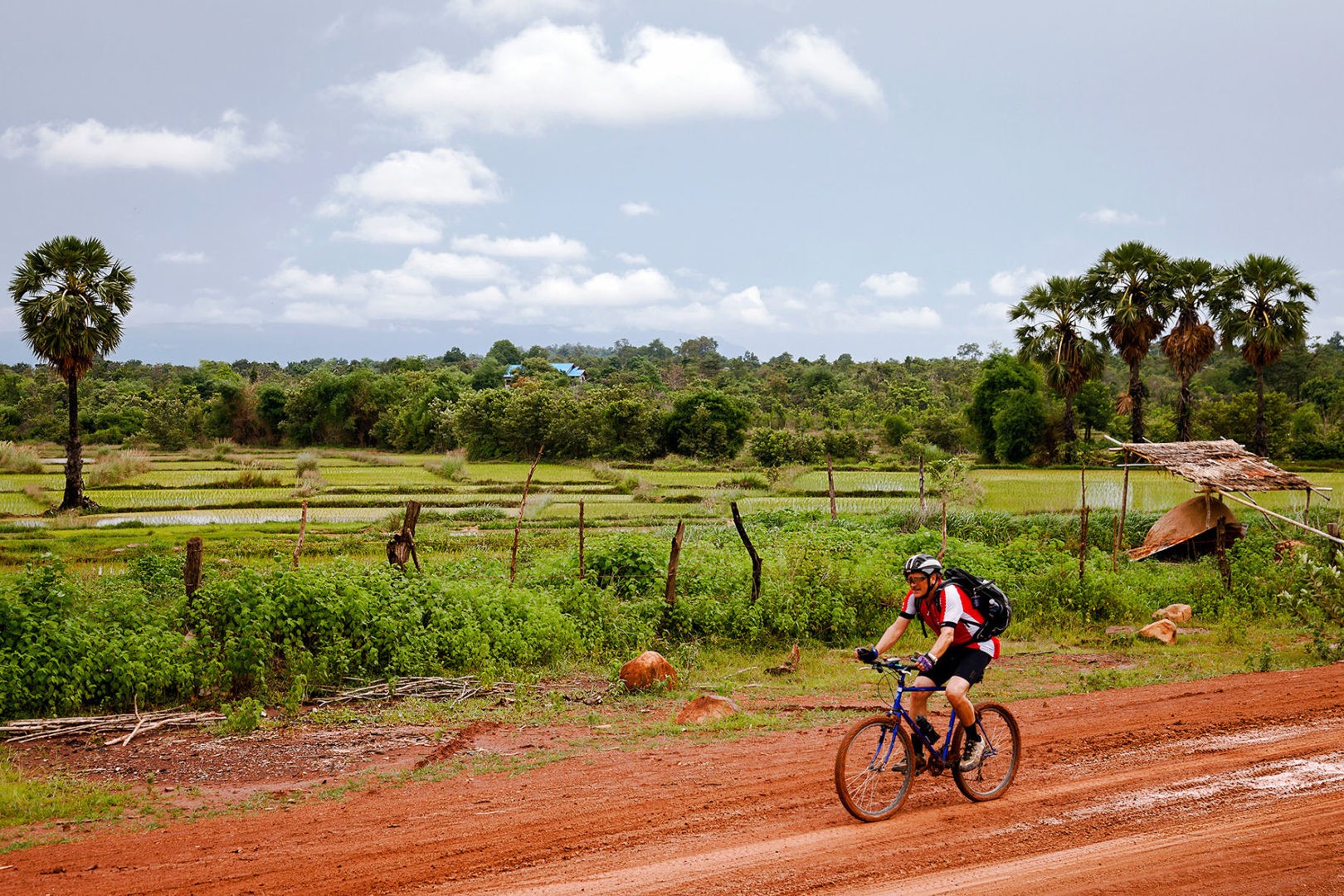 Cycling routes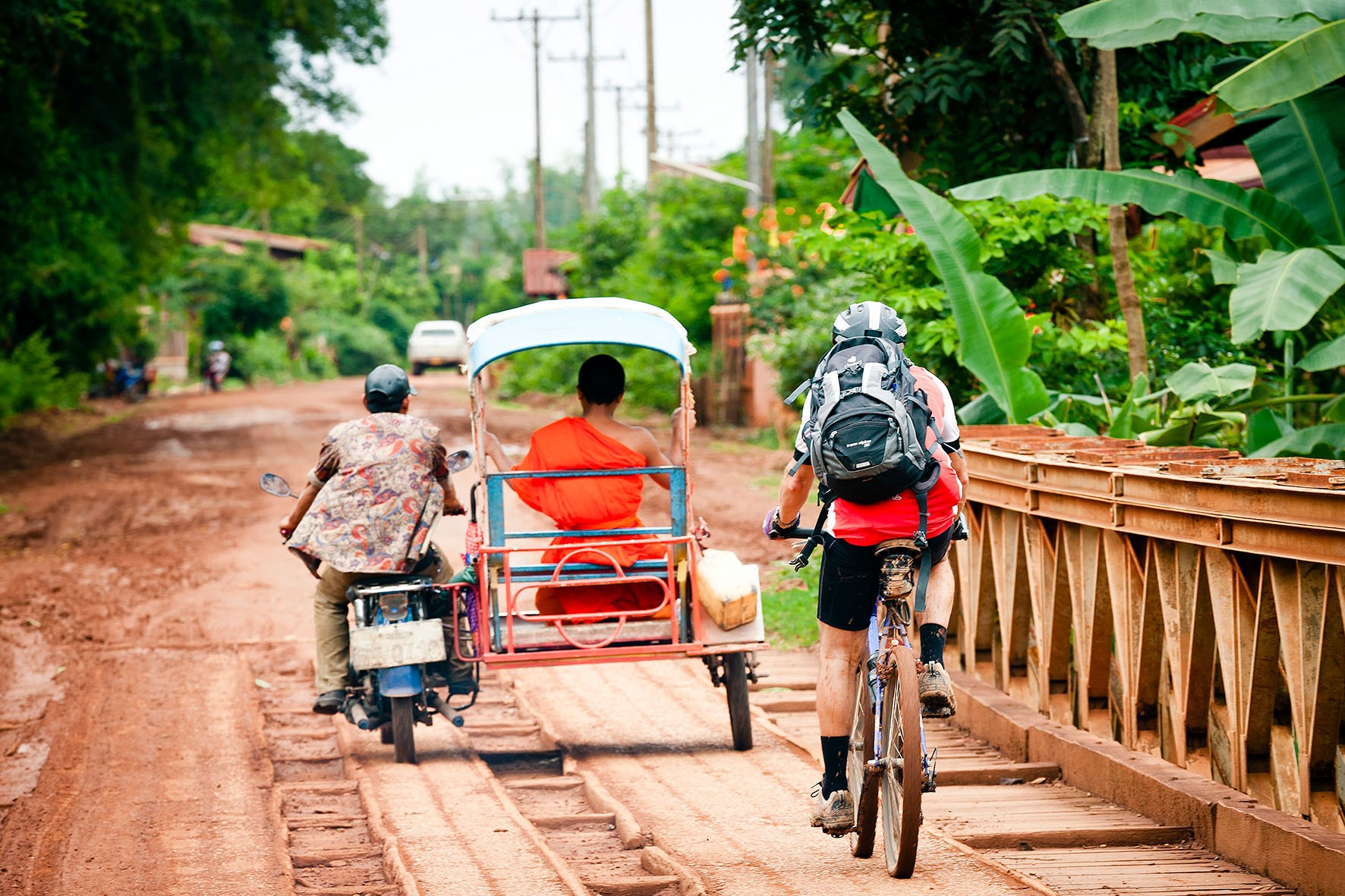 Southern Laos is an up and coming cycling destination. It is advisable to bring your own bicycle if you want to do any extended or advanced cycling. For shorter rides you can rent basic city bicycles in Pakse (even some mountain bikes), Champasak, Four Thousand Islands, and Ban Kiet Ngong. Below, you will find a selection of interesting tours, but for more details please visit www.southern-laos.com
Island hopping on Si Phan Don: Cycle around some very remote and authentic islands between Don Khong and the islands of Don Det and Don Khon. Distance and cycling time 72km, 3 days, or around 15 hours.
Exploring the biggest island – Don Khong: Take an anti-clockwise ride around the island starting on paved roads from Muang Khong and continue along for an adventurous off-road experience to Don San. Distance and cycling time 45km, or around 3.5 hours
Extended Rural Mekong River Tour: Road and offroad biking on both sides of the mighty Mekong River between Pakse and Champasak. Distance and cycling time 77 to 125km, 2 days, or around 6.5 to 9.5 hours
Off-road adventure from Paksong to Tad Lo: (via Ban Lao Ngam) Depending on the season and weather conditions, a manageable and enjoyable ride, or a challenging almost unmanageable trip. Distance and cycling time 60km, or around 7 hours
Rewarding tour on the Bolaven Plateau: (followed by a speedy downhill) This is a lovely ride along the top of the Bolaven, starting at Sinouk Coffee Resort. Take a break in Paksong and then head downhill towards the Mekong to arrive in Pakse.
Distance and cycling time 92km, or around 3.5 hours
Travel agents
Booking tours through one of the local travel agents is a good way to explore Southern Laos. With local guides you can learn about the culture, the way of life and get a better understanding of the country. Travel agents can book tours with foreign language guides, arrange cars or private vans, and they can purchase airline and bus tickets to destinations in and outside Southern Laos.
In addition to travel agents, there are also local guide services. The Tourist Information Office in Pakse can arrange for locally guided trips to community-based tourism sites in the surrounding areas.
Visas and Border checkpoints
All visitors entering Laos must possess a valid passport (with at least 6 months remaining validity). A 30-day visa in advance of arrival is available at the Lao Embassy or Consulate in your country.
At international airports in Laos and at the following international borders in the South, a 30-day visa on arrival is also available (visa fees vary between US$30-45, depending on your country of origin), bring passport size photos
• Laos-Thailand border (Vang Tao-Chong Mek)
• Laos-Cambodia border (Nong Nok KhianTrapaeng Kriel)
• Laos-Vietnam borders (Phou Keua-Bo Y and Dansavanh-Lao Bao)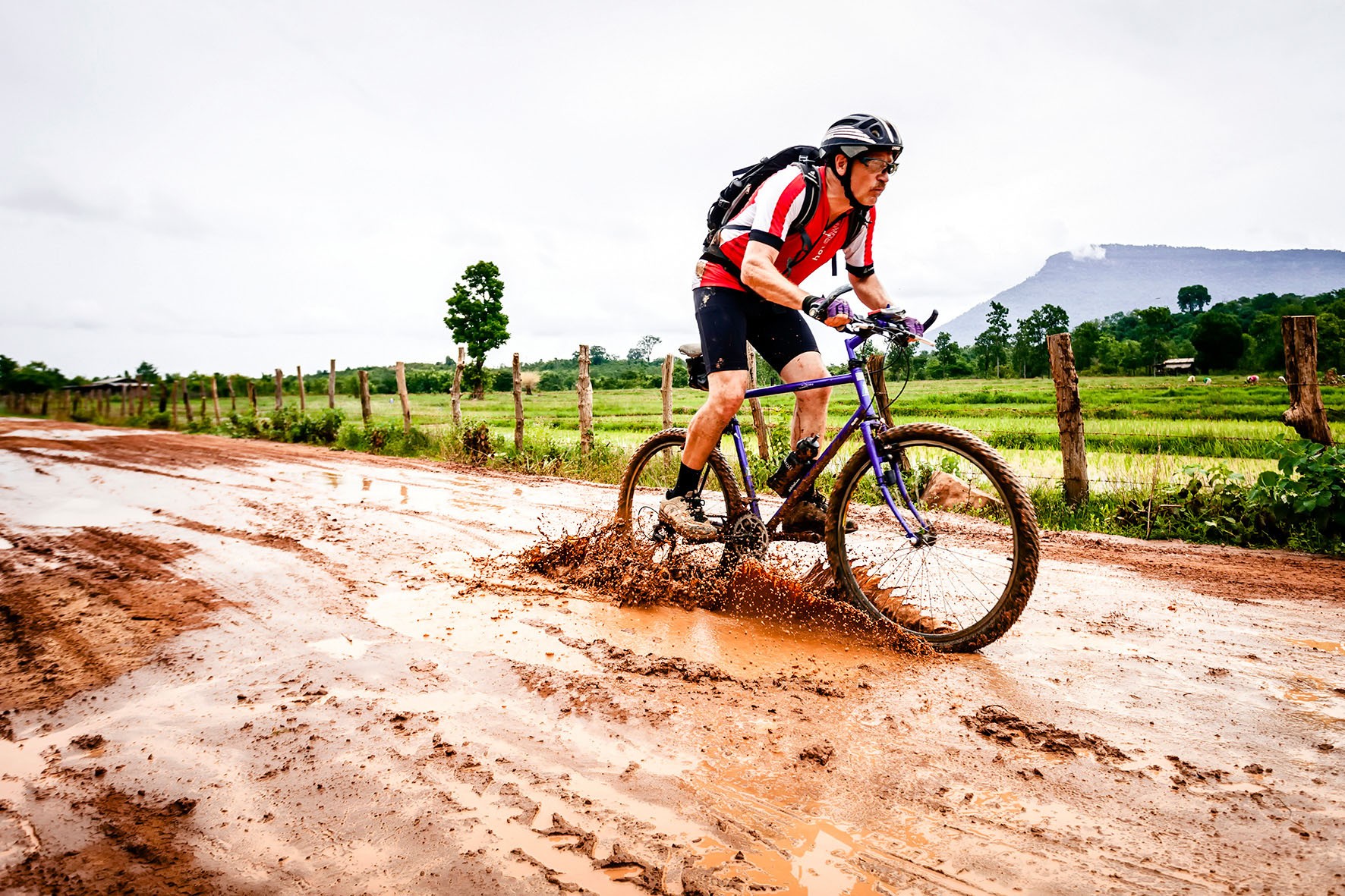 The Laos-Thailand and Laos-Vietnam borders usually operate from 7:30 a.m. to 6:00 p.m. and the LaosCambodia border is open from 6:00 a.m. to 6:00 p.m. When crossing the border after 4:30 p.m., on weekends and on official public holidays, an overtime fee of around 10,000kip will be charged.
In case of questions you can contact the Tourist Information Office in Pakse and visit the website of The Department of Immigration in Lao PDR, www.immigration.gov.la. Visa extensions for temporary visitors can be obtained at the Police office in Pakse, a fee of US$2 per day will be charged. When leaving Lao PDR, please make sure you observe and follow the visa requirements of the respective countries. Note that there is a Vietnamese consulate in Pakse (www.vietnamconsulate-pakse.org/en).
Health and Safety
Healthcare in Laos is still basic. Precautionary measures to stay well include eating only well cooked food, drinking bottled water, staying hydrated, using sun protection, and avoiding mosquito bites.
Significant numbers of Unexploded Ordnance (UXO) – bombs, artillery and mortar shells that did not explode – remain in Laos forty years after the end of the last Indochina war and continue to pose a threat to peoples' lives and livelihoods. Areas frequently visited by tourists have been cleared of UXO, but it is always a good idea to be careful when in rural areas or when trekking. Stay on streets or paths, and take a local guide if you do a trek or want to explore the forests. Do not pick up, kick or in any other way move metal or shiny items you see lying on a path or in the forest, and if you are suspicious that it might be a UXO, inform a local official, to help prevent accidents or deaths.
ABOUT FOOD AND ACCOMMODATION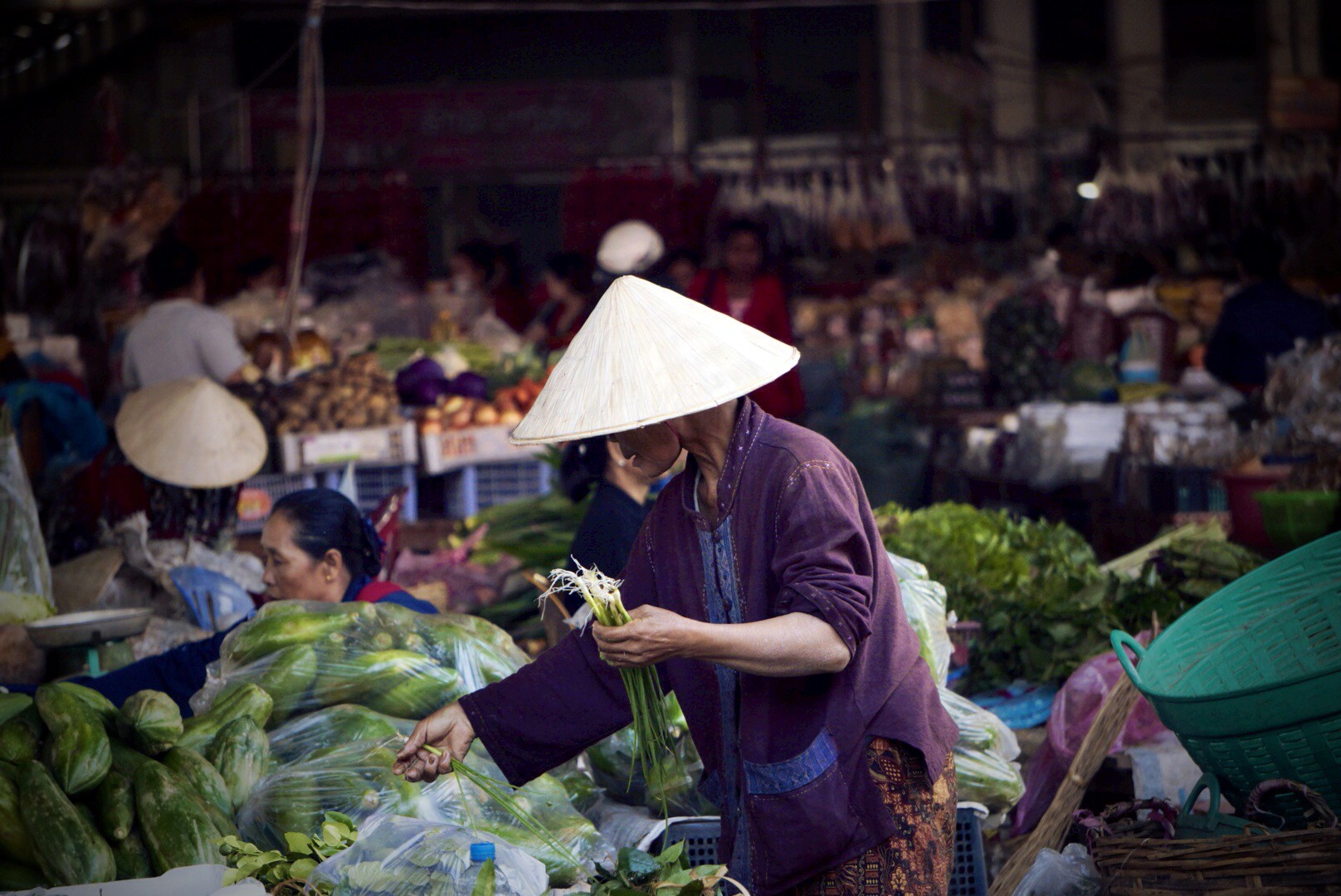 The highest concentration of restaurants and hotels can be found in Pakse, Champasak, Paksong, on the Four Thousand Islands and in Tad Lo. Cuisine options in Pakse include food from Laos, Vietnam, Thailand, China, Korea, India, and Europe. Accommodation choices range from low-budget guesthouses to upmarket resorts, although in the more remote areas choices are limited to guesthouses or homestays.
Food
Lao cuisine places a strong emphasis on seasonal and regional fresh vegetables and herbs. Southern Laos, thanks to its fertile soils on the Bolaven Plateau, offers a wide variety of fruits, vegetables and herbs such as chilli, coriander, galangal, ginger, basil, mint, dill and garlic, throughout the year. The Mekong, which in Lao means "the Mother of Waters", delivers another important ingredient for most food specialities in Southern Laos the river fish.
"Laap Paa" and "Goi Paa", are minced fish salads served with fresh vegetables on the side, and are typical for Southern Laos. You can also find grilled or steamed meat such as pork, chicken or buffalo on the menu. A dish is not complete, however, without the famous sticky rice ("Khao Niao") served in a small bamboo basket. Due to its consistency, it is best eaten by hand and you can dip it into the sauce on your plate or you can ask for a "jeow", a home-made tomato, aubergine or mushroom sauce. Soups are also common, and Bamboo Soup is a regional specialty.
If you are vegetarian, ask whether you can have the dish with tofu ("to huu") or without meat ("baw sai seen"), or with vegetables ("phak").
Accommodation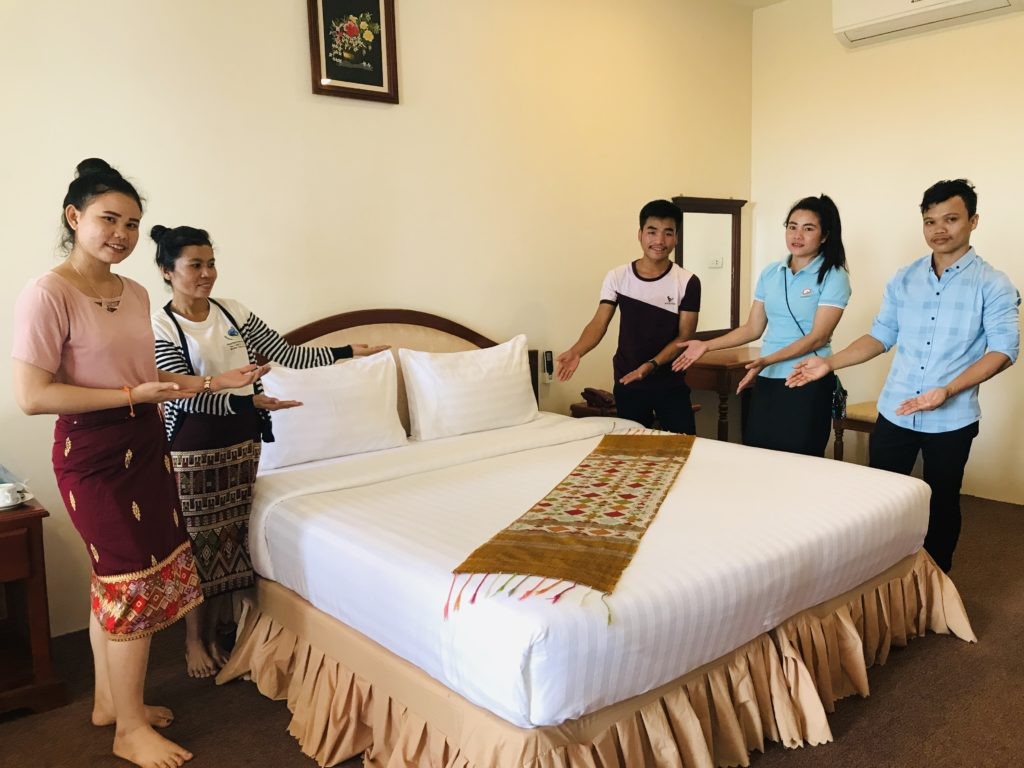 Prices and quality of accommodation vary significantly. Hotels offer rooms costing anywhere between US$20 and US$200. Resorts and lodges in Laos are usually located in natural surroundings, near a waterfall or a river for example, and offer rooms or bungalows from US$25 to US$100. Guesthouses are usually smaller (less than 16 rooms) and cheaper with prices starting as low as US$4 per night increasing to about US$50.
From a cross-cultural perspective, the most interesting choice might be a family homestay. If you pick this option, facilities are likely to be basic and you will share them with your host family. This may not be everyone's preference, but those who opt for a homestay will gain a unique and genuine insight into the real lives of Lao families and will have a chance to experience the hospitality and kindness that Lao people are famous for. If you decide to go on a homestay, please see → Do's and Don'ts to learn about cultural norms that should be respected.
For further information visit www.southern-laos.com and the website of the Champasak Hotel & Restaurant Association www.champasak-hra.com
FESTIVALS AND EVENTS IN SOUTHERN LAOS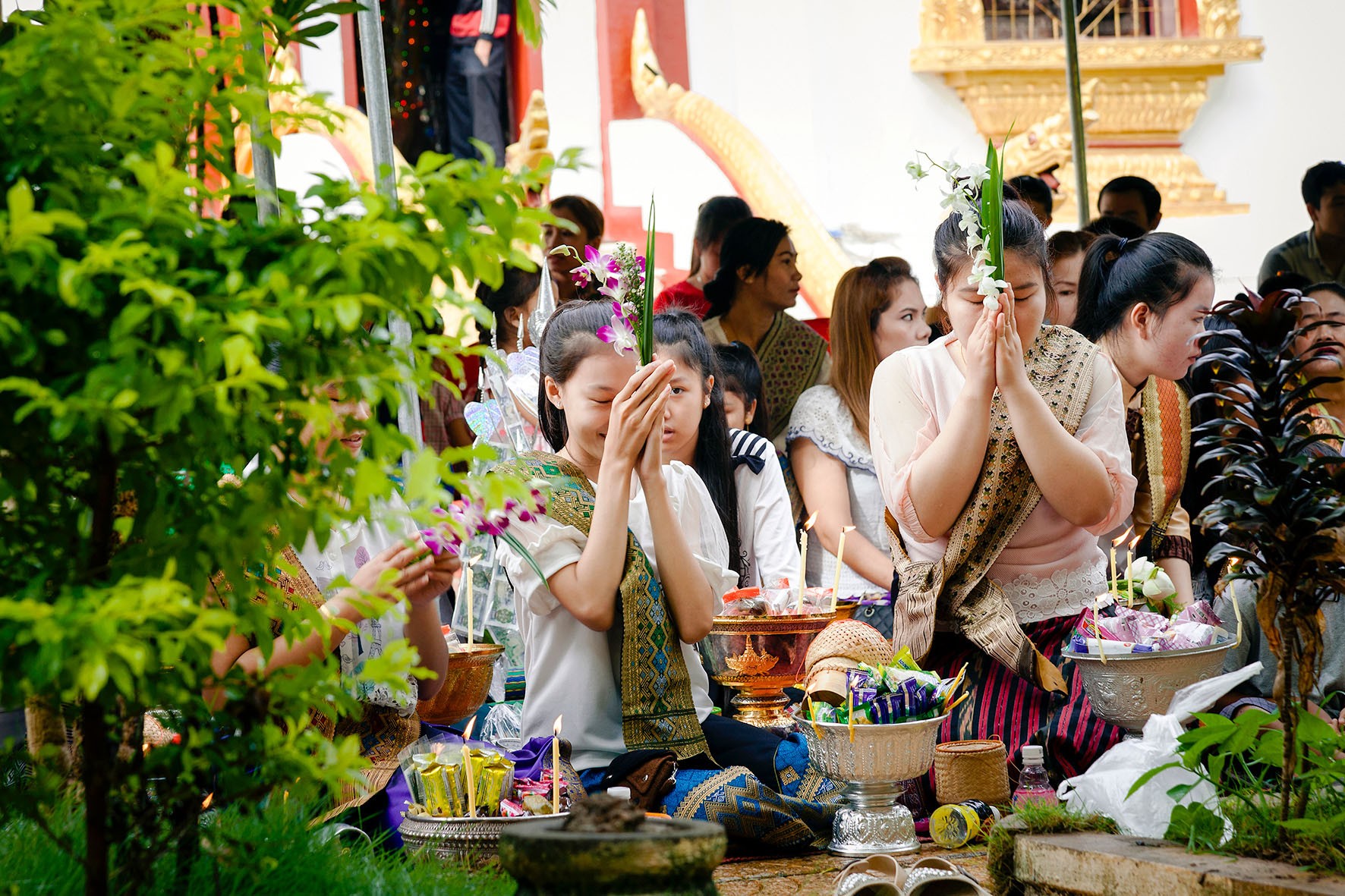 Festivals and ceremonies are a common and important part of Lao culture and life. Most celebrations are strongly linked to the Buddhist calendar and the rice farming cycle. Almost every month includes an event of some kind, and below you will find details about the bigger festivals that take place in Southern Laos. You are warmly welcome to participate, especially in lowland Buddhist ceremonies, but please respect the local codes of behaviour.
JANUARY/ FEBRUARY
Vat Phou Festival – Boun Vat Phou
The Vat Phou Festival takes place every year on the 15th day of the waning moon of the third month (depending on the lunar calendar this is usually during the end of January or the beginning of February). It is one of the largest festivals in the entire country. People gather at the base of the ancient UNESCO World Heritage Site, Vat Phou, to pray, take part in various ceremonies and to enjoy the three-day festivities.
Elephant Festival in Ban Kiet Ngong
The elephant festival takes place the day before the annual ceremony held at the Phou Asa mountain temple in the village of Kiet Ngong. The activities include traditional parades, dances, and a blessing ceremony honouring the elephants.
APRIL
Lao New Year – Pii Mai Lao
This is the biggest celebration of the year throughout the country and is a fun event to take part in. Lao New Year is celebrated for three days in mid-April. The festival is based on the importance of water in people's daily lives, and you will certainly get wet during this time. During Pii Mai, people splash water on one another to cleanse them of misfortune and bring luck for the coming year. In the Wat, Buddha images are cleansed with sacred water and many Lao people make special offerings at the temples. During Pii Mai Lao most businesses and government offices are closed.
MAY/JUNE
Rocket festival – Boun Bang Fai
During this festival giant rockets, constructed from bamboo poles and stuffed with gunpowder, are launched into the sky to encourage the spirits to bring rain for the upcoming rice-growing season. The event is very exciting and loud bangs can be heard as the rockets explode. Traditionally, each village parades the rockets to the temple and makes offerings before shooting them towards the sky.
JULY
The start of Buddhist Lent – Boun Khao Pansa
Held on the full moon, this festival marks the beginning of Buddhist Lent. This is a three-month period where monks are ordained and required to stay in their temples to meditate and focus on Dharma studies to make merit for themselves and their parents.
OCTOBER
The end of Buddhist Lent – Boun Ork Pansa
Monks who were ordained during the three-months Lent period leave their temples to reunite with their families. In the evening of this full moon festival, small banana leaf boats with offerings of candles, incense, and small amounts of money are set afloat onto rivers to bring good luck and prosperity.
Boat racing festival – Boun Souang Heua
This festival is celebrated throughout the country and is an important event in the Southern Laos calendar as it is meant to pay homage to the Mekong River for helping to sustain the lives of people who live along its banks. Teams from different villages and districts compete with each other, in long boats with up to twenty paddlers. Pakse is typically the biggest and the first location in the province.
CULTURAL TIPS, DO'S AND DON'TS
Greeting
The Lao word for Hello is "Sabai dee", usually said with a smile. Lao people traditionally greet each other by pressing their palms together and bowing the head slightly, although it is acceptable for men to shake hands. Touching or showing affection in public is considered offensive. Please be discrete.
Dressing
Lao people appreciate neat and modestly dressed visitors. Be aware that nude sunbathing or swimming is considered impolite. For women it is recommended to keep a shirt on or to wear a sarong over one's swimming suit (check what the locals around you are doing).
Temples
Please show respect while visiting temples. In temples or religious sites, both men and women should have covered shoulders and legs, while shoes and hats should be taken off. Women should not touch a monk or a monk's robes. It is also important that you do not touch sacred items or enter sacred sites without permission.
Homestay
Please remember to take your shoes off before you enter a Lao person's home. Sleep in the place your host has prepared for you and follow their directions. Lao people speak softly and avoid confrontation. Please do not shout or raise your voice. In Laos your head is 'High', your feet 'Low', and it is polite to gently crouch down when passing someone who is seated. Touching someone's head is viewed as impolite.
In the village
Please do not distribute gifts to children as it encourages begging, but give them to an established organization or village elders instead. Always ask permission before taking a photo of people and respect their wishes. Try to connect to people before taking pictures, as it can become an even more memorable moment.
• Please help keep Laos clean and beautiful by not leaving litter. Picking up rubbish sets a good example for Lao youth.
• Please do not buy wildlife, antique Buddhas or other sacred items. Instead, support local craftsmen by purchasing new, quality handicrafts.
• The use of drugs is illegal in Laos. The consequences may be severe for you and Lao society.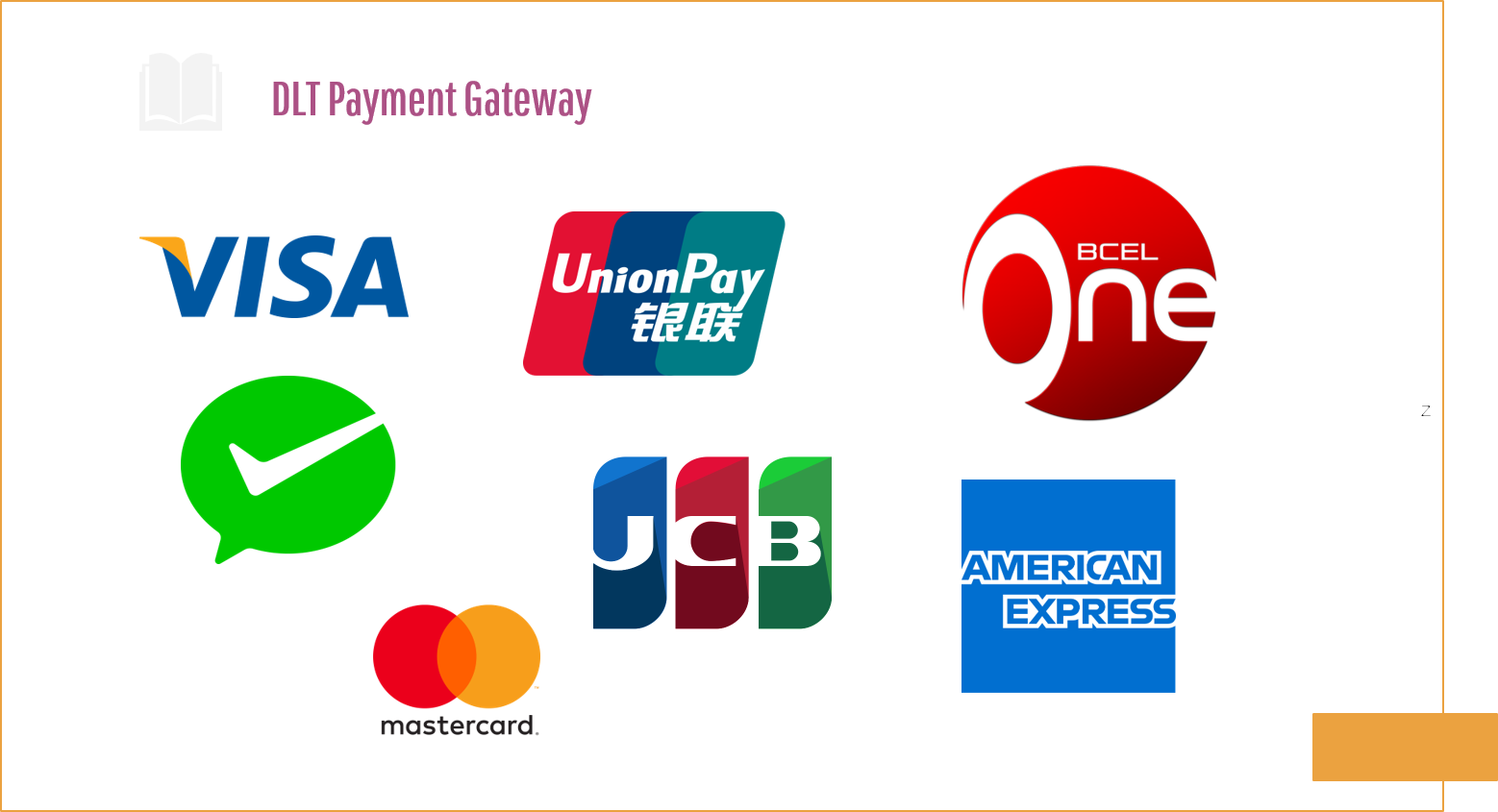 Sourced by Southern-Laos