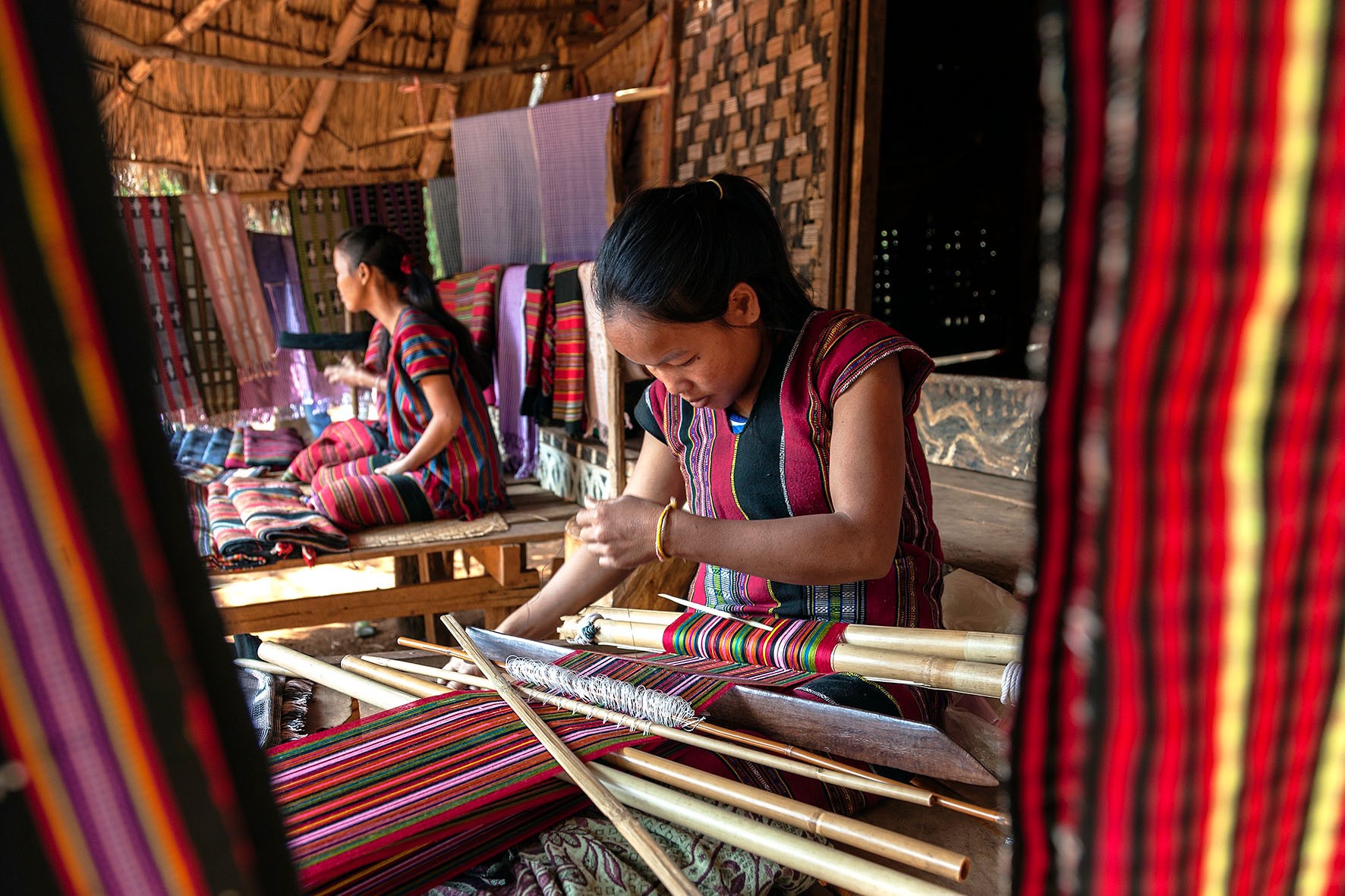 The landscape of the Bolaven Plateau is characterised by coffee and tea plantations and dramatic waterfalls surrounded by lush vegetation. Various ethnic groups inhabit the area. Historically, the Laven dominated the region, but nowadays other ethnic groups such as the Alak, Katu, Ta-oy and Suay also reside in the area. Situated in the highlands at an elevation ranging from 1,000 to 1,350 metres above sea level, the cooler climate is a great relief from the heat during the hot season.
Immerse yourself in the coffee production process and visit plantations. You will discover stunning waterfalls where you can cool off in the clear water, or take a gentle trek and visit an ethnic village. If you feel like a more adrenaline-fuelled trip and want to challenge yourself, register for the amazing Tree Top Explorer trip or rent a motorcycle and ride around the small Bolaven loop on your own.
How to get there: You can book an organised tour or a driver at any of the travel agents in Pakse. If you prefer to make your own plans, you can rent a motorbike or a car (with or without a driver). If you have more time and need less comfort, you can also use public transport, as there are daily buses to Paksong, Salavan and Sekong. They can drop you off at any point, so just ask. Get schedules and tickets at any of the travel agents in Pakse.
Where to stay: Accommodation and food facilities are mainly located in Paksong and Tad Lo. You can also find resorts near some of the waterfalls and along the road, or basic homestays on the way.
What to bring: Swimsuit (see → Do's and Don'ts), sunscreen lotion, a raincoat, and fleece as it can get cool.
FROM THE TREE TO THE CUP, COFFEE ALL THE WAY
The Bolaven Plateau hosts the country's main coffee plantations and tea gardens. The ample rainfall, cool temperatures and rich volcanic soil provide ideal conditions for world-class Arabica and Robusta coffee to grow. You can explore the plantations, learn about the process of coffee production and even participate in a coffee roasting workshop.
You have several different options for your coffee plantation visit. Below you will find some recommendations of tours that have a positive social impact thanks to the support of local smallholder farmers. Your participation can directly contribute to improving their livelihoods.
One-day tour with the Bolaven Plateau Coffee Producers Cooperative (CPC)
On this tour you will learn from smallholders how high quality, organic, and fair trade certified coffee gets from the tree to the cup.
• Visit a coffee plantation and pick coffee beans with farmers
• Bring the beans to the CPC wet processing centre where the coffee is pulped, fermented, washed, dried and packed
• Enjoy lunch in a traditional stilt house with a local family
• Have a refreshing swim in the Tad Yuang waterfall
• Stop at the CPC factory to learn about the dispatch of the coffee for export
• Finish with a coffee tasting in the CPC laboratory
CPC one-day tours are organised every Tuesday and Thursday during the coffee season that lasts from November to March.
Booking and information
Contact: CPC office in Pakse
Phone: +856 3121 4126
Email: cpclaos.coffeetour@gmail.com
Website: www.cpc-laos.org
Facebook: CPC – The Bolaven Plateau Coffee Producers Cooperative
***All profits from this tour will directly benefit the CPC members and their communities.***
A THREE-HOUR TOUR WITH JHAI COFFEE HOUSE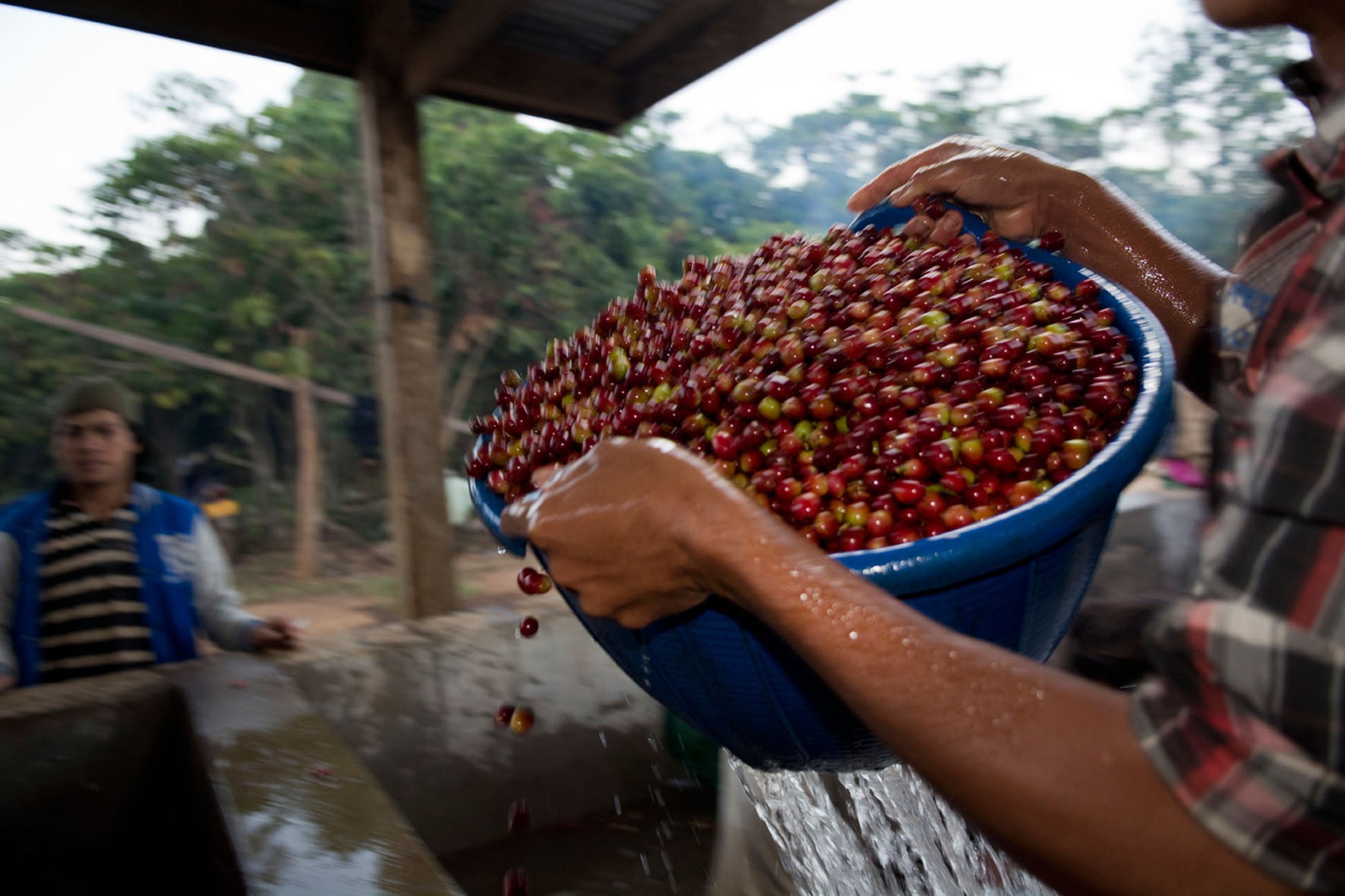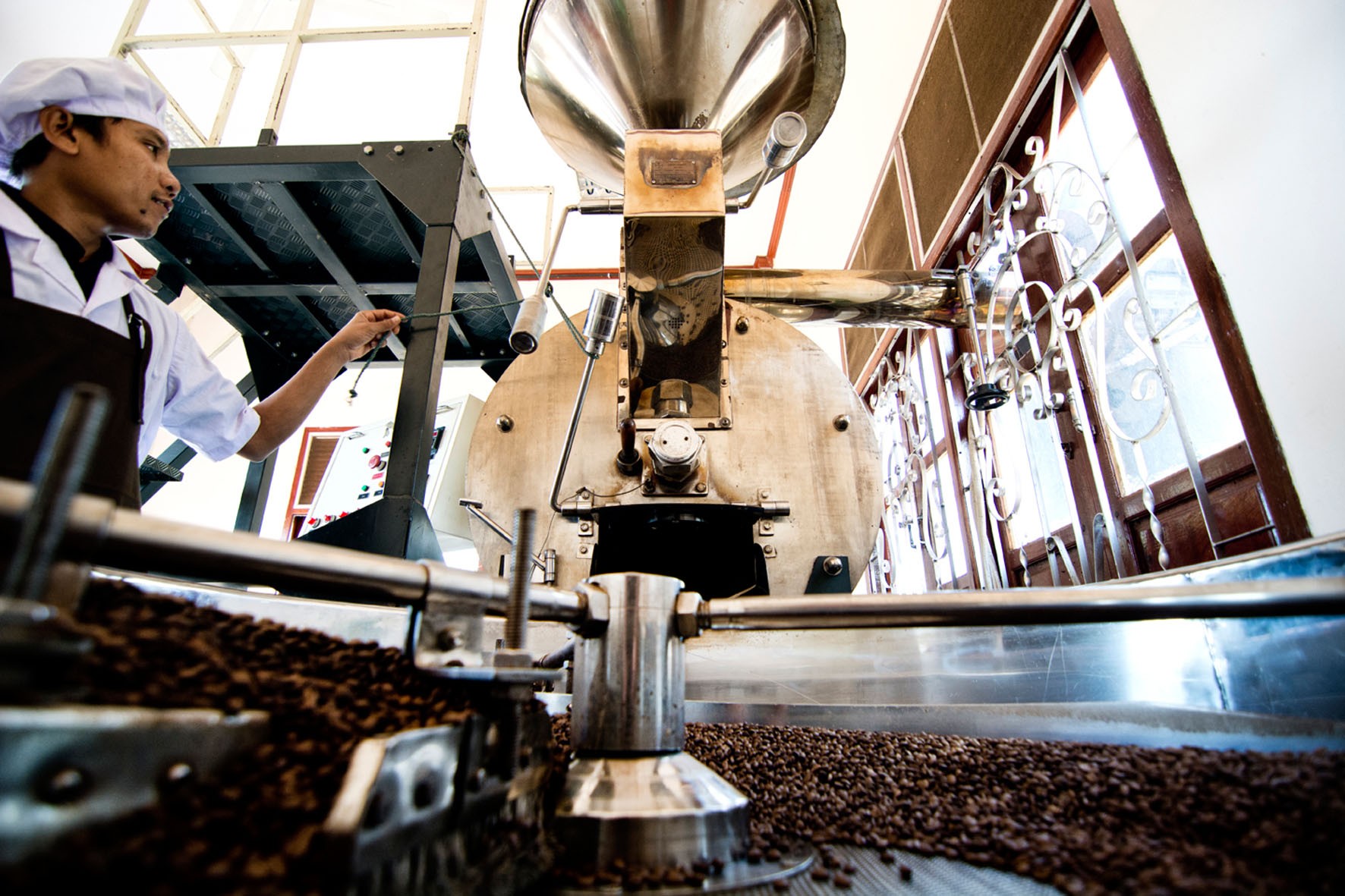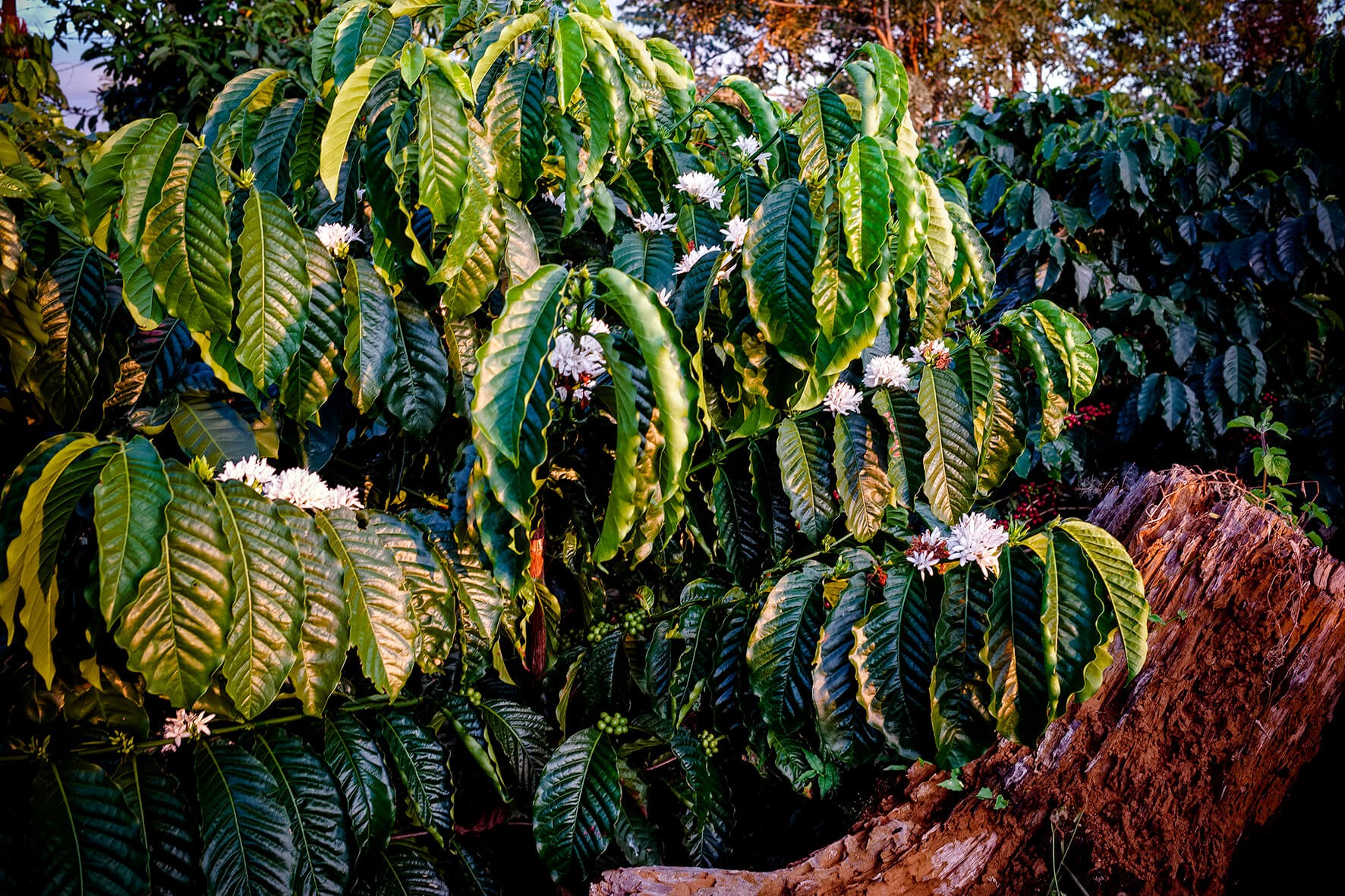 The Jhai Coffee House is a philanthropic coffee roaster and café located in Paksong, on the Bolaven Plateau, right at the source of coffee production. Jhai educates farmers on specialty coffee practices, purchases coffee directly from farmers and invests 100 % of profits into clean water and hygiene solutions at schools within the community.
Learn what it takes to get a cup of coffee.
• Pick coffee beans
• Meet the farmers
• Process coffee
• Visit the warehouse
• Learn to roast
• Enjoy a free cup of coffee
The Jhai Coffee House runs tours every day when staff is available. Tours require a minimum of two people. The best time to visit is during coffee harvesting season from November to February, with tours usually running from 9 a.m. to 12 p.m. There are shorter tours of 45 minutes during the rest of the year that will not include visits to the warehouse or the farm.
Tours are by appointment only, so please book in advance by contacting Jackie Thao (Lao and English) and Tyson Adams (English)
Phone/Whatsapp: +856 20 9767 2424 (Jackie Thao) Whatsapp +12064916784 (Tyson Adams)
Email: jackiethao@gmail.com and tyson@ jhaicoffeehouse.com
Website: www.jhaicoffeehouse.com
Facebook: Jhai Coffee House
***Jhai invests 100% of its profits into water and hygiene solutions at schools within the community.***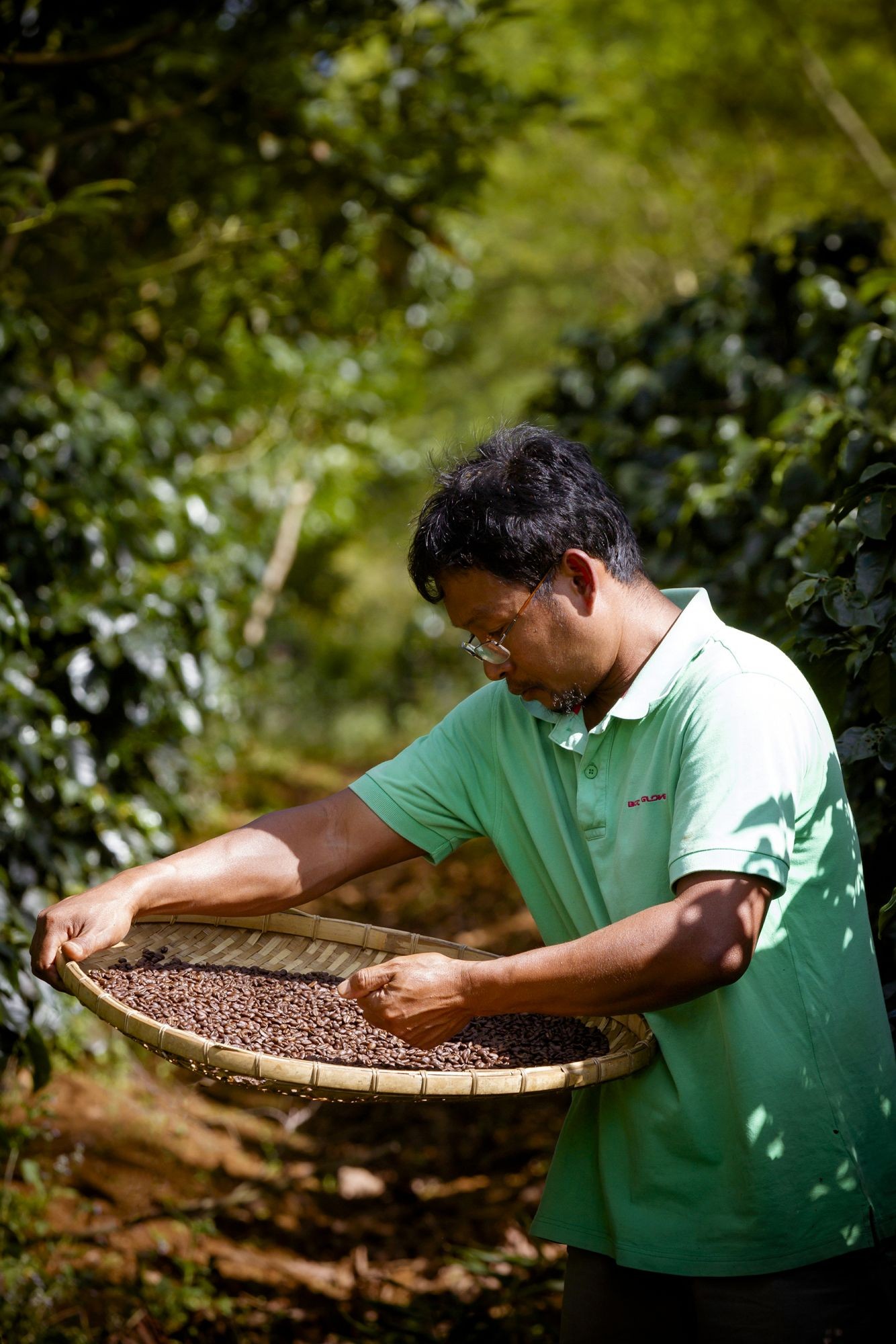 OTHER INTERESTING OPTIONS FOR YOUR COFFEE EXPERIENCE
Sinouk Coffee Resort
The resort is located on the Paksong-Thateng road and is surrounded by a beautiful garden and natural rivers. It has a restaurant and café and offers charming rooms to stay overnight. Visitors can enjoy the coffee plantation and coffee processing guided tour. For more information please contact Mr. Philippe:
Phone: +856 30 955 8960 or mobile +856 20 5916 7355
Email: sinoukcoffeeresort@gmail.com
Website: www.sinoukcoffeeresort.com
Mr. Koffie's workshops and tours at Tad Fane Resort
Located at the stunning Tad Fane waterfall, the famous Mr. Koffie offers coffee workshops and tours. For more information visit the Website: www.paksong.info or make arrangements in advance.
Phone/Whatsapp: +856 20 2276 0439
Email: coffee@paksong.info
Small producers
Another opportunity to learn about local coffee production exists in the form of small-scale coffee plantations found along the roadside, where visitors are always welcome. These small-scale, locally owned and operated plantations offer both tea and coffee tasting and the opportunity to buy coffee or tea to take home as gifts or to enjoy yourself. So why not stop, have a tasty cup of coffee, and have a chat with the local farmers.
***LAO COFFEE***
Coffee has been grown in Southern Laos for almost 100 years. The first coffee plantations on the Bolaven Plateau were set up by French settlers around 1920, and were mainly found along the roads built by the colonial administration. Coffee rapidly became the main crop in the area. Settlers grew Arabica trees exclusively. Around 1940, local farmers also started to grow coffee.
Lao coffee's international reputation was built on high-quality washed Arabica from Bourbon and Typica (1920-1950). Between 1950 and 1990, due to external factors such as war and disease, Arabica was progressively replaced by Robusta. Since 1990, Arabica is being reintroduced.
Production 30,000 tonnes (2013/14)
Plantations 75,000 ha (2014)
Type of coffee Robusta and Arabica
Further information laocoffeeassociation.org, www.laocoffeeboard.org
A LAND OF DIVERSITY, DISCOVER WATERFALLS AND ETHNIC VILLAGES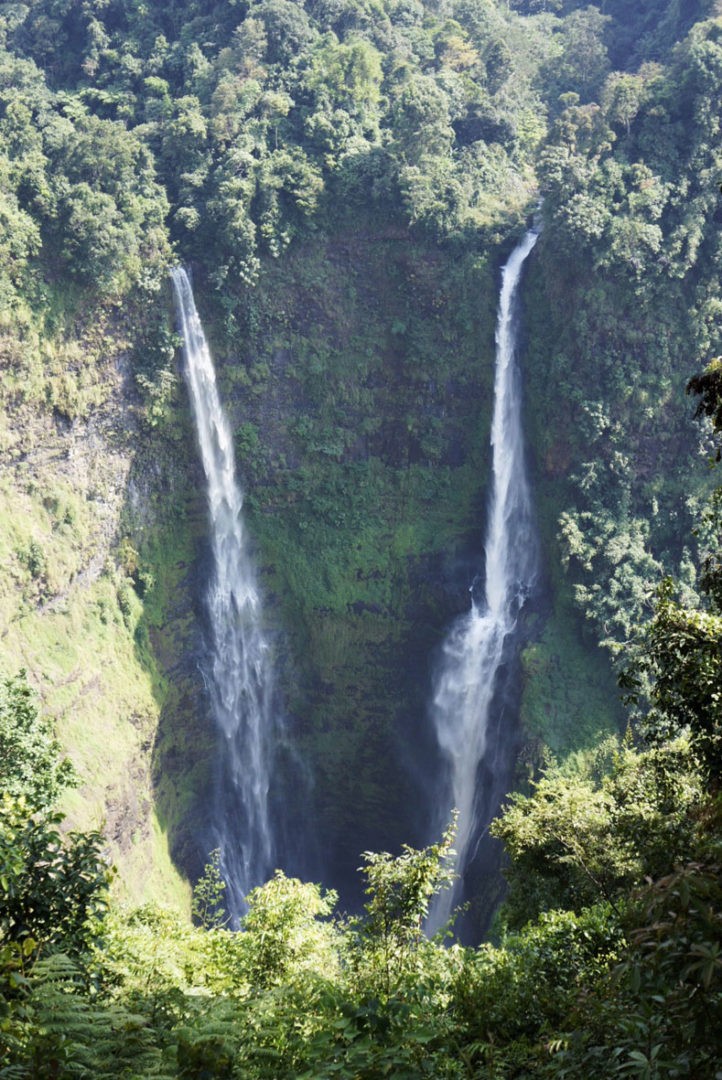 Thanks to the unique geology and climate of the Bolaven Plateau, a large number of rivers cross the highlands, regularly turning into scenic waterfalls on their way. Many of these waterfalls are now accessible by gravel or paved roads and offer basic to resort-style facilities. The waterfalls are a great reason to explore the area but you can easily combine a visit to some falls with a trekking adventure, including stopping at ethnic minority villages, or simply enjoy the tranquillity of the lush vegetation.
Find below a selection of accessible waterfalls that offer basic facilities. At most waterfalls, you will pay an entrance and parking fee. These are the recommended stops along Route E16 to Paksong (go straight on at the intersection at Ban Huayhe at 21km when driving from Pakse)
Sabaidee Valley (33km)
At the Sabaidee Valley you will find the biggest souvenir shop in Southern Laos, a cosy café serving the locally grown coffee, a restaurant serving Thai-Chinese-Lao food, as well as comfortable up-market accommodation (sabaideevalley.com).
Tad Itou (35km)
Tad Itou is a powerful waterfall set amongst lush tropical vegetation. The E-TU Waterfall resort (baanetuwaterfallresort.com), located right next to the waterfall, offers comfortable bungalows and a restaurant. There are also picnic facilities where you can appreciate the waterfall from the top. Some steep stairs take you down to the pool at the bottom of the cascade
Tad Fane (38km)
Tad Fane waterfall is located within the Dong Hua Sao National Protected Area. Two rivers converge here to form the impressive 120 metre high waterfall. You can enjoy the view from the restaurant or stay at the resort in a cabin-like bungalow. There are some trekking options to explore the Dong Hua Sao National Park. For more information, you can ask at the Tad Fane Resort. For coffee tasting or workshops read the section above.
Tad Champee (38km)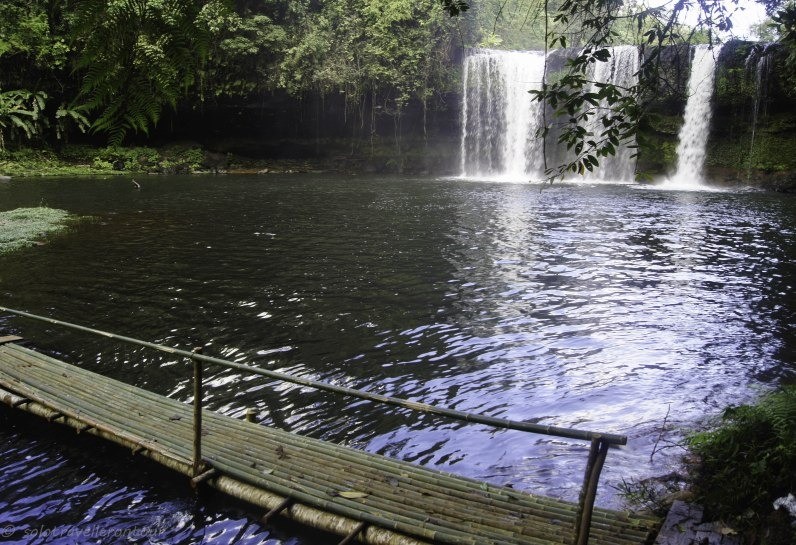 The access road to Tad Champee is just opposite Tad Fane. It is a scenic waterfall where you can relax on one of a number of wooden benches or on a natural round boulder situated around the waterfall. Have a picnic or a swim, and enjoy the tranquillity of the area. See → Do's and Don'ts.
Tad Yuang (40km)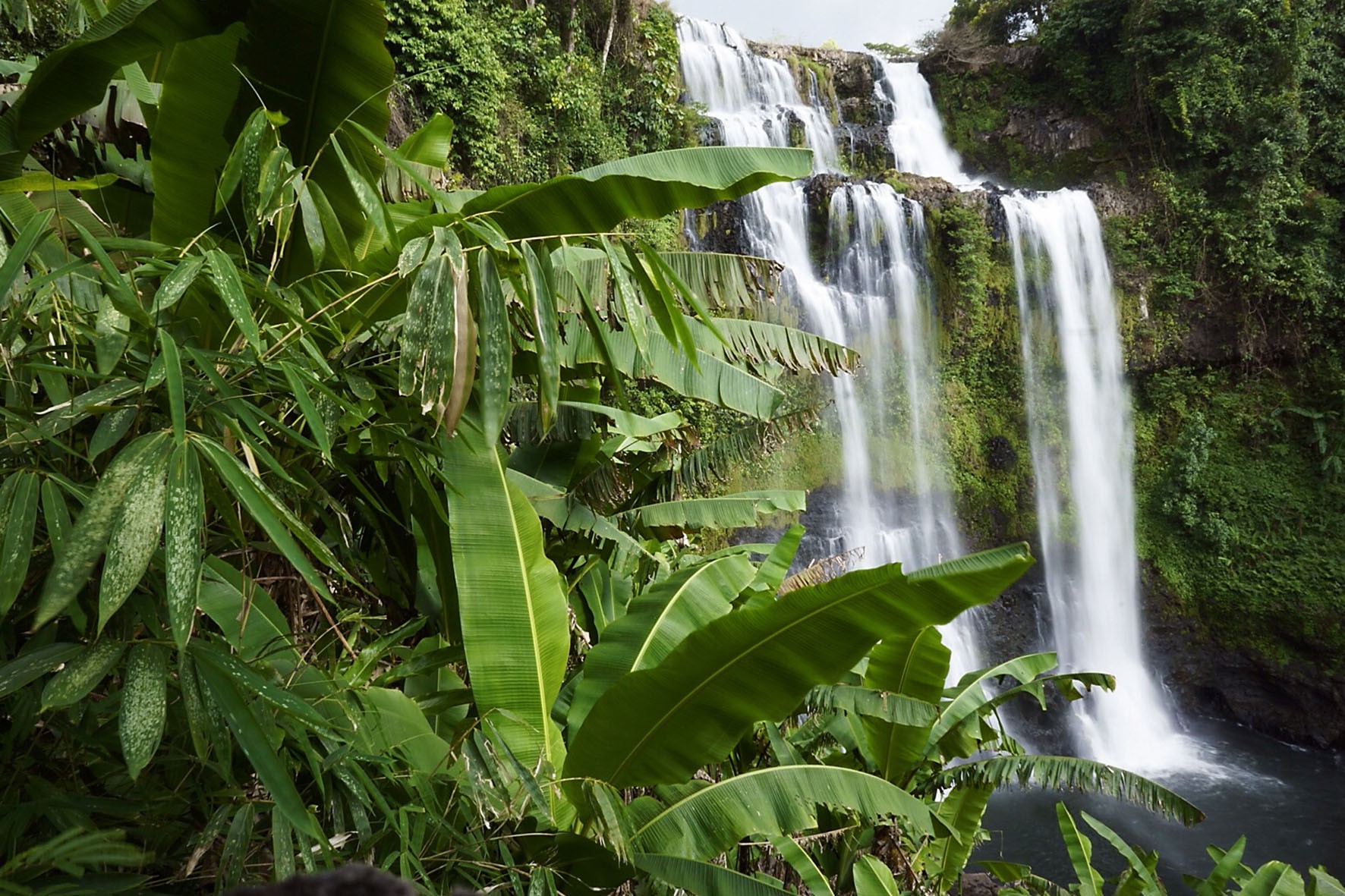 The site of the stunning Tad Yuang invites you to explore the waterfall from different perspectives. Follow a path to reach the lookout points at the top, middle or bottom of the waterfall. There is a picnic area at the top of the waterfall where you can have lunch. If you are brave and prepared, you could also have a swim. See → Do's and Don'ts.
Coffee shop and garden (40km)
Just next to the access road to Tad Yuang, a small coffee shop offers visits to their coffee and tea plantations and to their garden with pepper, avocado, blackberries, strawberries, cacao and others local products, depending on the season. You can taste their delicious tea or a cup of coffee and purchase their products.
You will also find waterfalls along Route 20 to Salavan (turn left at the intersection at Ban Huayhe at 21km when coming from Pakse)
Tad Pasuam and an ethnic model village (34km)
This majestic waterfall gets its name from its rectangular shape, "suam" literally meaning room in Lao. The beauty of the waterfall and the site makes for a relaxing afternoon. Enjoy a picnic, or lunch and a drink in the restaurant of the Uttayan Bachieng Resort. You can also visit the ethnic model village nearby where you will discover housing styles from different ethnic groups and see some handicrafts in the making.
Katu textiles – Ban Houay Houn Village, trekking and homestay (60km)
Stop at the sign for Katu textiles, where you will be able to discover this village's handicrafts and local products. The staff can also organise a trek in the surrounding area or a basic homestay for you. Mr. Vieng Homestay also offers trekking, homestays and freshly brewed coffee.
Tad Lo (84km)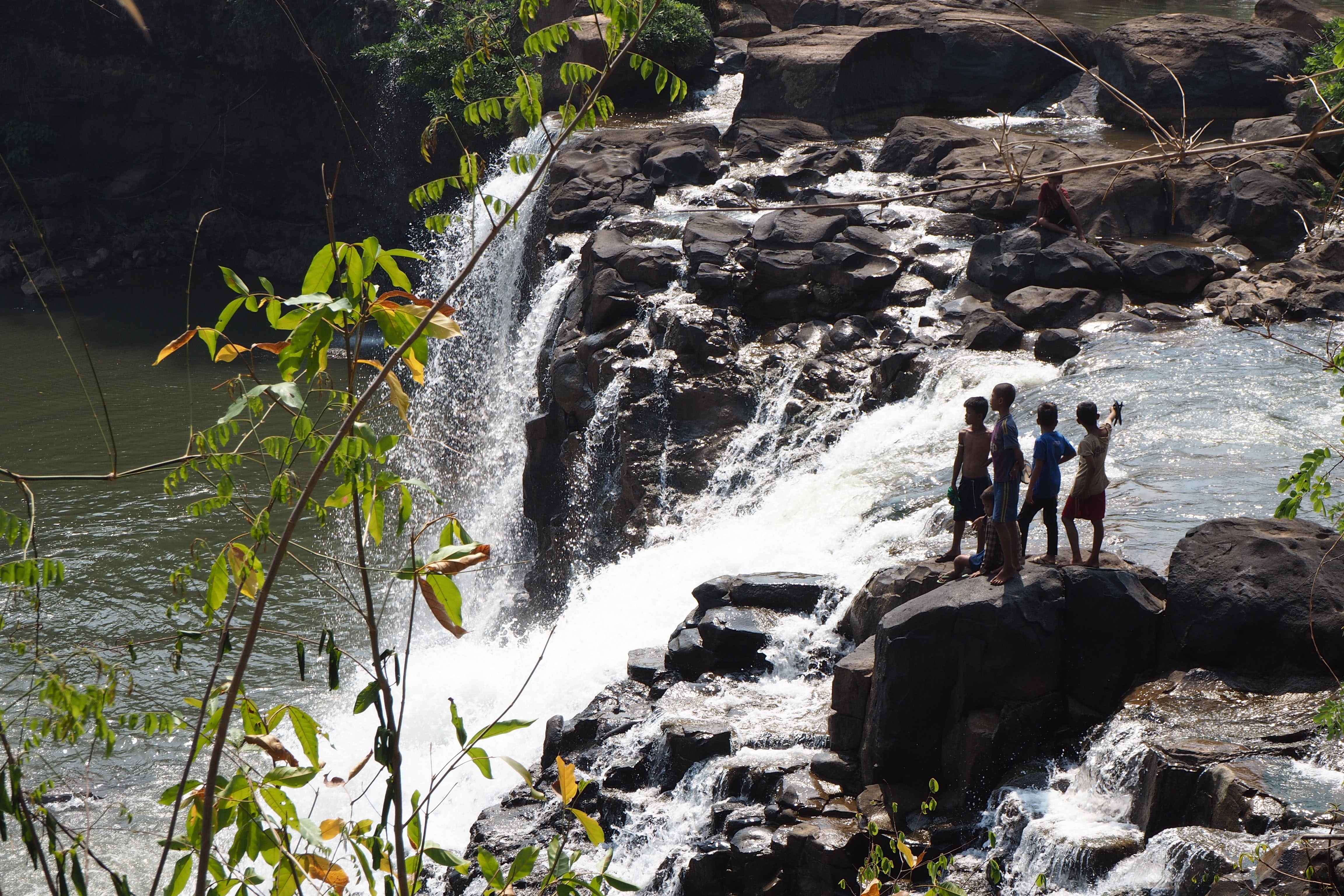 In Ban Saen Nang Village, also known as Tad Lo, you can find a selection of basic accommodation and restaurants. It is worth staying and exploring the area, as there are several waterfalls including Tad Hang, Tad Lo and Tad Suong. You can swim in some of the pools near the waterfalls, please see → Do's and Don'ts. In the evening you might observe elephants taking their bath just above the Tad Lo waterfall. There are also trekking options and you can organise a hike with a local guide to waterfalls and ethnic villages in the surrounding area. The Tad Soung Waterfall Circuit is a communitybased tourism project, consisting of a one-day trek led by the Tad Lo Guides Association. You will have the chance to explore the beauty of the forest and pristine natural surroundings, and learn about the culture and lifestyle of local villages. For more information ask at the Tourist Information Centre, in your guesthouse or at a restaurant.
WHEN ADVENTURE CALLS, TREE TOP EXPLORER AND BOLAVEN LOOP
Embark on a different journey in the highlands of Southern Laos. Immerse yourself in an outdoor jungle adventure where you can climb the 'via ferrata', zip-line in front of scenic waterfalls and walk amongst the forest canopy. If biking is more your thing, simply embark on a two-wheel road trip around the Bolaven loop.
Jungle Adventure, Tree Top Explorer.
This jungle adventure in the highlands blends fun with a real natural outdoor experience. The site can only be reached on foot with a trek through coffee plantations and lush forests. The main attraction is a system of ziplines traversing steep gorges within touching distance of the waterfalls. A 'via ferrata' tests your adventurous spirit and may challenge you to your limits. All is safe and manageable though, even for the most fearful. On the canopy walkway you will get a chance to experience the forest from a completely different angle.
Officially opened in early 2011, Tree Top Explorer received praise for its environmentally friendly approach, for the active involvement of local communities and for the protection of wildlife by the World Tourism Organization (UNWTO), and the International Union for the Conservation of Nature (IUCN, Netherlands).
INFORMATION AND BOOKINGS AT ANY GREEN DISCOVERY OFFICE IN LAOS OR
Green Discovery office in Pakse, open every day 8:00 a.m. to 8:30 p.m.
Phone: +856 21 264 680 or +856 31 252 908
Email: treetop@greendiscoverylaos.com
Website: www.treetoplaos.com and www.greendiscoverylaos.com
***Thanks to the Tree Top Explorer, people in the surrounding communities find part-time employment and are able to diversify their incomes.***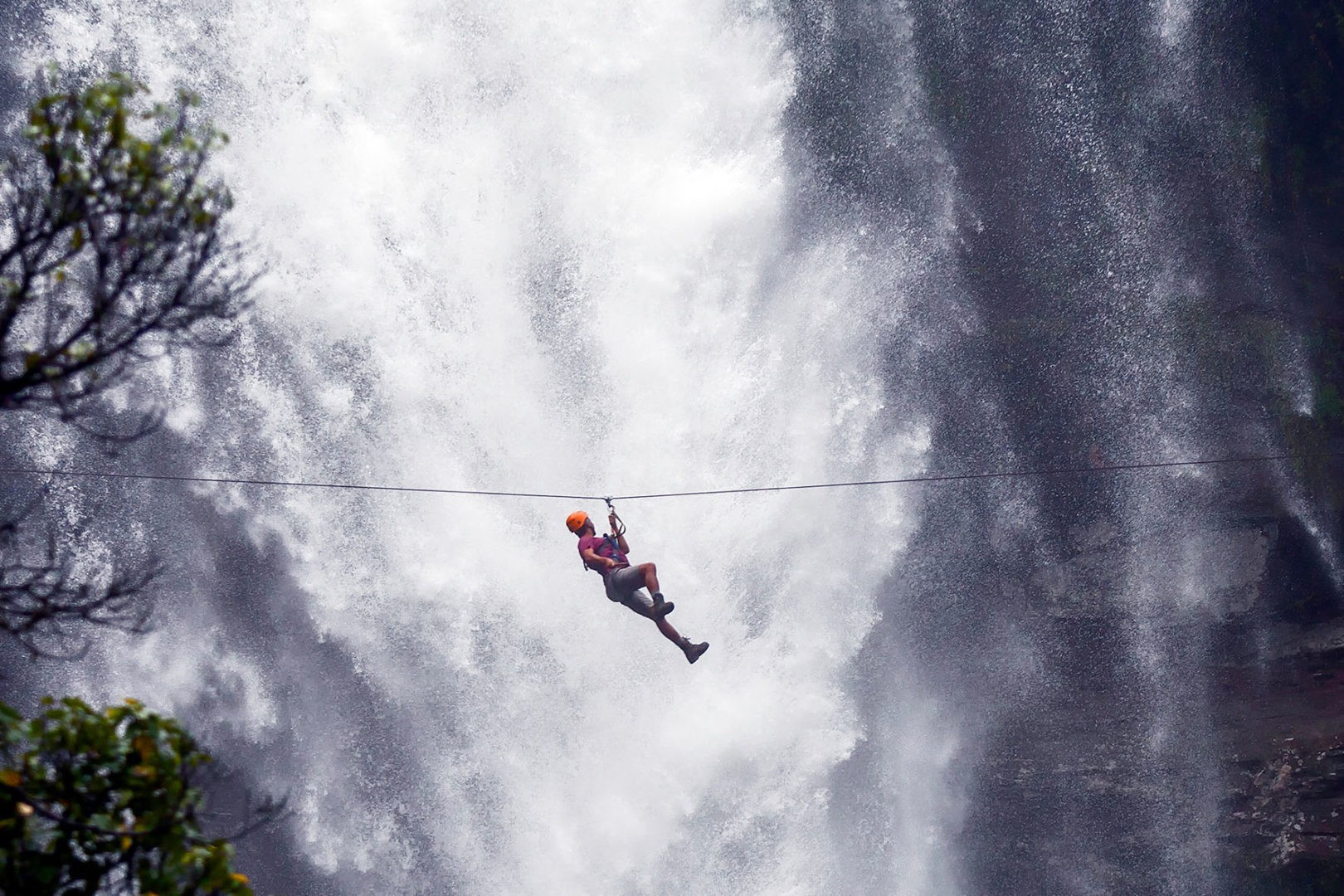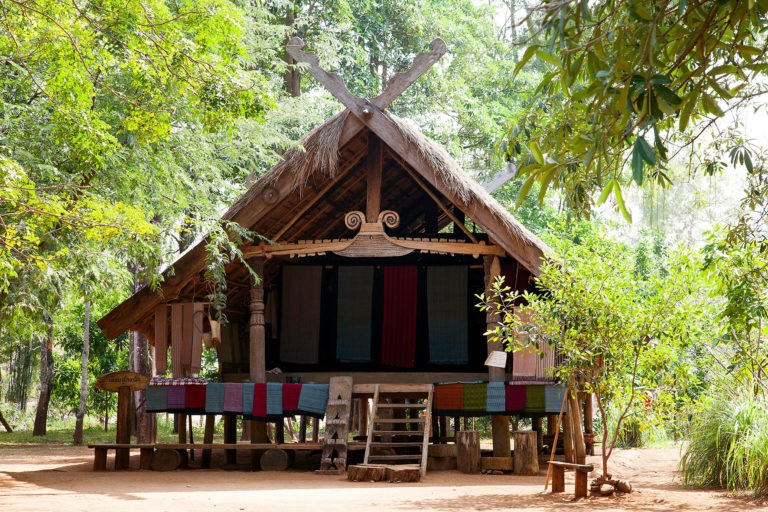 Rent a motorbike and head off on a journey around the small Bolaven loop
If you are an experienced motorcycle rider, you might want to explore the Bolaven on your own. It is a good way to discover and immerse in this land of diversity. Take your time, stop and stay overnight near one of the stunning waterfalls.
Though still rather basic, the infrastructure and facilities include a good paved main road with some dirt roads leading to the waterfalls. You can find petrol stations, restaurants, resorts, guesthouses, homestays, coffee shops and fruit stalls along the route. Read through the previous pages to find the hidden gems.
The small loop is approximately 200 kilometres in total. Starting in Pakse – Ban Huayhe – Paksong – Thatheng – Ban Beng (Tad Lo) – Katu village – Ban Huayhe – Pakse. Or, the other way round.
Information and rental
You can rent motorbikes in Pakse, where Miss Noy (Road 13, city centre, phone +856 20 2227 2278) is probably the best-known person to rent from, but you can also rent motorbikes from many other operators in town. The loop can also be done by car or bicycle, with the latter for more active and advanced cyclists (best with your own mountain bike). Car rental opportunities can again be found in Pakse.
Don't forget to bring a map (from the rental shop or in this booklet), a raincoat, and a sweater for the cooler climate. Please be warned that it is mandatory by law and highly recommended to wear a helmet. Drive slowly and carefully! Park in a safe place and lock your bike.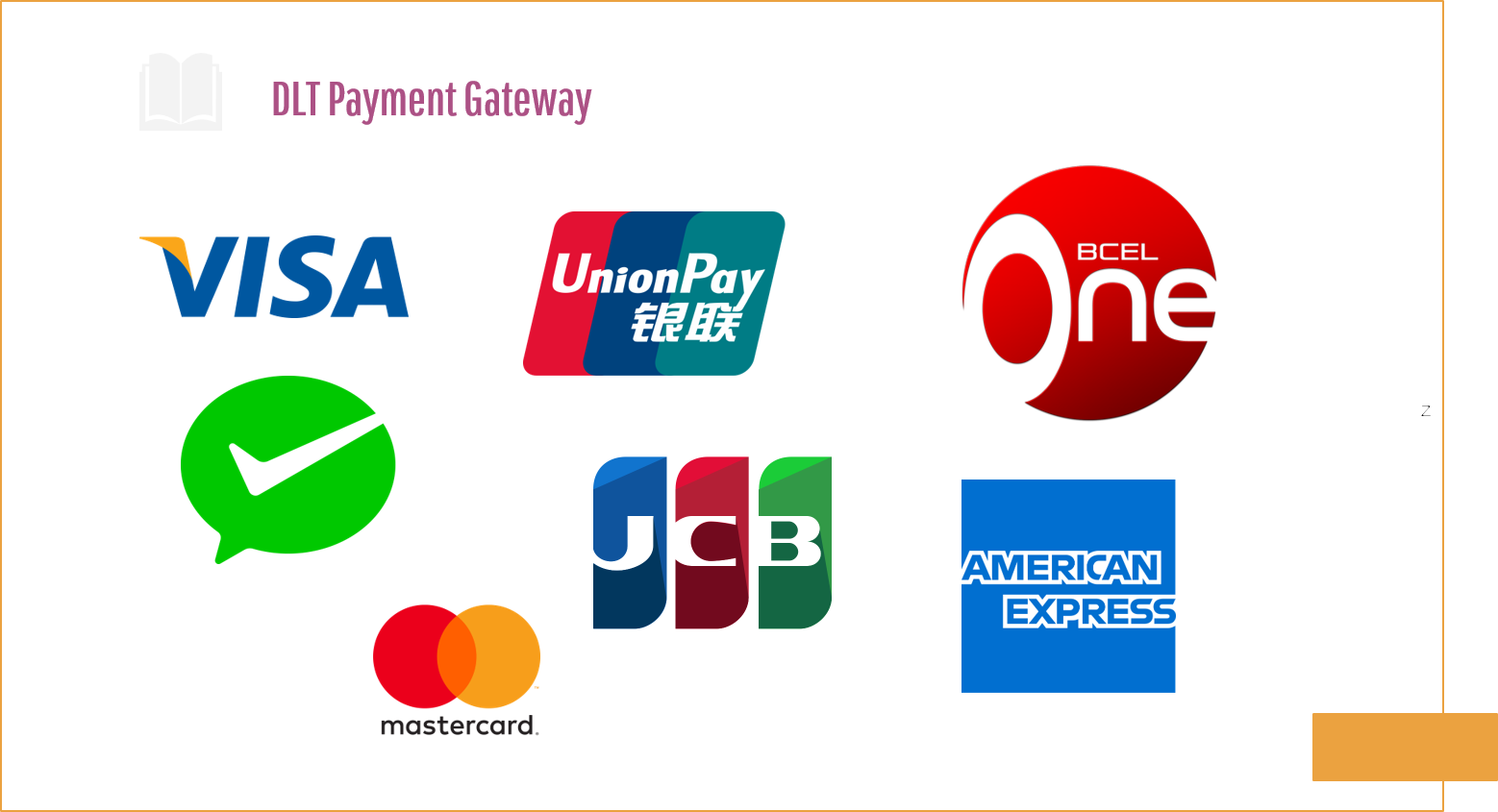 Sourced by Southern-Laos