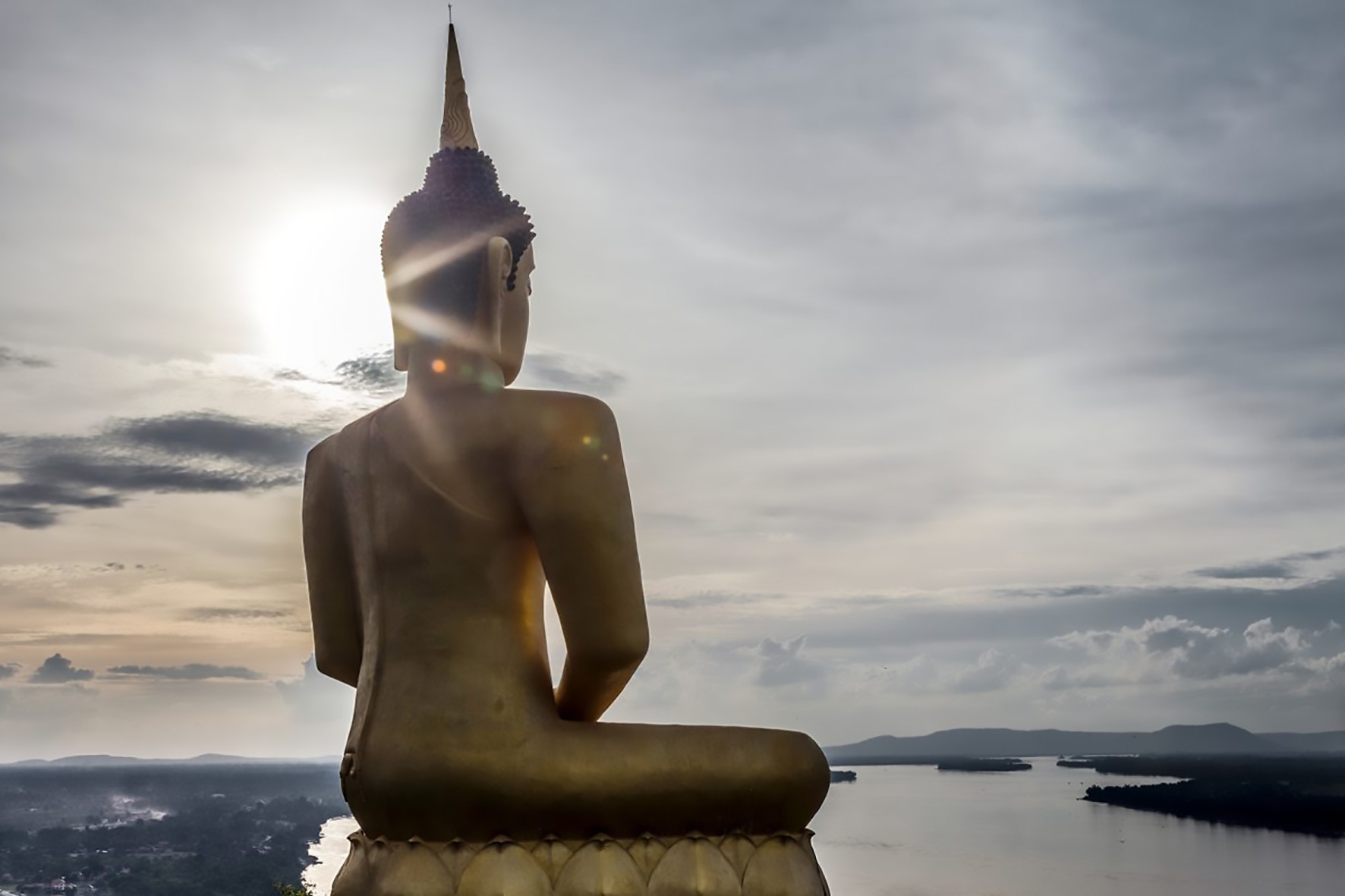 Pakse, the capital city of the province of Champasak, is located at the confluence of the mighty Mekong River and the Sedone. It is Southern Laos' trade and transportation hub, connecting with Bangkok to the west, Da Nang to the east and Phnom Penh to the south. At first sight, Pakse seems to be simply a gateway to other places, but there is more to it than meets the eye.
Once you are here, take some time and explore the hidden treasures of Pakse. If you wander around a little, you'll soon discover old French Colonial Buildings, a Vietnamese quarter, Buddhist and Chinese temples and an old Catholic church, or you can sit and have a freshly brewed Bolaven Coffee or Lao tea while watching people and life go by.
Why not rent a bicycle and follow some of the proposed routes in and around Pakse? Or simply take a tuk tuk up the hill to the big golden Buddha at "Wat Phou Salao" for a stunning view over the Mekong and the town. The light is particularly beautiful in the late afternoon hours, not only from the mountain, but also from one of the boat restaurants on the Mekong River or from a rooftop, where you are able to have dinner or just a drink as you watch the sun go down. For those who like the early morning hours, a visit to the bustling morning market (Daoheuang market), is recommended, and if you haven't tried out the "Samlor", a motorcycle with a side-car, then this could be the moment to go for a ride. For a quiet shopping experience, visit one of the handicraft shops in the centre of town. In the woods, about 7km out of town, is an Art Museum with a small café offering relaxing views of the forest.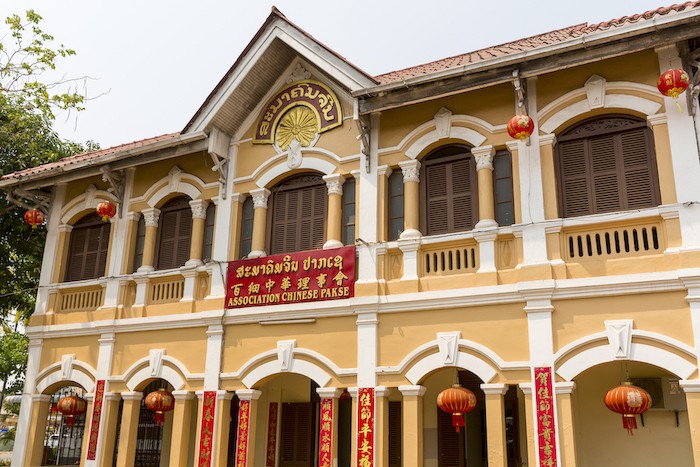 How to get there and around
There are several ways to get around. See → Getting there and around
Where to stay
There is a variety of accommodation in all price ranges. See → About food and accommodation
Where to eat
You can find Lao, Thai, Vietnamese, Japanese, Indian, Korean and European food. There are also small street noodle shops, floating boat restaurants, a rooftop terrace restaurant, hotel restaurants with family kitchens or buffet lunches, and cafes with bakeries. See → About food and accommodation.
**PAKSE HISTORY**
During the French colonial period at the beginning of the 20th century, Pakse became the capital of Champasak Province. The old quarter is located in the bend of the Sedone River where you can still see a few remaining buildings from that period.
Visit the Champasak Provincial Historical Museum
Monday to Friday 8:30 a.m. – 11:30 a.m. / 1:30 p.m. – 4:00 p.m.
FROM THE CITY TO THE RICE PADDY FIELDS, PAKSE ON BICYCLE
One of the best ways to explore and discover Pakse and its surroundings is on a bicycle. Slow enough to get a taste of different areas and to stop at historical buildings, Buddhist temples or for a coffee break, but at the same time fast enough to travel some distance for stunning viewpoints or to enjoy the rural landscape outside the town centre.
Wat Phou Salao Tour – Cycling to one of the most scenic outposts
Start at Résidence Sisouk and ride to the Daoheuang market. Cross the Japanese bridge that spans the Mekong for 1,380 metres and turn left after about 400 metres. After a small incline you will arrive at the parking and food stall area. Here you can either park your bicycle and take the stairs all the way up to the big golden Buddha and Wat Phou Salao (first half on concrete stairs, second half on wooden stairs that are in bad condition) or continue to the right on a concrete road. If you decide to take the road, the ride is relatively long as you go around the back of the mountain. After some steep uphill biking (gradient of 12-15%) the road takes you another 1.5km on the flat, back towards the front of the mountain. After a big right bend, your reward is a stunning panoramic view from the big golden Buddha looking over Pakse, the Mekong River, and the Bolaven Plateau in the distance. Continue to Wat Phou Salao where you can take a rest and get a drink from the small shop before you return back the same way. You can later stop to explore the Daoheuang market or go for a buffet-lunch at the Champasak Grand Hotel, which is located on your right after the bridge.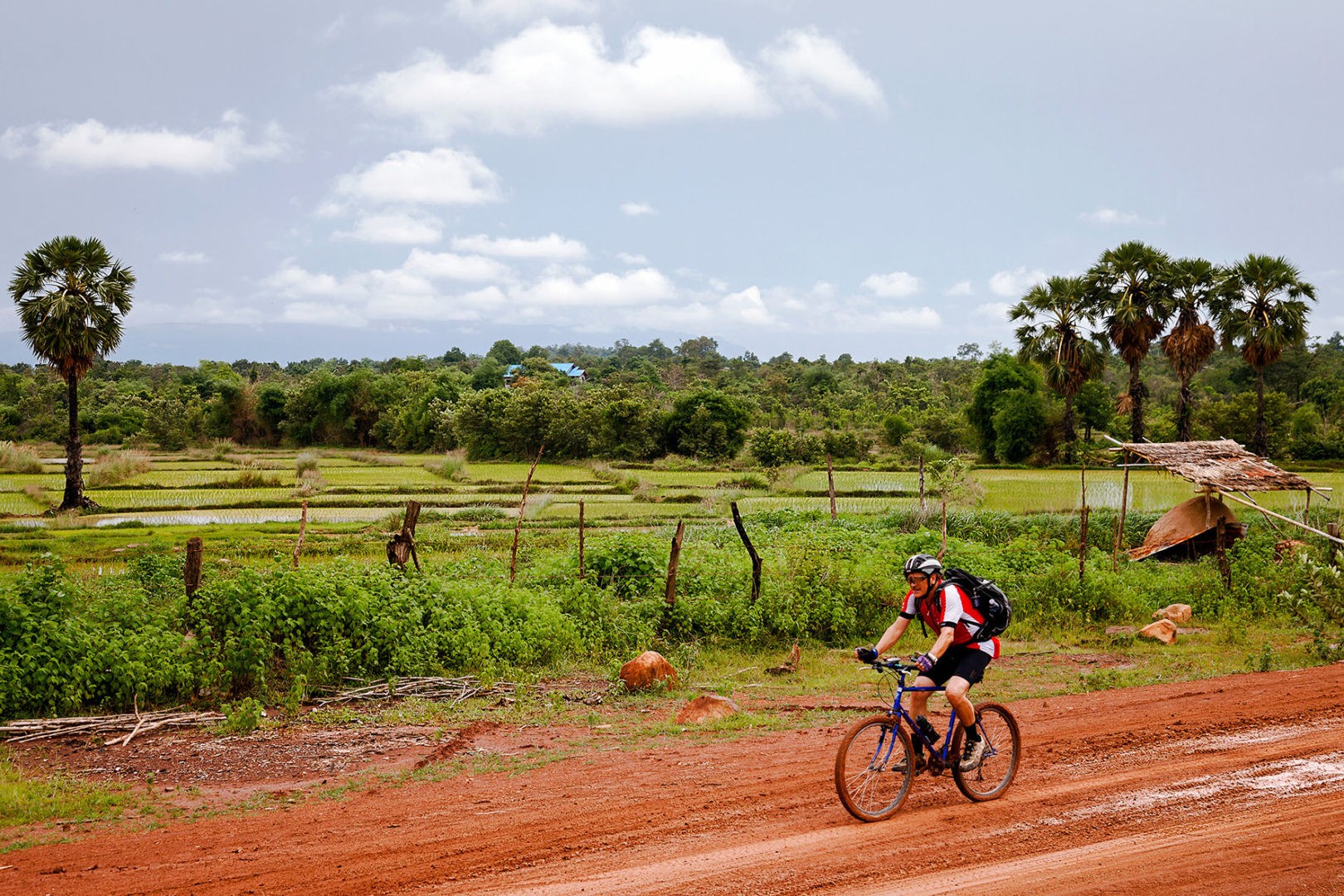 Best time: After sunrise or late afternoon before sunset
Distance: 22km (or 12km by bicycle if combined with walking), 125m elevation gain (up to 12-15% gradient) / 2 to 3 hours
Type of bicycle: City bike, mountain bike if you ride uphill
Pakse City Tour – Cycling to Pakse's main points of interest
This city trip starts at Wat Luang, continues along the Sedone River, past the confluence with the Mekong until you see floating boat restaurants. Continue downstream until a left curve takes you to the busy and colourful Daoheuang market. From there, head towards the stadium and turn left onto Road 13. Continue along Road 13 until you see the Historical Museum on your right, and the Hero Monument on your left-hand side. As you continue you will see a Chinese Temple and Wat Phabat, both on your right-hand side. A little further along, near the Russian bridge, you can appreciate the view of the historic Champasak Palace Hotel. Continue on Road 13 to enter the Vietnamese quarter at the next junction on your left. Continue to pass the old Catholic Church and the hospital and turn into the market area, where you will find the Champasak Plaza, a shopping centre. Continue to ride past the Pakse Hotel and go straight on at the junction. Turn left back into Road 13 and go on towards the Vietnamese Consulate where you turn left again. You can take the second small road on the right to the Vida bakery or turn left at the same intersection to go back to Wat Luang and continue to the Pakse Hotel where you can have a Beer Lao at the rooftop restaurant Le Panorama and enjoy the beautiful 360° view over the city.
Best time: Morning and later afternoon hours
Distance / Time: 9km, flat / 30-40 minutes
Type of bicycle: City bike
Sedone River Tour – Cycling from the city into the rural landscape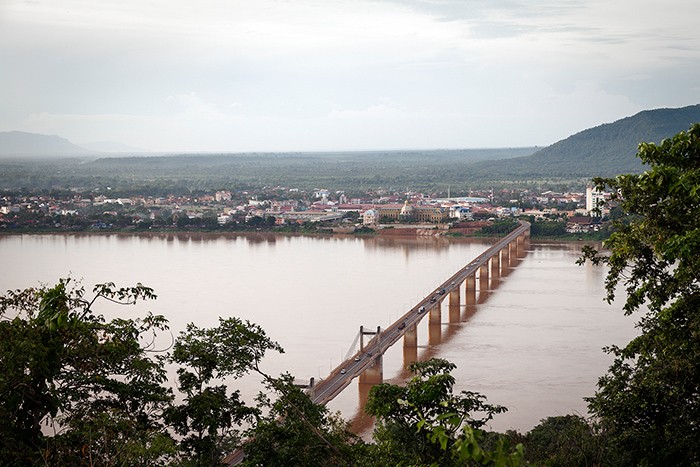 Pack a picnic of local food (freshly baked baguettes, barbecued fish, spicy salad, fruit and sticky rice) and get some water before you start your journey from the tourist heart of town at the French Bridge (currently under construction). Head south on Road 13 and turn left at the beautiful Wat Phabat. Follow this road for about 3 km until it turns into a red dirt track. You will see the Sedone River on your left-hand side as you cross some bridges over small streams. As you leave the town behind, your surroundings turn into a rural landscape passing small villages and ending up in a completely agricultural world in the middle of rice paddy fields. In the distance to your right you can see a hill. Take a break and enjoy your picnic or use your Lao phrasebook to have a chat with the farmers working in the fields, before retracing your steps back to town.
Best time: Morning or evening. Note that the red dirt road can be hard, bumpy and dusty in the dry season and muddy and slippery in the rainy season.
Distance: 20km (or longer if you want), flat, dirt road after 3km / 1.5 to 2 hours
Type of bicycle: Mountain bike
Where to rent a bicycle
Currently, only a few bicycles are available in Pakse. SL Travels along Road 13 (travel agents and restaurants) has probably the biggest selection of bicycles, Miss Noy in the same road has a few bicycles as well. You can also ask at your guesthouse or other travel agents in town.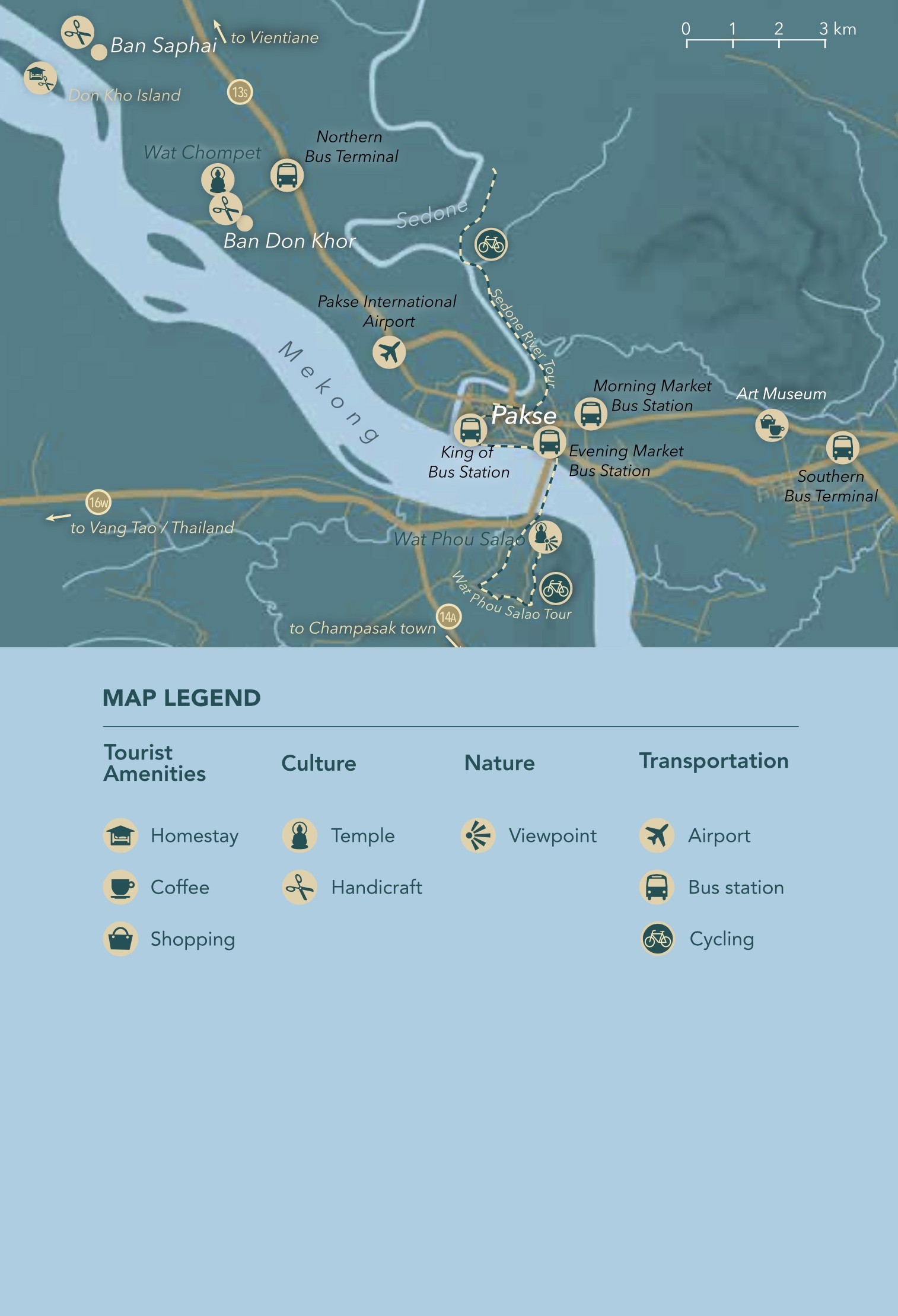 PAKSE AND ITS SURROUNDINGS, STRIKE OUT ON THE HANDICRAFT ROUTE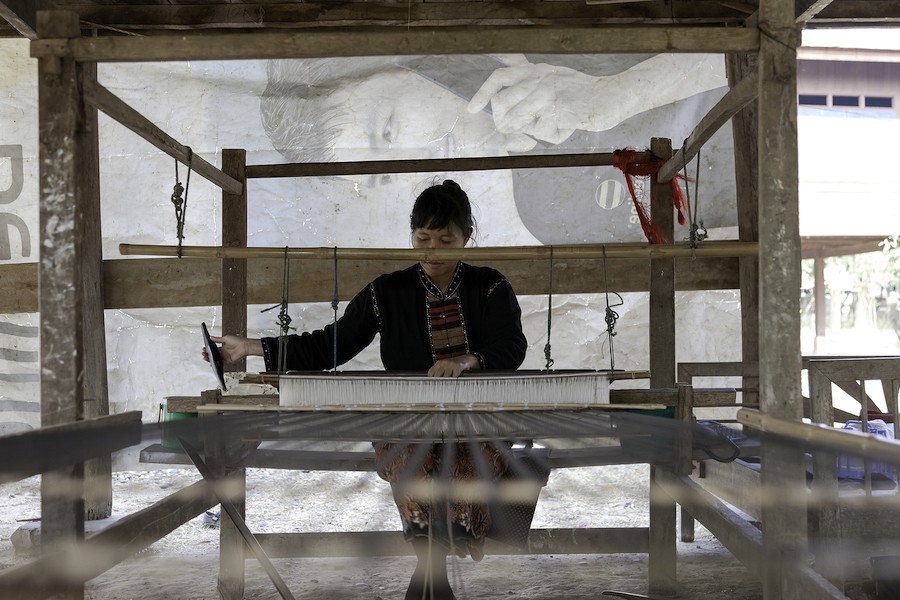 Visit local artisans. In the village of Don Khor, located at the entrance to Wat Chompet, with its impressive 30-metre high Buddha, you can observe stone carvers making traditional Buddha images. Ban Saphai, on the other hand, is known for its traditional Lao weavings with unique patterns. The local craft centre was reopened in 2014 and you can see textiles being made here.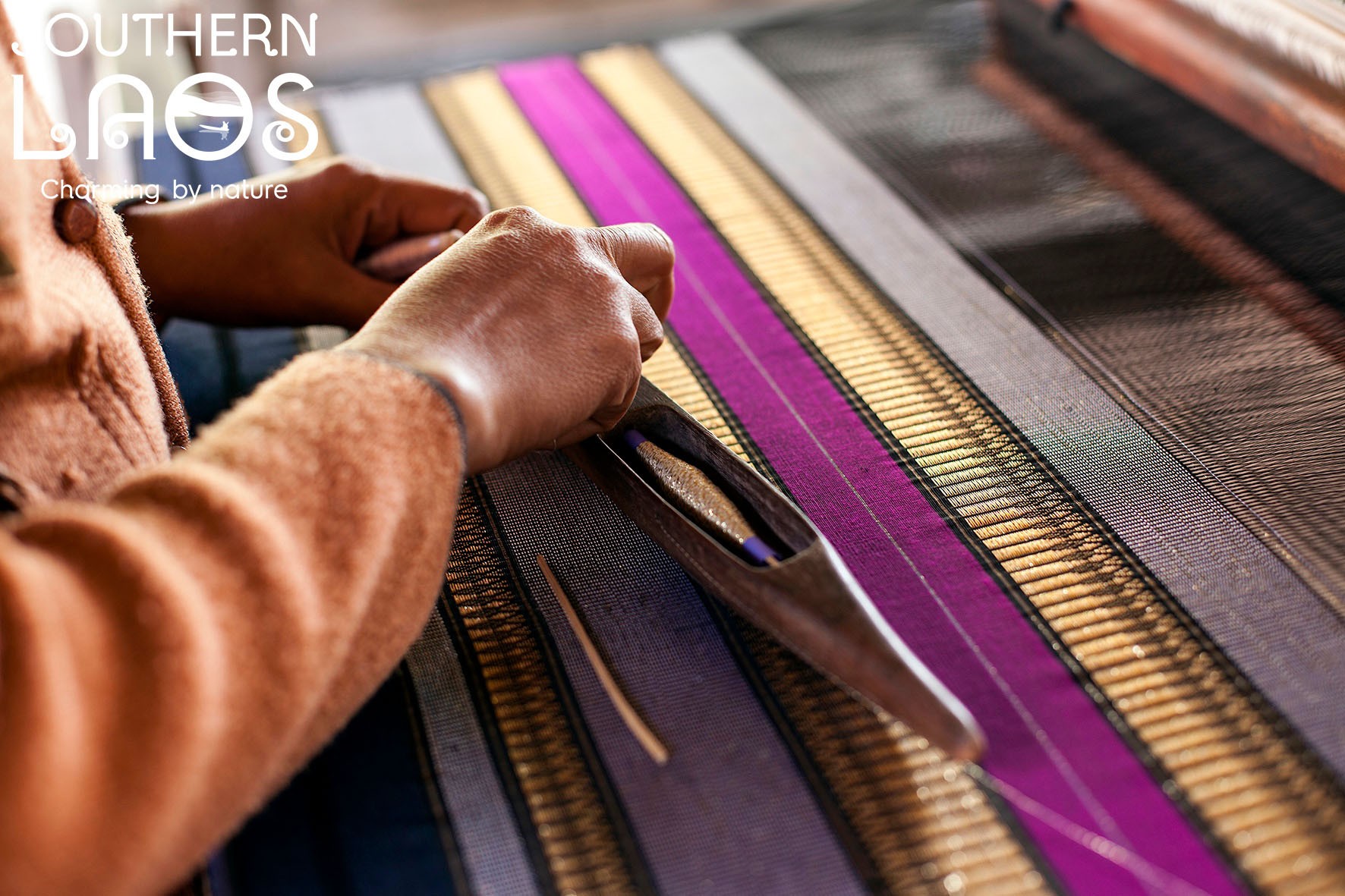 Weaving – Ban Saphai and Don Kho Island
The villages on the banks of the Mekong and the island just a short boat ride from the mainland, are known for their silk weaving and textiles. You can see women weaving in the craft centre or, on Don Kho, in the shade of their wooden houses. Traditionally, they use silk which nowadays is sometimes replaced by polyester thread. If you ask, you might even have a chance to get a weaving lesson yourself. It is also a good opportunity to directly purchase a souvenir from the weavers, knowing you have supported them and their families directly with your purchase. While you visit the island, you can walk through rice fields, see vegetable gardens and stand on beautiful sandy river beaches.
Buddha stone carvings – Ban Don Khor and Wat Chompet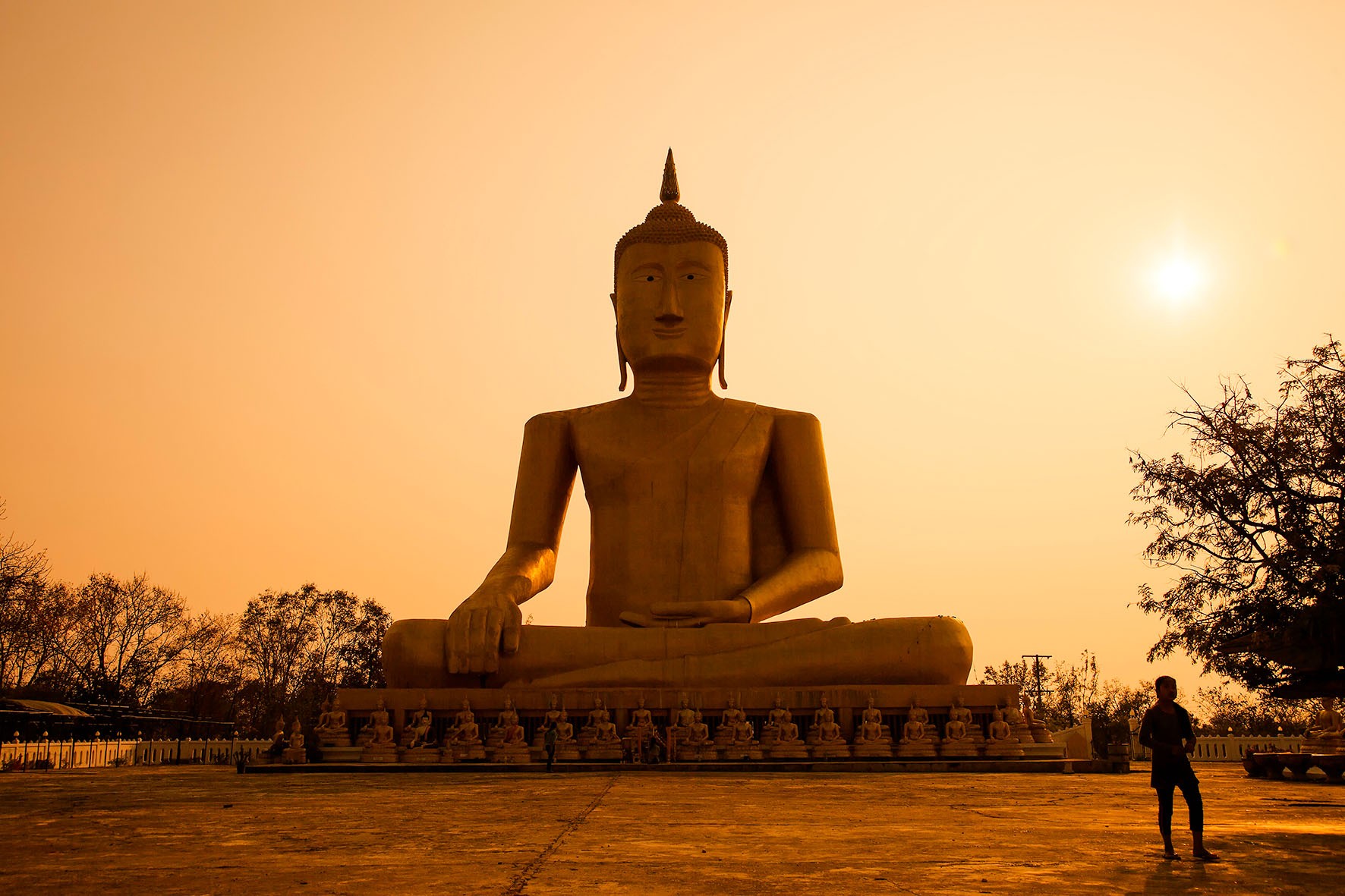 Just outside Wat Chompet, you can meet the Buddha stone carvers. Take some time to appreciate the beautiful carvings they are making. Then you might want to get a closer look at the big golden Buddha of Wat Chompet. You can even go inside, but please make sure to respect the local culture and dress modestly, covering your shoulders and knees.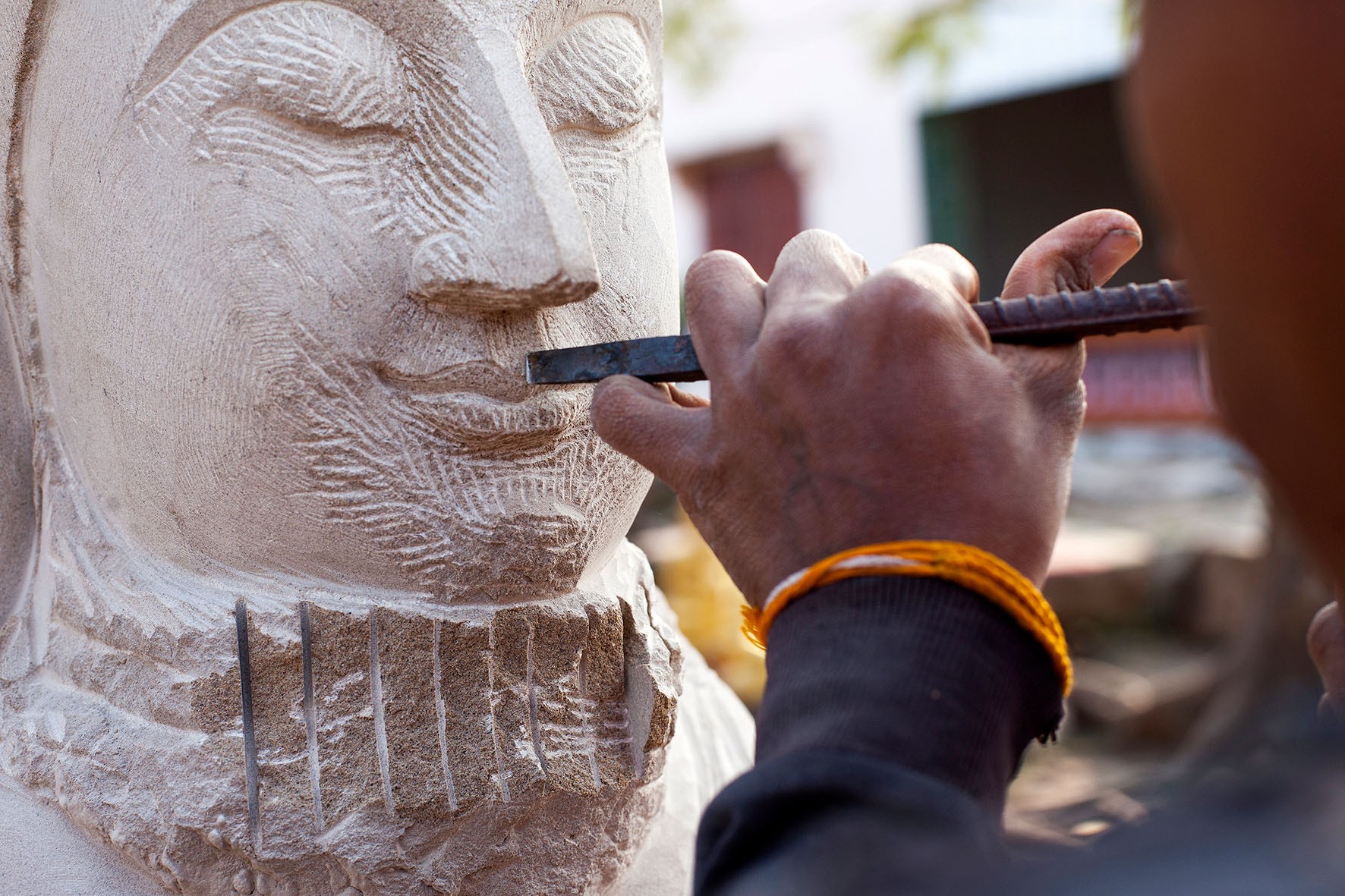 How to get there
Ban Saphai is about 18km north of Pakse, while Ban Don Khor is about 10km north of Pakse on Road 13. From Pakse you can rent a car, a van, or a motorbike. You can also book an excursion with one of the travel agents in Pakse. If you prefer to be more active, you can hire a bicycle or book a tour and make it a one-day trip or even stay at the basic homestay on Don Kho Island.
SHOPPING FROM LAOS TO THE WORLD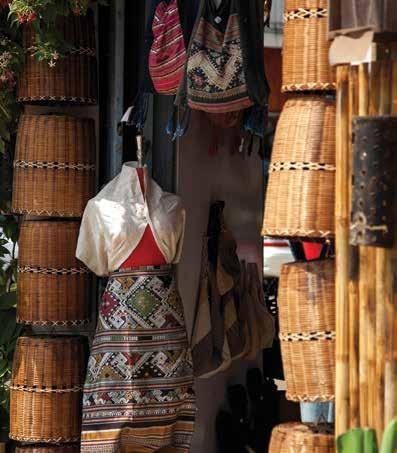 Handicrafts produced in Southern Laos are unique and beautiful items, and are mostly made from textiles, bamboo or wood. In Pakse, you can find souvenir shops and an art gallery but you may also find crafts being sold from small stalls or by individual producers along the way. Never hesitate to stop and buy!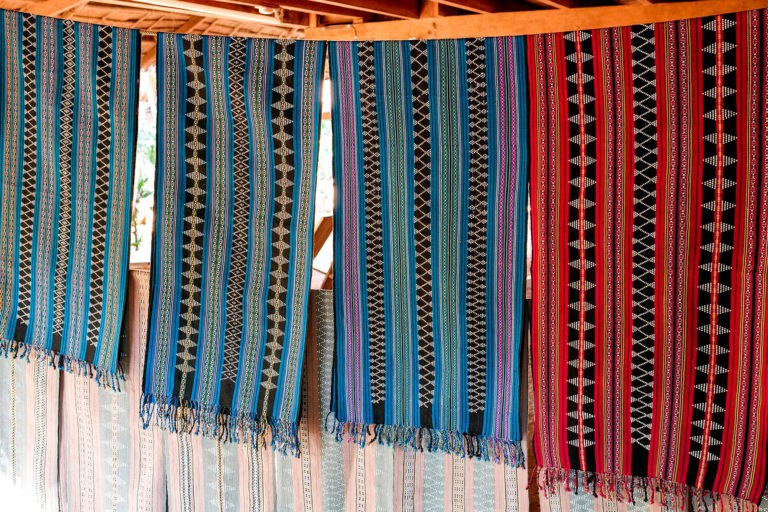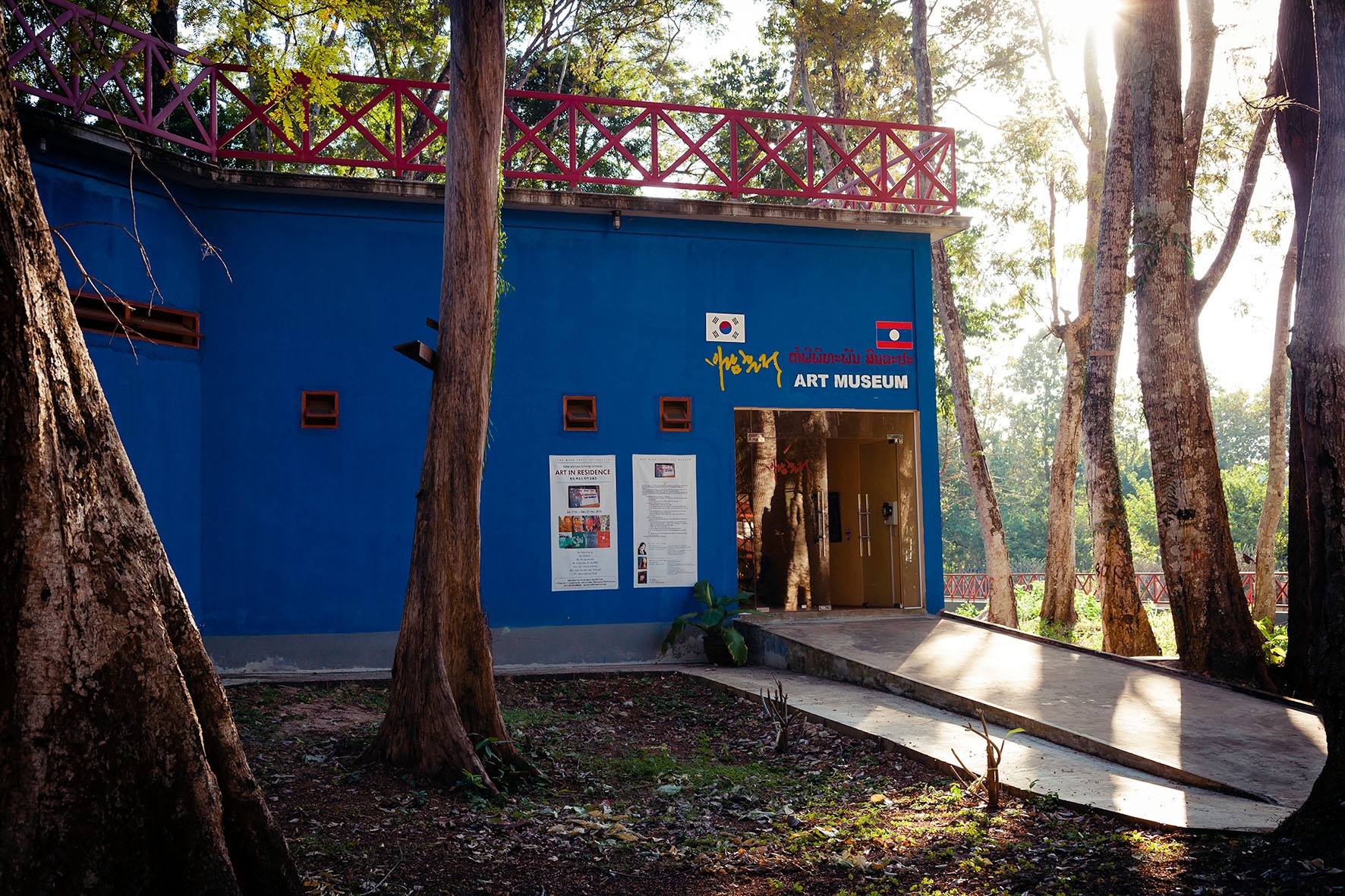 The most prominent handicrafts are made of silk or cotton and are woven in different styles and qualities. Bamboo weavings are used to make traditional Lao utensils such as the famous sticky rice basket but you can also find bamboo bags, purses or small pencil holders. Woodcarvings have their origin in Ban Nong Bueng Village, see → Xe Pian. Other nice take-home souvenirs include coffee and tea from cafés in town or directly from the Bolaven Plateau.
If you buy local handicrafts and products you are supporting the artisans of the area and hence the local economy. Here a list of the main shops in Pakse.
• Dream Weavers Shop: Products in this shop have been created and designed by survivors of trafficking and their families. By buying their products you help fight against human trafficking. Website www.villagefocus.org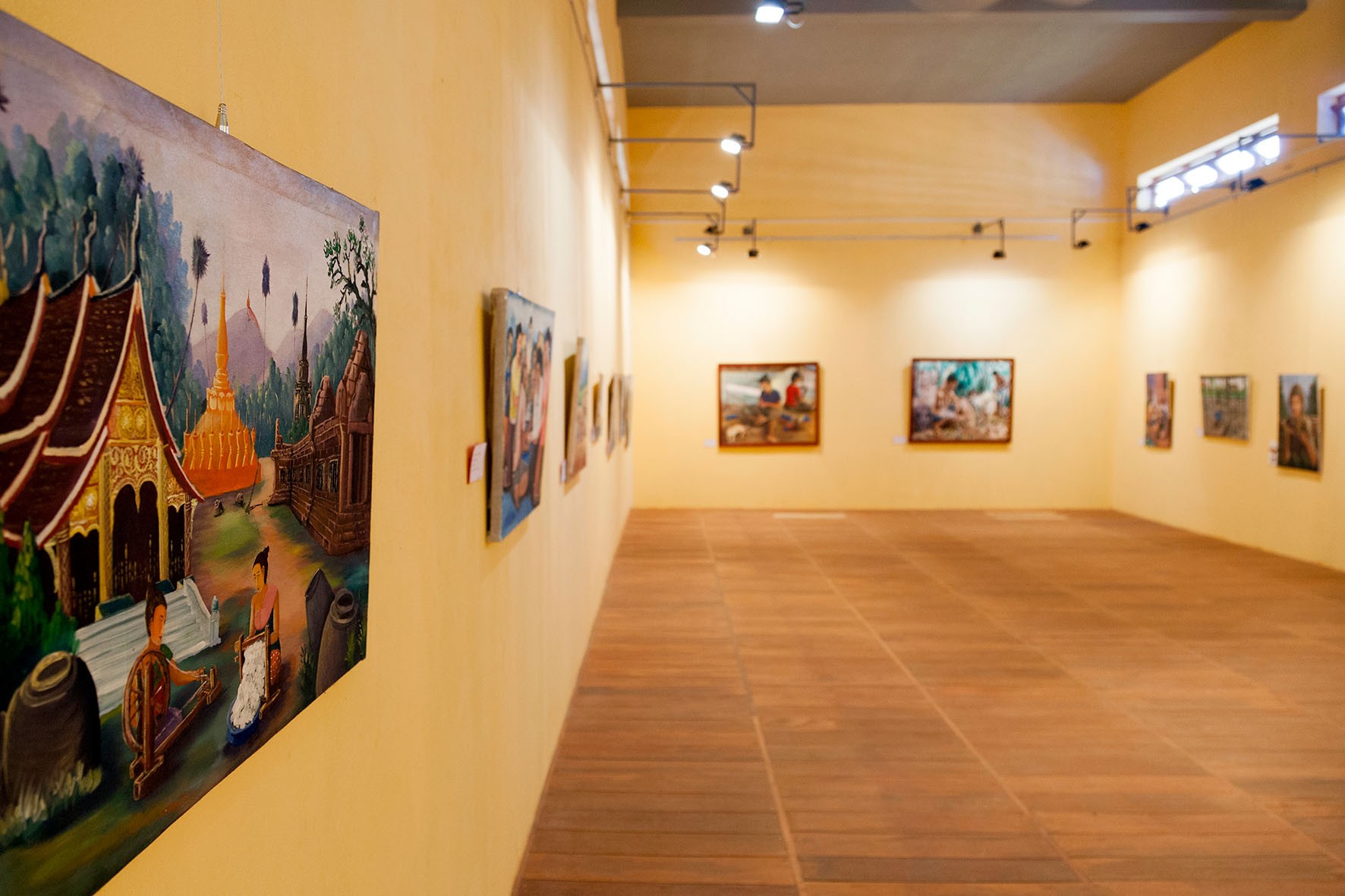 • Souvenir Shop at Forest Hotel: Products are from the One District One Product Project, supported by the Japan International Cooperation Agency and help producers gain better access to the market. Website www.odop.info
• Pakse Souvenirs: Products come from all over Laos, and you can find textiles from the North and South. The owner is also a designer and uses old textiles to make unique bags and belts, for example.
• Souphavady Handicrafts: This shop offers mainly textiles and woodcarvings.
• Monument Books: Here you can find books (in English and French) about Laos and the surrounding countries, travel books, maps, novels, and postcards. Website www.monument-books.com/laos.php
• Laos Wind Trace Art Museum: About 7km from the town centre following Road 13 South, you will find an art gallery beautifully located in the woods. They have Korean and Laos Exchange Exhibitions including paintings from the students at the Art School in Pakse.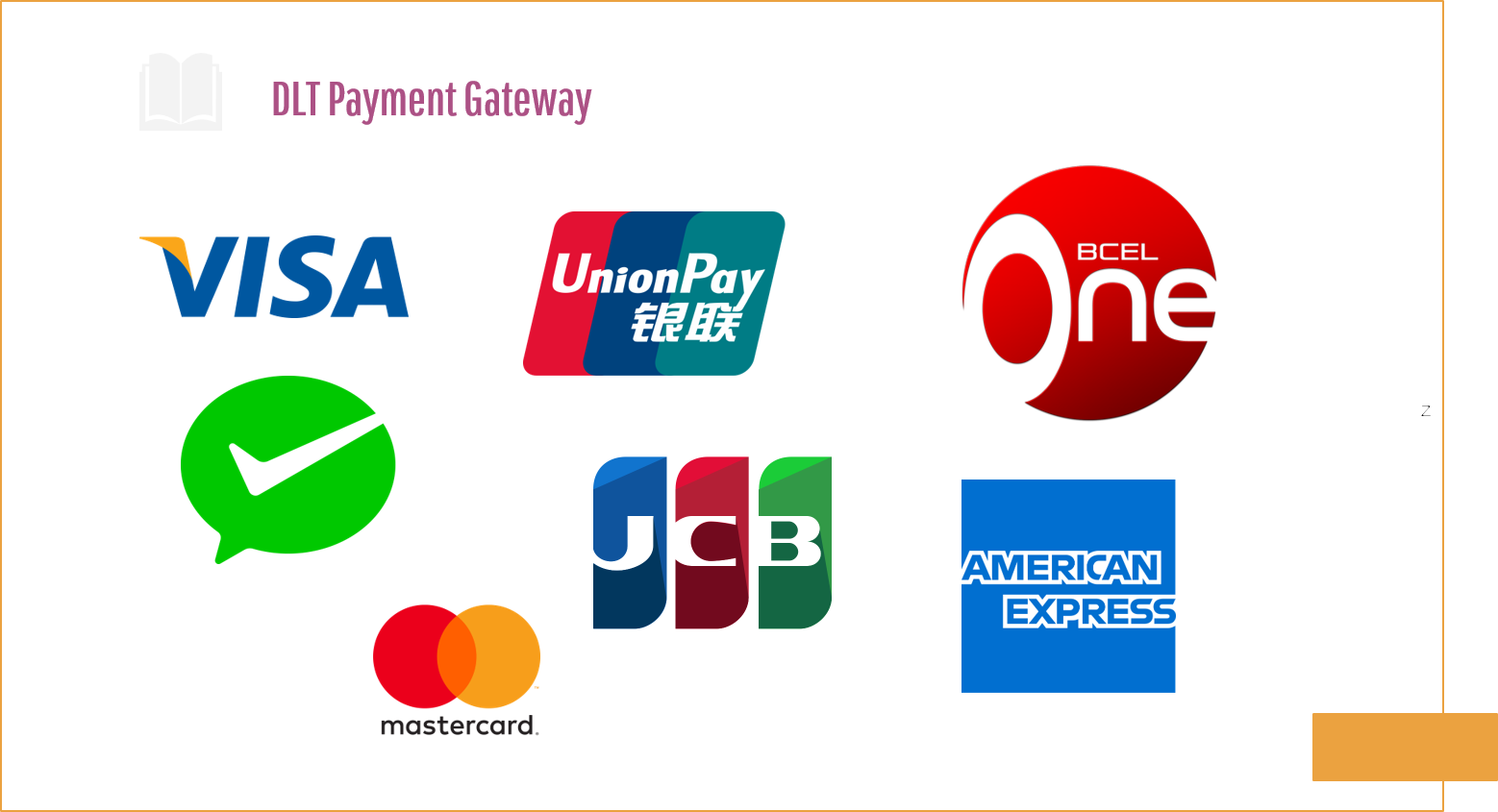 Sourced by Southern-Laos