Pakse, the capital city of the province of Champasak, is located at the confluence of the mighty Mekong River and the Sedone. It is Southern Laos' trade and transportation hub, connecting with Bangkok to the west, Da Nang to the east and Phnom Penh to the south. At first sight, Pakse seems to be simply a gateway to other places, but there is more to it than meets the eye.
Once you are here, take some time and explore the hidden treasures of Pakse. If you wander around a little, you'll soon discover old French Colonial Buildings, a Vietnamese quarter, Buddhist and Chinese temples and an old Catholic church, or you can sit and have a freshly brewed Bolaven Coffee or Lao tea while watching people and life go by.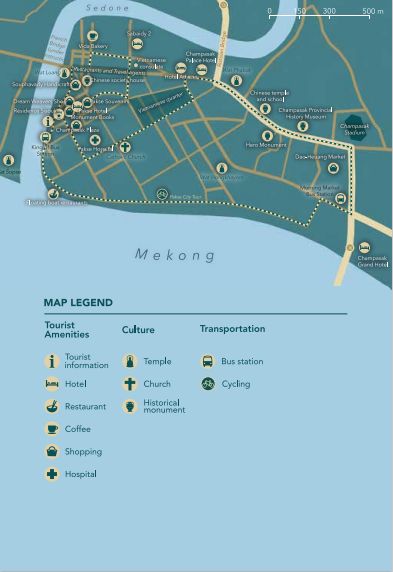 Why not rent a bicycle and follow some of the proposed routes in and around Pakse? Or simply take a tuk tuk up the hill to the big golden Buddha at "Wat Phou Salao" for a stunning view over the Mekong and the town. The light is particularly beautiful in the late afternoon hours, not only from the mountain, but also from one of the boat restaurants on the Mekong River or from a rooftop, where you are able to have dinner or just a drink as you watch the sun go down. For those who like the early morning hours, a visit to the bustling morning market (Daoheuang market), is recommended, and if you haven't tried out the "Samlor", a motorcycle with a side-car, then this could be the moment to go for a ride. For a quiet shopping experience, visit one of the handicraft shops in the centre of town. In the woods, about 7km out of town, is an Art Museum with a small café offering relaxing views of the forest.