Immerse yourself in a variety of eras from early, classical Khmer architecture (7th-12th century) through French colonial buildings (19th-20th century) to Buddhist temples and local village life, including shadow puppeteers of the present day. The area of Vat Phou and Champasak invite you to explore a diverse cultural landscape.
Set in stunning natural surroundings, Vat Phou, the ancient Khmer temple complex, listed as a UNESCO World Heritage site, is the main attraction in the area, but there is much more to be discovered. It is worth staying in the charming town of Champasak where you can discover French colonial buildings, Buddhist temples, or simply enjoy an evening in the Shadow Puppet Theatre. You could also take a relaxing massage at the Spa or take a boat to the Mekong island of Don Daeng to relax in its tranquil environment and discover local village life on a bicycle.
How to get there: From Pakse you can take a local bus leaving from Daoheuang market. You can also take a bus or minivan that heads to/comes from the Four Thousand Islands and get off at Ban Muang. Take a ferry across the Mekong to Ban Phaphin, a few hundred metres north of the centre of Champasak. You can also rent a motorbike, a car and a driver, organise a tuk tuk, join a tour, or organise a boat from Pakse to Champasak.
Where to stay: In Champasak, you can find a range of accommodation options, from low-budget guesthouses to up-market hotels, along the two main parallel roads running through the centre of the city. The upmarket River Resort can be found just a few kilometres north of town. You can also stay on Don Daeng Island, either in La Folie Lodge or in a basic community guesthouse or homestay.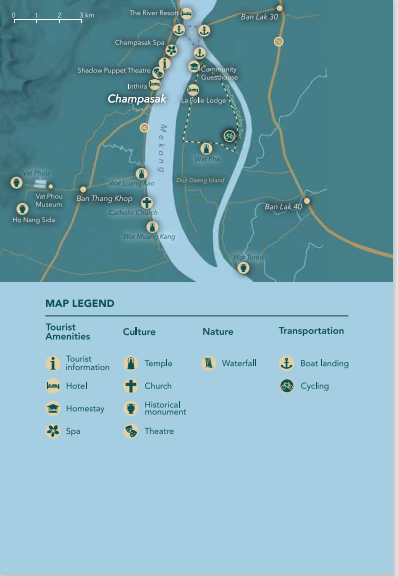 VAT PHOU. ANGKOR WAT'S COUSIN IN A DIFFERENT LIGHT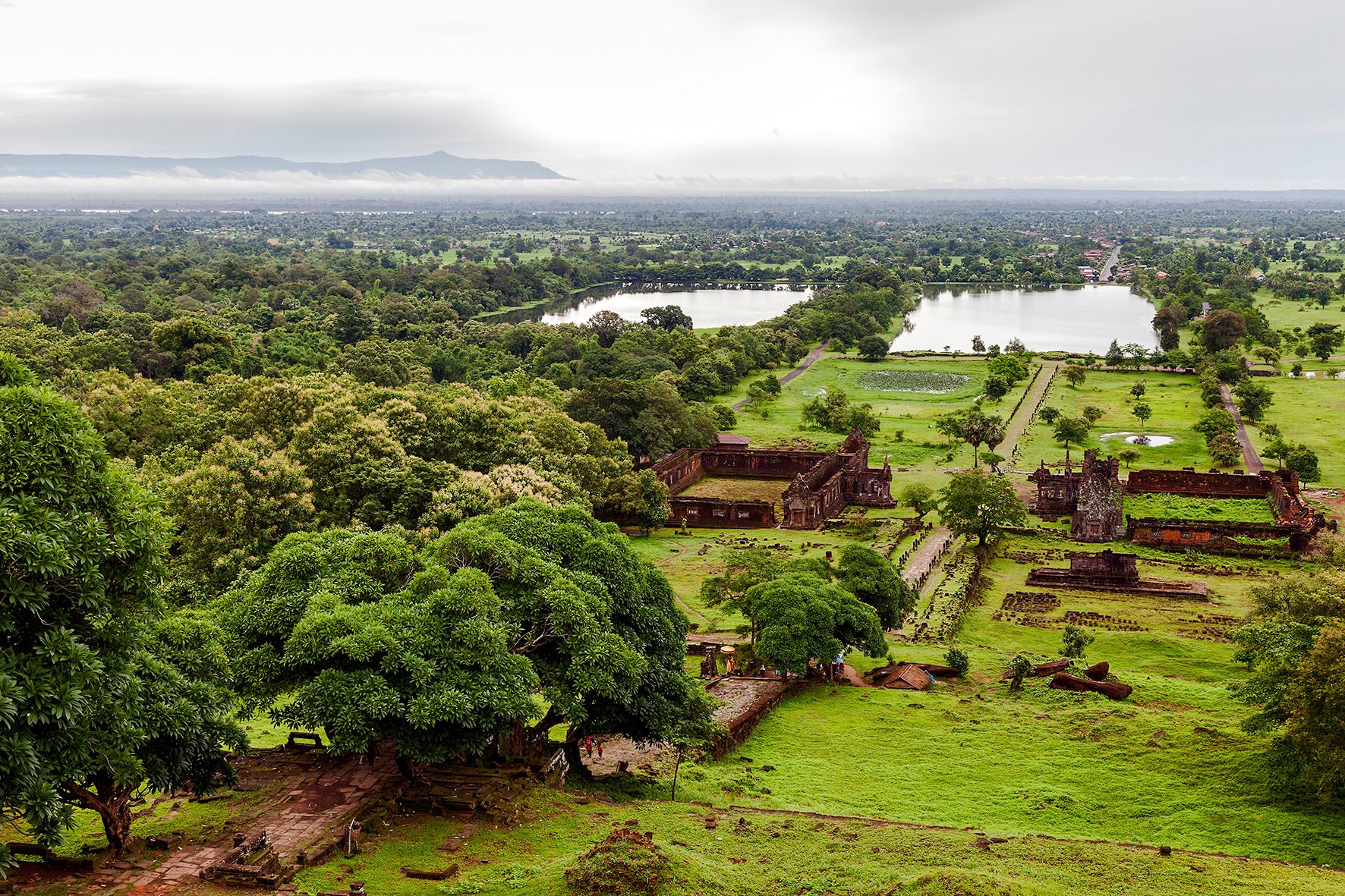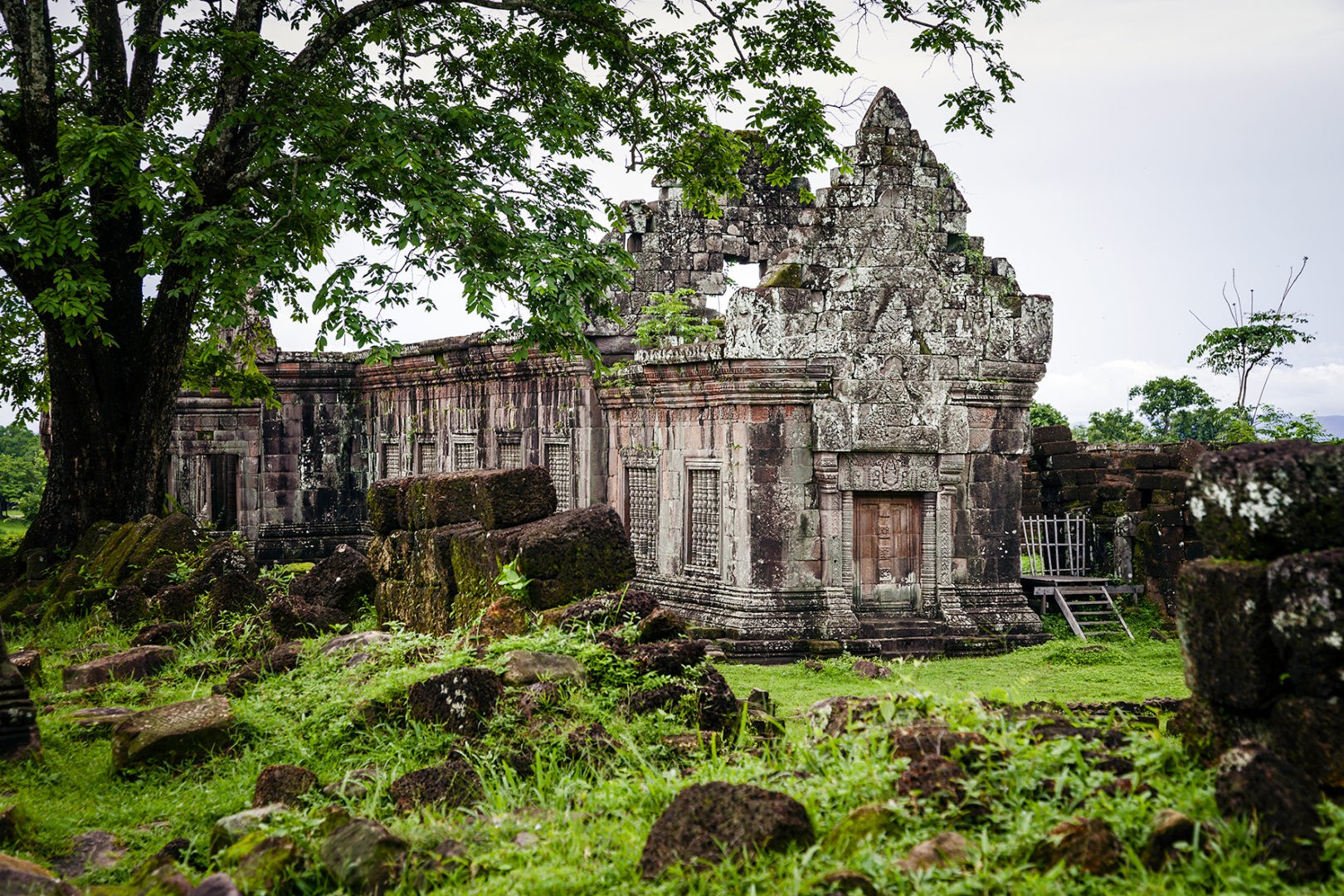 The unique layout of Khmer architecture found at Vat Phou gained it the UNESCO World Heritage label in 2001 and makes it one of the highlights of any visit to Southern Laos. Although it is a small site compared to Angkor Wat, climbing Vat Phou's stairs in the shade of frangipani trees, while gazing down on a beautiful landscape gives the site a mystical atmosphere and makes it a worthwhile visit.
Vat Phou not only represents a historic site with ancient buildings, but according to historians, is also one of the world's best examples of the planning and engineering of a landscape that reflects the religious beliefs and economic approaches of both ancient Khmer architecture and the Hindu religion.
The Vat Phou temple complex is the cultural heart of a wider historical landscape on the plains of Champasak, ranging from the Mekong River to the Phou Kao On the track of ancient Khmer culture 29 Mountains. Temples, water channels, tanks, quarries, field systems, settlement sites, and the ancient road to Angkor Wat are other remains that have been found in the area.
Successive Khmer rulers and kings never forgot their origins and the importance of Vat Phou and made regular donations for maintenance. Later, Vat Phou became an active Buddhist sanctuary and remains so to this day. Every year, a pilgrimage takes place during the full moon in February and attracts many worshippers. It is known today as the Vat Phou Festival and is the largest festival in Southern Laos and one of the largest in the entire country, see → Festivals and Events.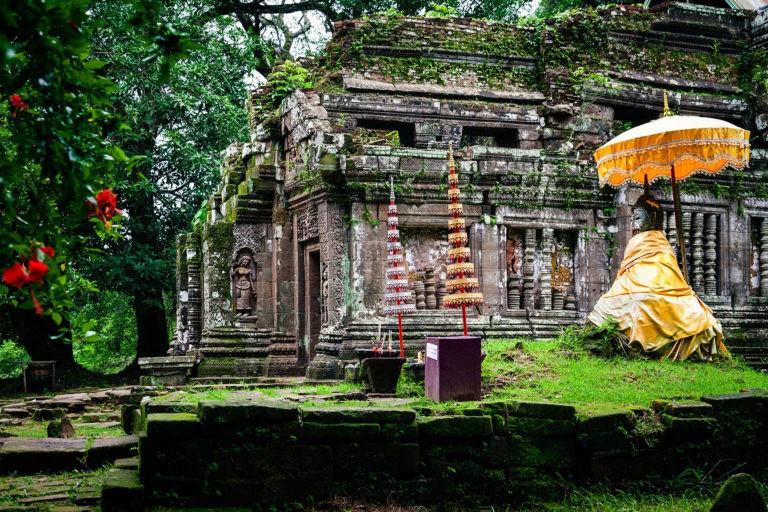 How to get there: Vat Phou is located about 10km from Champasak town, where you can rent a tuk tuk, motorbike or bicycle to get to the temple, or you can join an organised tour. You can also get there by renting a car or motorbike or joining an organised tour in Pakse, located about 45km away from Vat Phou.
Where to stay: In Champasak town you can find a range of accommodation options, see the previous page.
Facilities: At the entrance to Vat Phou, there is a building with a museum containing a collection of objects, sculptures and architectural artefacts related to the temple. The museum is a good place to start exploring the temple's history before venturing into the site. There is an entrance fee of 50,000 kip (09/2015), and restrooms can be found in the building.